Janet's Citrus Salsa

Janet is here for Thanksgiving this year and she wanted to make citrus salsa. She even brought a can of mandarin oranges just for the occasion. So Janet and I made citrus salsa with some of Mom's tomatoes and Dad's jalapenos. The japs are super hot this year!
If you want to tone down the heat of the salsa, just use bell pepper or a smaller amount of jalapeno.
Janet's Citrus Salsa
3 large tomatoes, peeled and chopped
1/2 red onion, finely chopped
1 15-oz. can of mandarin oranges in light syrup, drained and chopped, or 2 oranges, peeled and chopped
2 teaspoons of chopped garlic
2 jalapenos, finely chopped
1 bell pepper, finely chopped
1/2 teaspoon salt (or more to taste)
2 Tablespoons of lime juice
About 3 Tablespoons of fresh cilantro or parsley, chopped
Combine all ingredients in a bowl. Let rest for an hour or so to let the flavors blend. Serve with tortilla chips or on nachos, fish, chicken, pork, whatever!
My sister thought this salsa would be good with black beans in it. It certainly went well with the black bean turkey nachos she made.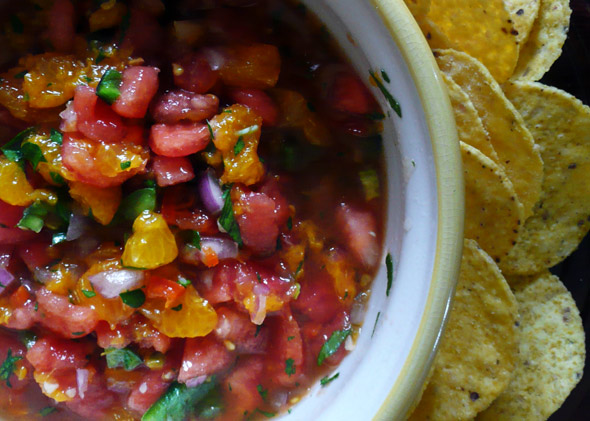 This recipe was shared at Fit and Fabulous Fridays, Recipe of the Week: Mexican Cuisine, Katherine Martinelli's Pepper Blog Hop and Recipe of the Week: Hot & Spicy Recipes and Cinco de Mayo Fiesta.