Jump Up Chicken Orange Salad with Feta & Pecans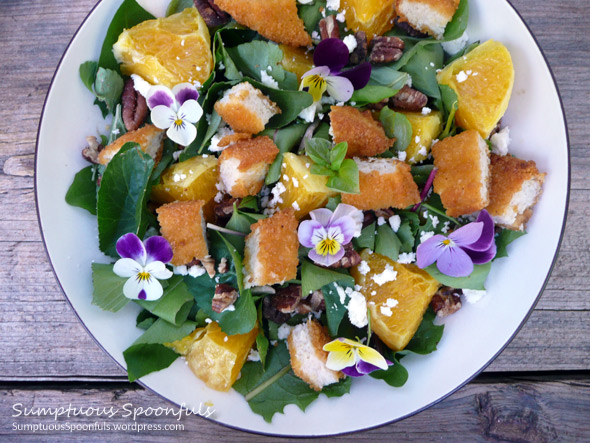 I was scrounging for lunch again yesterday … my body was so hungry for something good, delicious, healthy. My organic salad greens in the fridge were almost gone. There wasn't much to be had in the fridge except some cut fruit and a bit of cheese.
But I ALWAYS have plenty of food in the freezer. AND I have a yard full of edibles! I went out and collected some wild violet and dandelion leaves, a bit of fresh basil, some Johnny Jump Ups (as my mom calls them … they are also known as Violas), cooked up a frozen chicken patty, toasted some pecans from the freezer and voila! I had a beautiful salad definitely worth jumping up for.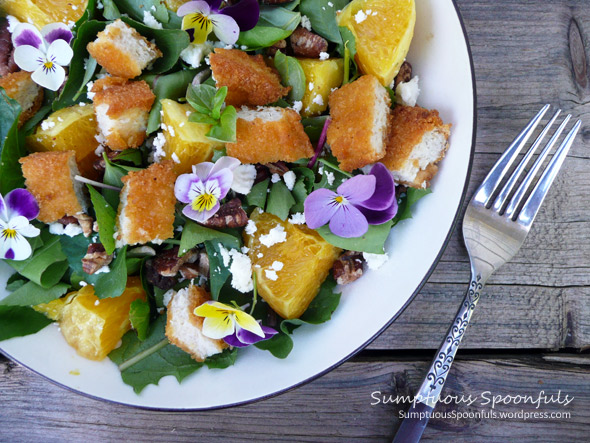 Jump Up Chicken Orange Salad with Feta and Pecans
Greens (I used wild violet and dandelion greens)
Cooked chicken, cut into chunks (I used a breaded chicken patty, but grilled chicken or even rotisserie chicken would work too)
Orange, peeled and cut into small chunks
Toasted pecans
Crumbled feta cheese
Viola flowers (Johnny Jump Ups … preferably from a source that isn't sprayed with herbicides or pesticides)
Fresh basil leaves
Fill your bowl most of the way with greens. Tuck in the chicken, orange pieces, sprinkle with pecans and feta. Add the flowers and the basil and drizzle with a pleasing vinaigrette. I used my Honey Lemon Ginger White Wine Vinaigrette, but I think the Tequila Lime Vinaigrette would be lovely on this salad too … I need to make some more of that beautiful dressing.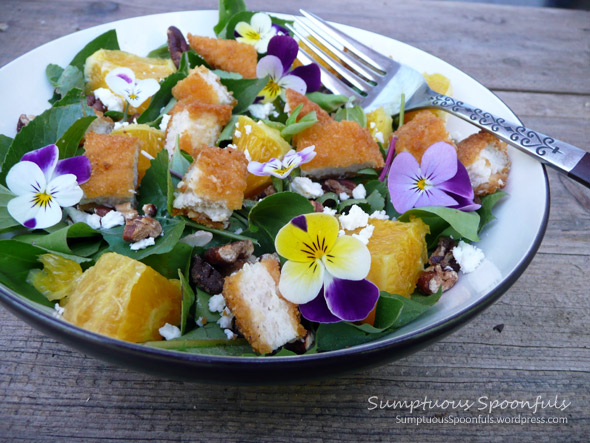 This recipe was shared at Cast Party Wednesdays, Fit & Fabulous Fridays, Fabulous Friday, Weekend Potluck, Mom's Everyday Meals and Mealtime Monday and Delicious Dish Tuesday.