Kumquat Basil Walnut Quick Bread

This is another great find in my quest for kumquat recipes … I had already tried a yeasted bread, but then also I wanted to try a quickbread. This one turned out so yummy it's almost gone already. My friend came over last night because she wants help with setting up a food blog and she brought along her little boy who is just a toddler. We were looking for a little snack to feed him and this bread was right there. I cut him a slice, which he scarfed down immediately. As we were distracted on the computer, he went over and grabbed my glass loaf pan off the counter and came walking towards us saying "Toast!" … it was so cute! (aside from the fact that I totally panicked that he would drop the pan and it would shatter and hurt the little guy) … so yes, he got another slice. And so did his mom.
I think I am going to have to make another loaf of this "toast" … I just love the pretty orange specks of color in it, the tang of the citrus, and the crunch of the toasted walnuts.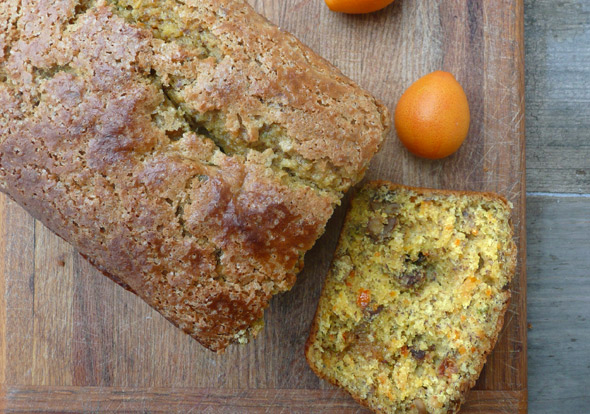 Kumquat Basil Walnut Quick Bread
Adapted from Kumquat Growers.
I wanted to add some spices to the basic recipe and was having a hard time deciding which spices I wanted … I opted for fresh basil just for something different, and I like the subtle hint of basil, but I am thinking next time I will try switching out the basil for some ginger, cinnamon, nutmeg, a bit of cardamom, some vanilla and maybe some cloves.
2/3 cup 1 % or skim milk
2 eggs
2 tbsp extra virgin olive oil
1 cup flour
3/4 cup whole wheat flour
1/4 cup flaxmeal
1-1/2 tsp baking powder
1 tsp salt
1/2 tsp baking soda
3/4 cup pureed kumquats
A small handful of fresh basil leaves, chopped fine (or pureed with the kumquats)
3/4 cup chopped walnuts, toasted
1/2 cup sugar
1/4 cup brown sugar
About 1 Tablespoon raw sugar for the top
Directions:
In a mixing bowl, combine milk, eggs and oil.
Add the dry ingredients and stir until well mixed.
Fold in the pureed kumquats, basil and nuts.
Pour the batter into a  8″ x 4″ x 2″ loaf pan and sprinkle the top with raw sugar.
Bake in a greased in 350 degree oven for 50-60 minutes or until a knife or toothpick inserted comes out clean. (I had to cook it for about 15 – 20 minutes longer than that.)
Cool and remove from pan.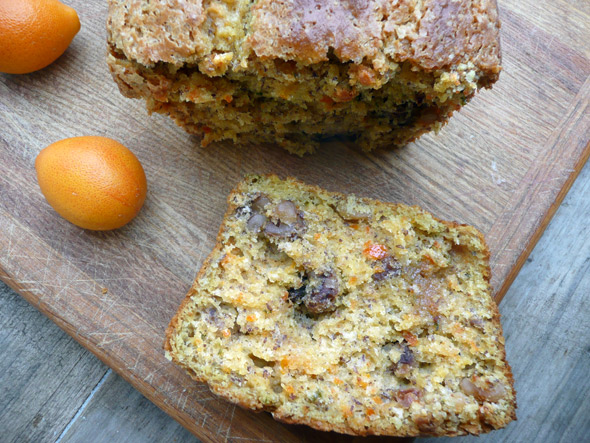 This recipe was shared at Crazy Sweet Tuesday, Cast Party Wednesday, and These Chicks Cooked.