Low Sodium Red Magic Seasoning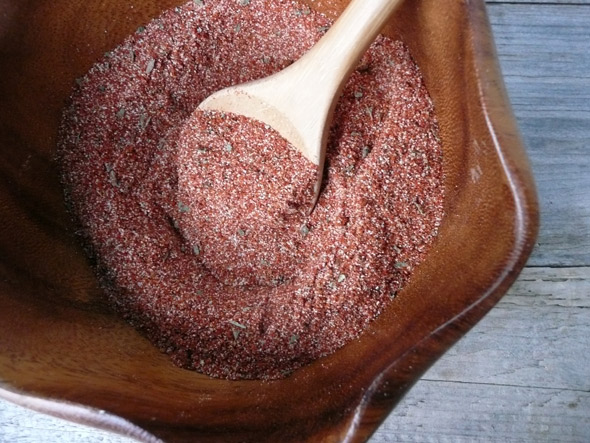 I am on a quest for low sodium, but delicious food lately. Food that will appeal to a teenager. I never never never thought I would have to worry much about sodium … my blood pressure is low. My kids, well they're kids! You don't have to worry about salt too much with kids, right?
But you see, my daughter (who is ALMOST a teenager) has been having dizzy spells. It started last fall … she missed two weeks of school. I was terribly worried about her, took her to the doctor, had tons of tests done. At the end they couldn't find anything wrong with her and this is what they said, "she needs to drink more water."
So we had her drink more water. But the dizzy spells continued. They would come and go. Sometimes she would be fine, but they got to be so bad last month that she couldn't dance and sometimes they would go on for a whole week. If you knew my girl, you would know she lives to dance. She has been dancing since she was able to stand on two feet, I believe. When she was 3 I enrolled her in dance classes and she has been dancing ever since. Since she's gotten older, our lives have started revolving around her dance.
But dizzy spells in a dancer are a very very bad thing. And she was SO miserable! I did some research into the symptoms she is having and one of the things that may help is to lower her sodium intake to 1,000 mg/day. When you look at how much sodium is in salt and so many of the foods that we eat, 1,000 mg is REALLY HARD.
I have used a lot of Red Robin Seasoning in our food so she is used to that flavoring. I thought I would try to make something similar to that one, with a lot less salt. The real magic in it this is … I think I like it better than the original Red Robin Seasoning! Red Robin Seasoning is loaded with salt, while this one is loaded with flavor. My girl loves it. I can season salmon or chicken with this and she is happy! She will eat it! I'm even sprinkling it on some of my own food now …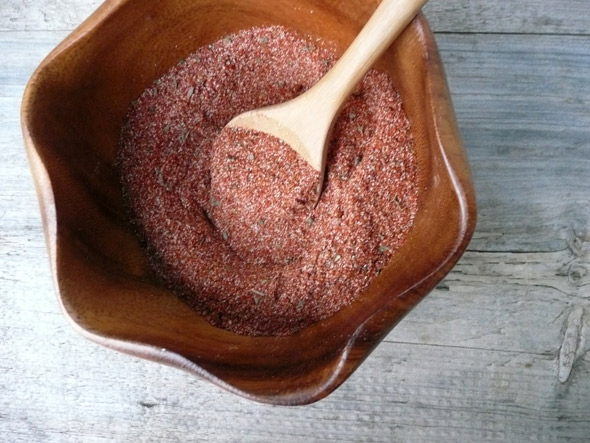 Low Sodium Red Magic Seasoning
I found the tomato powder at our local coop food store. It's basically just dried tomato, ground into a powder. I was looking for low-sodium tomato soup mix, but all I found was tomato powder, which I think is so sooo much better. And if you can't find it, I think all you'd have to do is put some sundried tomatoes through a spice grinder to make a fine powder.
6 Tablespoons tomato powder
1 Tablespoon Lite Salt (or 1/2 Tablespoon sea salt)
5 Tablespoons granulated garlic
3 Tablespoons chili powder
1 1/2 Tablespoons dried basil
1 Tablespoon ground cumin
1 Tablespoon sugar
1 Tablespoon smoked paprika
2 Tablespoons onion powder
Mix all ingredients together into a bowl. Funnel into a spice jar. Use to flavor chicken, meat, fish, eggs, vegetables, popcorn … whatever you normally would use salt on.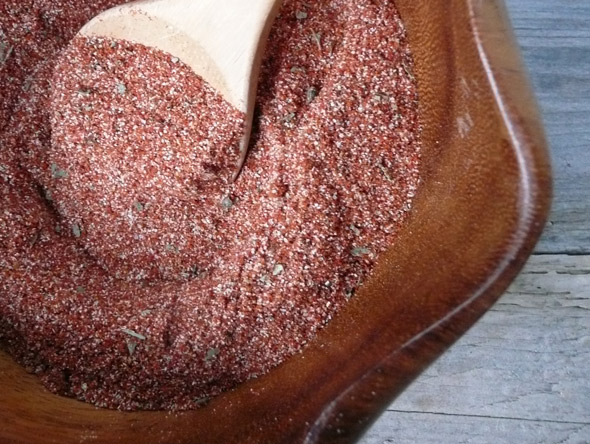 This recipe was shared at Weekend Potluck, Talent Show Tuesday, A Crafty Cook's April Link Party, Melt in your Mouth Mondays, and Fit & Fabulous Fridays.