Magic "Feel Better" Soup
This soup is one of the best things to make when you're feeling sick. I haven't made it in years, but it was one of those things that has always made me feel better, not just because it's full of loads of good vitamins and herbs, but also because it tastes soothing and comforting and warm.  It's so tasty, you don't really need to be sick to make it. But it will help you feel better if you are.
I have struggled with sinus problems for a good part of my adult life … there was a period in my life when I was getting a sinus infection every month. As soon as I would get done with one, I was getting another one. I was on a constant stream of antibiotics and always felt miserable. I've learned ways of coping with it now so I haven't had one now in over a year, but this morning I woke up and I could feel one coming on … this is NOT a good time to be sick! My sister is coming to visit this weekend … I started thinking of all the things I used to do to make them go away and I remembered this soup I used to make.
The last time I made this soup was long before I had all the fresh herbs I have now and I don't exactly recall what herbs I used to put in it back then. I remember the basic formula for it, though. And this is how it goes …
Magic "Feel Better" Soup
1 large potato, cut into hunks (about 2 cups)
1/2 cup of chopped carrots
4 cloves of garlic
1 bay leaf
2 cups of chicken (or vegetable) broth
3/4 cup chopped onion
3 cups of fresh swiss chard or spinach, washed and chopped
A handful of fresh herbs: I used basil, thyme, rosemary, & parsley
1/2 cup plain yogurt or fat free half and half
Sriracha or other hot sauce, to taste (to open up the sinuses)
Freshly grated Asiago or Parmesan cheese and fresh parsley (optional)
Directions:
Put the potato, carrots, garlic, bay leaf, onion and broth into a saucepan and bring to a boil. Reduce heat to simmer (medium low) and cook for about 20 – 30 minutes or until the potato is fall-apart tender and the other vegies are soft.
Fish out the bay leaf and stir in the chard. Cover the pot and cook for just a couple minutes or until the chard is cooked. Add the herbs.
Pour the soup into a blender (or use an immersion blender), add the yogurt or half and half and blend until smooth. Add more broth if you want a thinner soup. I like my soup pretty thick. Serve hot, topped with Sriracha and shredded cheese and garnish with fresh parsley. That red swirl you see there … that's the Sriracha.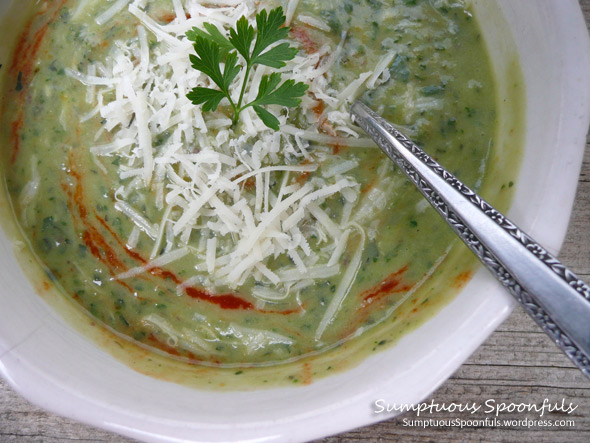 This recipe was shared at Foodie Friends Friday, Fit & Fabulous Fridays, Scrumptious Sundays, Family Fresh Meals, the Ultimate Soup Recipe Linky, Manic Monday, Katherine Martinelli's Comfort Food Bloghop, Iron Chef Mom Carrots and Fit & Fabulous Fridays.
Your Child's Food made a Thai-inspired version of this soup that is dairy free. I really love her twist on it! Her recipe is here.