Mahogany "Beef" Stew with Red Wine & Purple Potatoes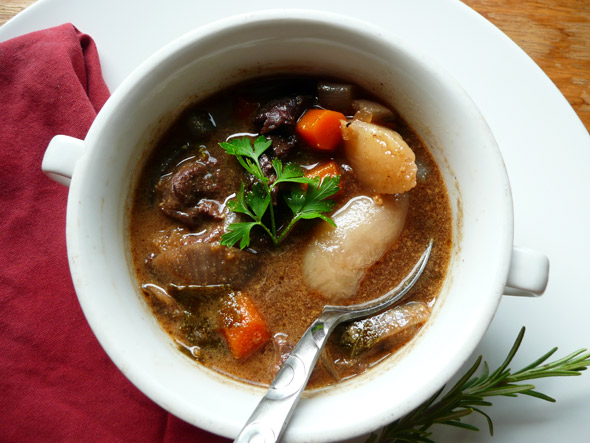 Is it starting to feel more like fall for you yet? I notice it in the air here … chillier evenings, brisk mornings, a few leaves are falling already. And in the fall, I think of stews and soups and hearty warm dishes … so I know it's still August, but the weather is telling me it's time to make stew.
I say "beef" here because I didn't actually use beef in this recipe … I used venison. I have a freezer full of venison and I don't even eat meat that much! But everyone in my family hunts (besides me!) so there is always lots of venison. It's a very lean and healthy meat, leaner than most any beef you can find. Some people think it tastes gamey, but really if it's cooked and seasoned properly, you can't tell the difference.
Now let's talk about the potatoes. Have you ever heard of a purple potato? I think they are actually called blue potatoes … why on earth would they call them blue potatoes? They are most definitely purple! Nobody argues whether an eggplant is purple or tries to name it blue or red … it's just PURPLE!
Anyway, about the potatoes. My dad grows them in his garden. You might have noticed I'm partial to purple if you've read any of my eggplant posts, but I'm also HIGHLY partial to potatoes. I could seriously eat potatoes all day long and never tire of them. So when you take a potato and make it purple? Yeah, these may just be the absolute perfect vegetable. My dad tells me they have as many antioxidants as blueberries. I don't know if you've read about the super-powers of blueberries, but hey, trust me when I tell you that this is a super-good thing.
My dad's purple potatoes have an intensely dark purple skin. Almost black.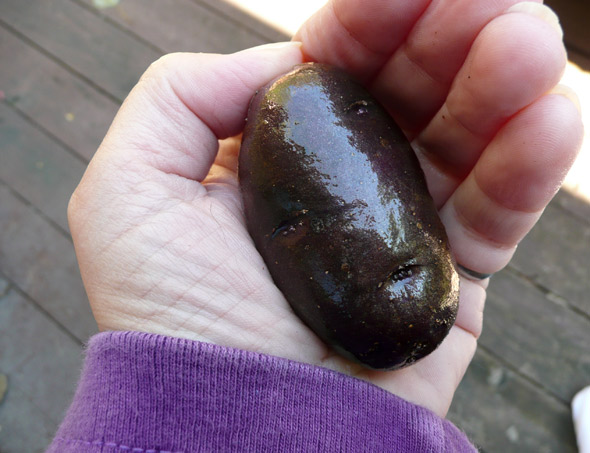 And when you open these dark, dark purple potatoes, inside they are this lovely mottled lavender color. Look at that! Isn't it pretty?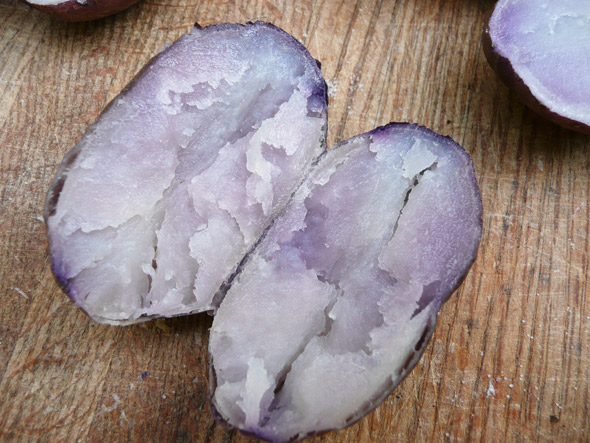 Maybe you have no purple potatoes … I know they are not easy to find! Don't worry, red potatoes will stand in just fine for purple. (The lovely purple disappears into the stew!) Or yukon golds … or whatever potato you happen to have on hand, really. And if you don't have venison, it's okay, you can use beef. Choose a lean cut, though–and don't worry if it's tough. You're going to slow cook it so it will be fall-apart tender and so tasty and warm it'll toast your insides.
The secret ingredient in this stew is the hoison sauce. It will give your stew a complexity of flavor that nobody will quite be able to put their finger on. Shhhh! Don't tell them! They don't need to know all your mysterious cooking secrets … and they certainly don't need to know how ridiculously easy this stew is to put together.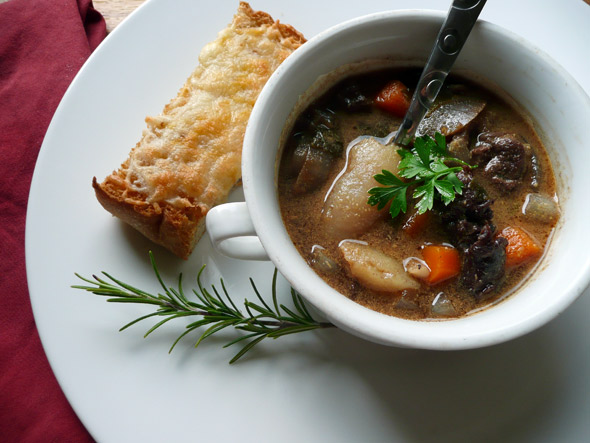 Mahogany Beef Stew with Red Wine and Purple Potatoes
Ingredients:
1 1/2 lb. venison or beef "stew meat", chopped in rough hunks. You can use a roast or really whatever cut of meat you like.
5 cloves of garlic
1 onion, chopped
2-3 good-sized carrots, peeled and cut in thick hearty slices
1 bay leaf
2 c. of beef broth
1 c. of red wine (I used Malbec, but any red wine that you like to drink will do)
3-4 good sized potatoes, peeled and chopped. I used 6 of the purple ones, but the ones I have are small. Just toss in potatoes until you think there's enough potato in there!
About 10 whole peppercorns
3 T. hoison sauce (if you don't have any on hand, it's easy to whip up your own hoison sauce.)
Chopped fresh herbs: I used a sprig of rosemary (finely chopped), thyme, pineapple sage, parsley, and basil. (It's ok to use dried herbs here too if you don't have fresh.)
Directions:
I see a lot of crock pot stew recipes where you brown the meat and there are like 7 to 10 different steps. This is a crock pot recipe! It's supposed to be EASY! I suppose you could do that … but frankly I am too busy … I just toss everything except the fresh herbs into a crockpot and let it cook all day on low heat. Towards the end (like in the last hour or so), add the herbs. (If you are using dried herbs, go ahead and toss them in at the beginning too!) You can add the rosemary earlier … rosemary can handle being cooked forever.
Enjoy. Refrigerate the leftovers and heat them up as desired. It's even better the next day.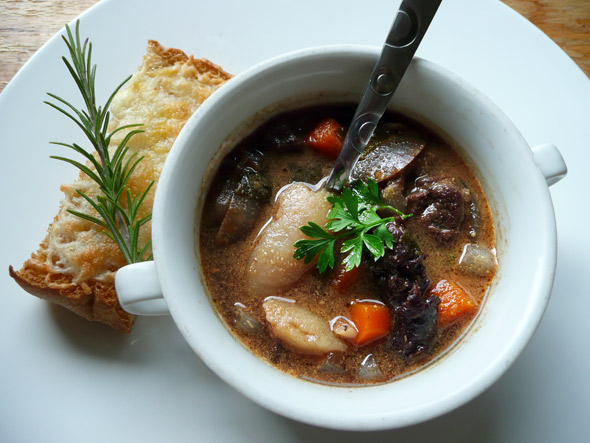 This recipe was shared at Gooseberry Patch's Slow Cooker Recipe Roundup and  Katherine Martinelli's Beef Bloghop.