Mini Peach or Caramel Apple "Pies"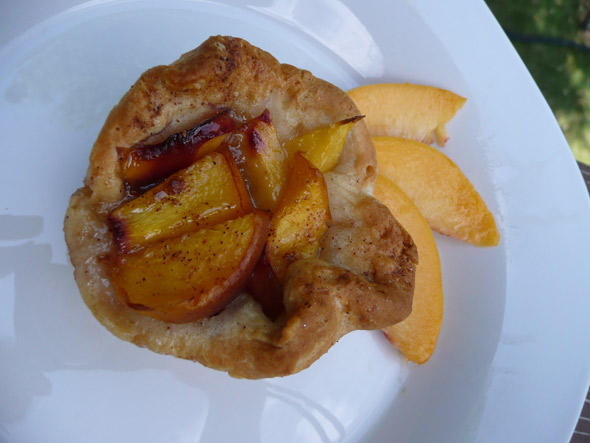 I have a love/hate relationship with refrigerated biscuit dough. You know, that stuff that comes in a can at the grocery store? On one hand, my heart tells me that I could easily whip up my own biscuit dough. It's not that hard! But on the other hand, it makes that satisfying popping noise when you open it.  Plus it's something that's so quick to pull out of the fridge, pop open, and bake up just when you have no energy to cook.
My kids love the ease of them. It's something they know they will have no trouble cooking. So they ask me to buy the things, and against my better judgement, sometimes I give in and buy them. I worry about what "extra" nasty preservatives and things the food companies are throwing in along with the flour and baking powder, so last time I bought these natural biscuits. Alas, perhaps because they were "natural", they sat in the fridge for an overly long time. I was worried they wouldn't be any good any more … so I had to use them up somehow.
And I have these lovely ripe peaches and apples laying about … and some caramel sauce in a jar that a friend gave me ages ago.
So I put them all together in a muffin tin and came up with these pretty little "pies".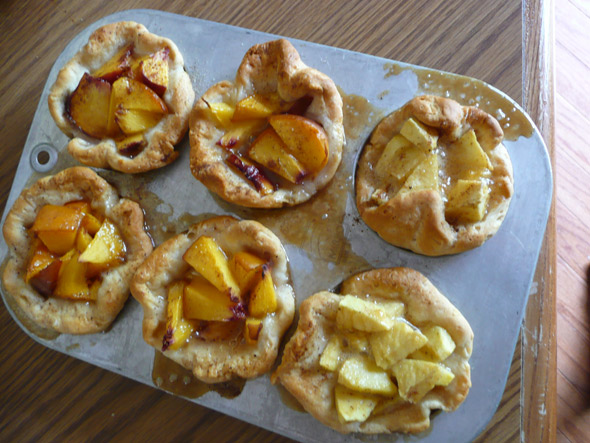 All I did was this:
Spray a muffin tin with cooking spray.
Pop open the can of biscuits, take each biscuit, roll it with a rolling pin to make it a bit bigger, and carefully mold it to form a cup shape in the muffin pan.
Fill each biscuit cup with chopped peach or apple, top with a spoonful of caramel and sprinkle with cinnamon sugar and nutmeg.
Bake them at 350 degrees F for about 12 – 15 minutes or until they are golden brown and the biscuits look done.
They turned out lovely. The kids were fighting over the apple ones (the apple ones? really? hey, but then I get the peach ones to myself! HA! 🙂
Honestly, I didn't try the apple ones, but my kids loved them! (This is my daughter's photo by the way … she styled it and took the picture herself.)