Peach, Pistachio & Chicken Salad
With Goat Cheese Crumbles and a Honey Lemon Ginger White Wine Vinaigrette
It's one of the last lazy summer Sundays we have left and I'm thinking about peaches. It's that peachy time of year when you are assaulted with their beauty every time you walk into the store and you can't help but put some in the shopping cart. And then I get home and wonder what to DO with them all!
So of course the first thing I must make is a good salad. Fresh seasonal fruit is so lovely in salad.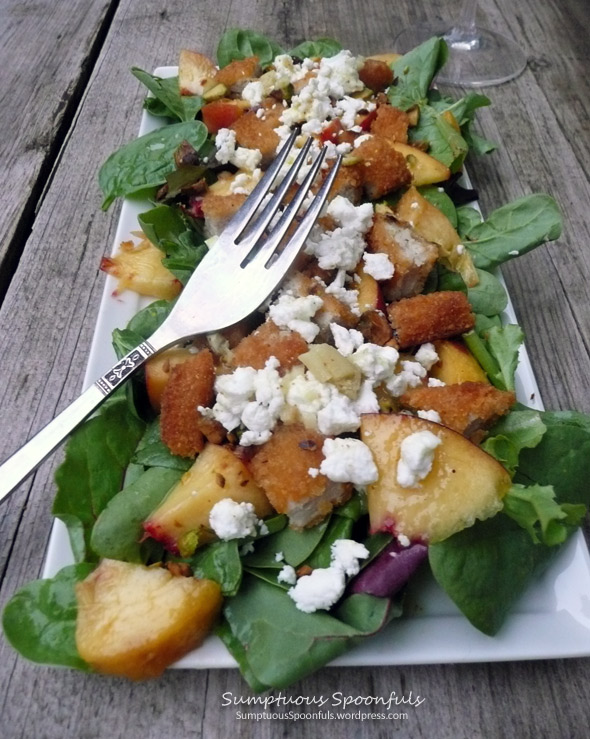 Peach, Pistachio & Chicken Salad with Goat Cheese Crumbles
and a Honey Lemon Ginger White Wine Vinaigrette
Mixed greens
Chicken (1 patty or breast per person)
Peaches (1 peach per person)
Goat Cheese, crumbled
Roasted, salted pistachios, coarsely chopped
Honey Lemon Ginger White Wine Vinaigrette (recipe below)
First, make the dressing and set aside. Cook (or reheat) the chicken and chop into pieces.  (This is a good use for leftover chicken!) Make a good bed for your salad on a big salad plate or bowl.  Pit the peaches and cut into chunks. Tuck the chicken pieces and peach bits in and around the greens, sprinkle with goat cheese and pistachios, and drizzle with the dressing.
Honey Lemon Ginger White Wine Vinaigrette
1/4 cup white wine
1/4 cup rice vinegar
Juice of 1/4 of a lemon
2 Tablespoons honey
1/2 teaspoon freshly grated ginger
2 Tablespoons spicy brown mustard
2 cloves of garlic, peeled and chopped fine
2 Tablespoons extra virgin olive oil
Mix everything except the olive oil together in a bowl till well mixed. While whisking, slowly pour the olive oil into the dressing in a small stream. Keep whisking until the olive oil is well mixed into the dressing. Refrigerate any leftover dressing in an airtight container. Before use, take it out of the fridge for a few minutes to let the olive oil "melt" again (it will solidify in the fridge) and shake well.
This is a #peachlove post.
Powered by Linky Tools
Click here to see all the other lovely #peachlove recipes …
This recipe was also shared at Everyday Mom's Meals, Recipe of the Week, Fit & Fabulous Fridays, Summer Salad Sundays and Scrumptious Sundays.