Peanut Butter Chocolate Chip Banana Bread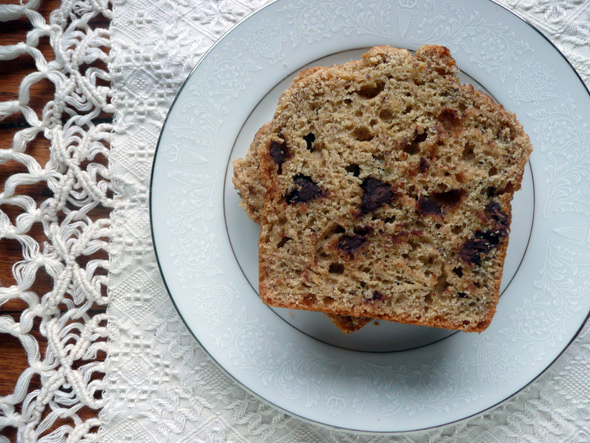 Some days I feel overwhelmed … and I wonder why. I mean, things are so much easier now than they were just a couple years ago. I listen to my friends' problems and I feel like I have it so easy. I'm really okay. There aren't any big tragedies in my life. My kids and I are healthy, I have a good job, a good home, good food, great friends and family.
But still some days everything in my life feels like just too much. I don't know what it is. There just is too much to be done, too many things pulling at me, and I get to the point where I just don't know how to respond, how to deal with anything. I can't make a decision, I can't even answer my kids' questions. I just have to tell them to wait a bit. It's times like this when I turn to the kitchen … the preparation of food soothes me, comforts me, makes things feel a little better.
And then I get a big hug from my daughter for making banana bread and everything is all right again. Is life really that simple? Can everything be turned around in an instant with one little hug?
Amazingly, yes.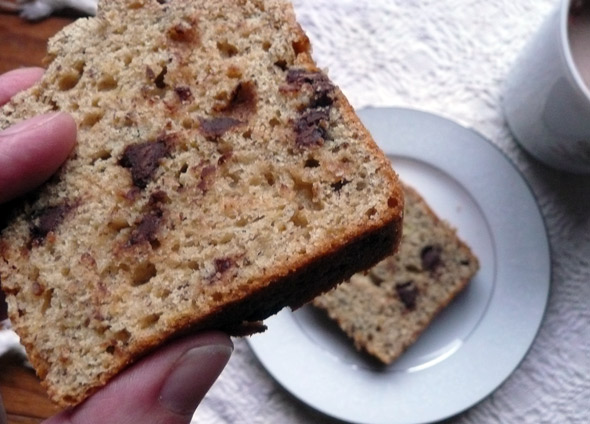 Peanut Butter Chocolate Chip Banana Bread
Adapted from Taste & Tell. This is a soft, moist banana bread with a subtle hint of peanut butter. For more peanut flavor, add some chopped peanuts. If you toast the nuts before adding them, it will bring out the peanut flavor even more.
1 cup mashed ripe bananas (about 3 bananas)
1/3 cup milk (I used 1%)
1/3 cup peanut butter
2 teaspoons vanilla extract
4 tablespoons plain nonfat yogurt
1 egg
1 cup flour
1 cup white whole wheat flour
1/2 cup sugar
1 tablespoon baking powder
1/2 teaspoon salt
1/4 cup flaxmeal
3/4 cup chocolate chips
For the top: a couple tablespoons of raw sugar (turbinado sugar)
Directions:
Preheat the oven to 350 degrees. Spray a loaf pan or mini loaf pans with cooking spray. Set aside.
Mash the bananas in a large bowl, then add the milk, peanut butter, vanilla, yogurt and egg and mix well.
Stir in the dry ingredients, then mix in the chocolate chips.
Pour into one 4x5x9 inch bread pan or a few smaller loaf pans (I used 3 smaller ones.)
Sprinkle the tops of the batter with raw sugar and place in the oven to bake.
Bake smaller loaves for 30 – 45 minutes or larger loaf for 50 – 60 minutes or until a knife inserted in the center comes out clean. Let the bread rest in the pan for a few minutes before removing.
This recipe was shared at Thursday's Treasures, Full Plate Thursday, Fit & Fabulous Fridays, and Midnight Maniac Meatless Mondays.