Peanut Butter Cookie S'Mores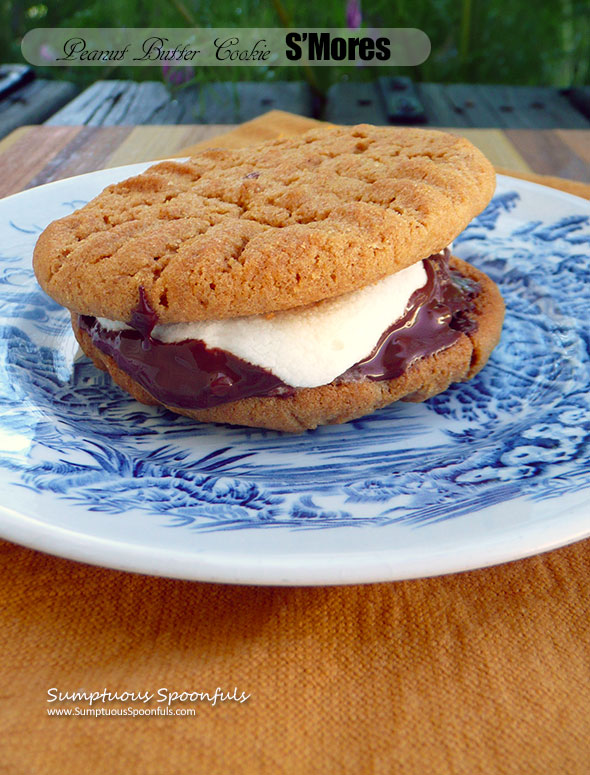 I've seen these cookie S'Mores making their way across the interwebs and decided that my kids and I just HAD to try them. My son was not on board with this idea (he prefers to eat his cookies and marshmallows and chocolate UN-toasted), but my daughter and her friend were totally up for it, so for our first try at it, I schnagged a few chocolate chip cookies and after we grilled some brats on the grill, we were going to make our cookie S'Mores. The only problem was it started raining! My daughter and I were NOT going to let this deter us from our cookie s'mores. She and I braved the rain … she held the cover over the grill while I toasted the marshmallows for the S'mores. We were totally drenched by the time the marshmallows were done, but we totally did not care! It was so fun. I gave all the s'mores to the girls, but my daughter has a tummy that can't handle too many sweets so she didn't eat all of hers and I got a few bites of this ooey gooey deliciousness … oh my gosh. I am not normally a fan of s'mores, but this was Ah-mazing!
So I decided I needed to make these amazing s'mores for my nieces and nephews the next time I saw them. Except I thought we should make them with peanut butter cookies because in my mind that sounded eons above the delight that I'd already experienced. I baked up a batch of Betty Crocker's recipe of peanut butter cookies and, after allowing each child to have one, I hid the rest of the cookies (and the chocolate!) away for evening-time when we could have a fire. My oldest niece and her friend were the only children still sitting at the campfire by the time I made it down to the fire and they were very happy to help make the s'mores. We found a pitchfork (that I cleaned off) for toasting the cookies and a couple sticks for toasting the marshmallows and we went to work. My sister and the rest of her family were in the camper very near the fire and it seemed like they kept calling out over and over for us to bring them another s'more. I lost track of how many we made … we lost a couple cookies in the fire when the cookie was too tender and bent into the pitchfork, but had quite enough successes for everyone to get a s'more, with just a couple cookies left to spare. It was really fun.
My parents didn't make it down to the fire and they were sounding a little sad that they didn't get to try the cookie s'mores, so I made one the next day in the toaster oven. It was SO much easier, but without that added adventure and challenge of toasting cookies over the campfire. I probably should have made more than one as mom and dad had to share and mom snitched a little bite of dad's side of the s'more. There was a little bantering over that, but nothing too serious.
All in all, I'd have to say, if I'm going to eat a s'more, I would definitely want it to be a peanut butter cookie s'more with melty sea salt soiree chocolate and a perfectly toasted (on a pitchfork!), soft yet crunchy and brown marshmallow over an open fire with the great company of two very capable and adventurous young pre-teens (or my adventurous daughter). The chocolate chip cookie s'more-in-the-pouring-rain experience with my teenage daughter was a memory I think I will always treasure. And then, watching mom and dad "fight" over the cookie s'more I made for them in the toaster oven … well, I believe I've achieved s'more nirvana.
Peanut Butter Cookie S'Mores
Ingredients
For each S'more:

2 peanut butter cookies (I used Betty Crocker's recipe, with a little extra vanilla & salt)
1 square of chocolate (I loved Ghirardelli Dark Sea Salt Soiree, but the kids preferred regular milk chocolate)
1 marshmallow
Instructions
Set up something that will hold your cookies over the campfire. Set a cookie on there, with the chocolate on top so that it melts right on the cookie.
Meanwhile, put the marshmallow on a toasting stick and roast the marshmallow.
Slide the marshmallow onto the toasted cookie/melted chocolate and set a second cookie on top. Quickly flip the s'more so you are holding the cooled cookie (not the toasty hot one!) and pull the roasting stick out.
Notes
To make an indoor S'more: Preheat the oven to 400 F. Set individual cookies on a baking sheet (as many as you want to make) and top each with a square of chocolate. Cut a marshmallow for each cookie in two and set the two sides on top of the chocolate. Set in the oven to toast until the marshmallow is browned and the chocolate is melted. Add a second (cooled) cookie onto each S'More, flip and enjoy!
RECIPE SOURCE: http://www.sumptuousspoonfuls.com/
© Copyright 2015, Sumptuous Spoonfuls. All images & content are copyright protected. Please do not use my images without prior permission. If you want to publish any of my images, please ask first. If you want to republish this recipe as your own, please re-write the recipe in your own words or link back to this post for the recipe.
http://www.sumptuousspoonfuls.com/peanut-butter-cookie-smores/
Copyright 2012 by Sumptuous Spoonfuls. Recipes are meant to be shared! Nothing makes me happier than to hear about someone who has tried one of my recipes. All I ask is that if you are going to share my recipe online, give me credit and a link. And if you want to use one of my photos, please ask first. You can contact me at http://www.SumptuousSpoonfuls.com/contact/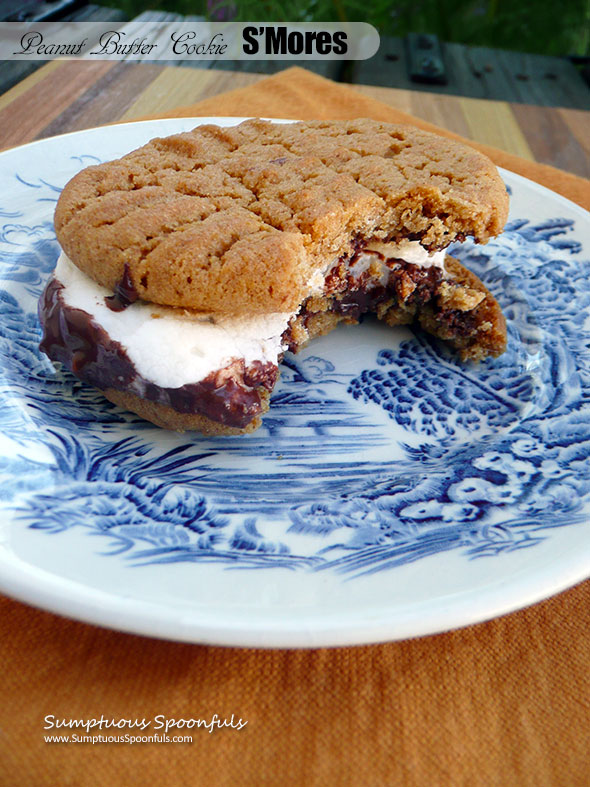 This recipe was shared at What to Do Weekends and Weekend Potluck.