Peanut-buttery Popcorn Balls of Awesomeness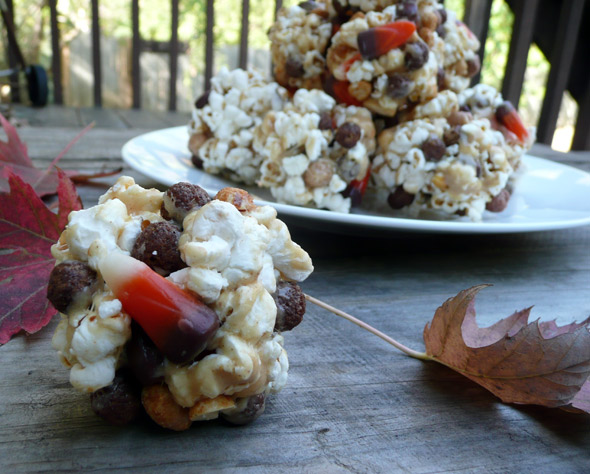 My daughter named these popcorn balls. They were inspired by Taste and Tell's popcorn cake … she triggered a big-time memory for me. I remember as a child we made popcorn cake with popcorn, gumdrops and peanuts and it was SO fun to make and SO good. I remember being amazed but just how much popcorn the recipe called for. And the salty-sweet taste with the crunch of the popcorn. Oh, my sisters and I just loved it.
So making these popcorn balls really brought back a lot of good childhood memories for me … not to mention they just taste SO awesome! I couldn't stop eating them when we had them in the house … they kept calling my name. I was eating popcorn balls for breakfast, lunch, snacks, and … well, um. I was eating them a bit too much. And now looking at these pictures, I want more.
My girl says we need to make them again. They are a little dangerously addictive … beware.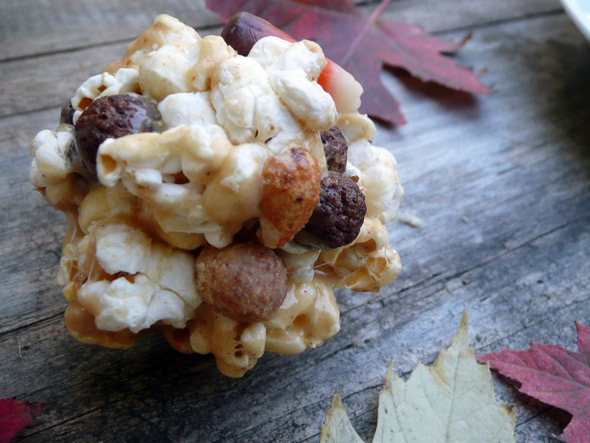 Peanut-buttery Popcorn Balls of Awesomeness
1 small bag of marshmallows … doesn't really matter if they are the big ones or the mini-marshmallows
3 T. butter
1/2 c. peanut butter
A big bowl of air-popped popcorn (well, ok, if you HAVE to use a different kind I will forgive you … but I think air popping is really the best way to do popcorn)
Mix-ins of your choice. You can use just about any cereal, nuts, dried fruit, or candy that you like. This time, we used:

Peanuts (I used dry roasted, salted peanuts, but use what kind you feel comfortable with … or leave them out)
Cocoa Puffs and/or Reese's Puffs — or your favorite peanut buttery / chocolatey cereal(s)
Candy corn
Directions:
Pop the popcorn and stir in whatever mix-ins you want in your popcorn balls. I had to use two mixing bowls to hold everything once I got done mixing everything in.
In a large saucepan over medium-low heat, melt the butter and marshmallows until completely melted. Once they're all melted, like to cook them for a minute or two longer just to make sure they are good and smooth and soft.
Remove from heat and stir in the peanut butter.
Pour the melty marshmallow goo over the popcorn mix and stir together until everything is sticking together.
With hands coated with cooking spray or butter to keep the mix from sticking to you, form the popcorn messiness into balls.
Let the balls set for a bit before eating. You don't have to wait very long … maybe 15 minutes?
Once they are set, eat them right away or store them in an airtight container to keep the popcorn from going soggy.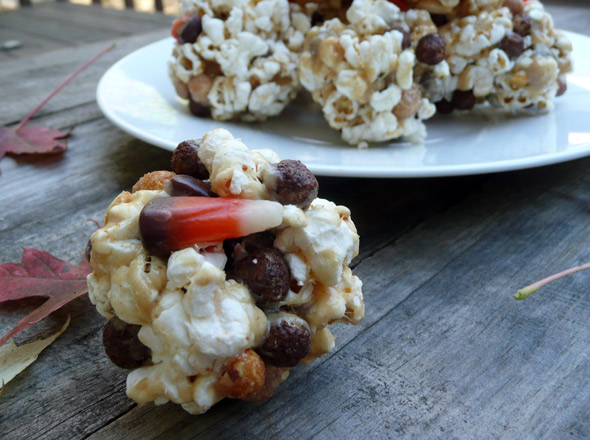 This recipe was shared at the Halloween Blog Party and Inspiration Monday-Spooky Projects.