Pesto Shrimp Mini-Pizzas
with fresh grape tomatoes, goat cheese & pinons
If I had to choose one favorite pizza topping, this would be it. Shrimp, pesto, and goat cheese with fresh tomato and pinons are such an elegant combination of flavors, and if you have pizza crusts (or english muffins!) and pesto on hand, they are so quick and simple to put together.
I made these little mini-pizza crusts for the party last weekend, but we didn't actually eat them at the party. I served some to my friends at the "after-the-party" party, though, and they were very well received. And now my daughter is loving having the little mini-crusts on hand. I've made her mini-pizzas for dinner a couple times this week already. I think this mini pizza craze might become a regular thing at my house. They are even better than the individual-sized crusts I normally make because they're minis! Small, bite-sized food is just so fun.
When the basil is rampant, I make pesto & freeze it so I always have some on hand. I pretty much always have some pizza crusts in the freezer too.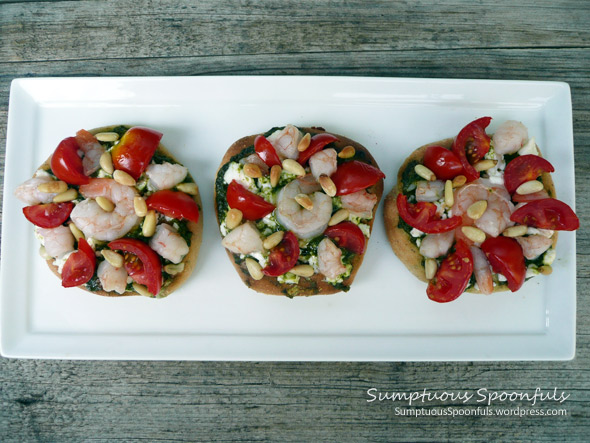 Pesto Shrimp Mini Pizzas with Grape Tomatoes, Goat Cheese & Pinons
The great thing about these pizzas is you can pre-make everything and keep it in the freezer, so you can have little gourmet pizzas on the table in no time.
Pre-made mini pizza crusts (recipe below) or English muffins … or a regular-sized pizza crust if you want to make this as a bigger pizza. You could certainly do this as a grilled pizza too …
Pesto (my pesto recipe is here)
Crumbled goat cheese
Frozen, pre-cooked shrimp, thawed
Fresh cherry or grape tomatoes, halved
Pinons (pine nuts)
Spread the pizza crusts with pesto and crumbled goat cheese. Top with lots of shrimp and mini tomato halves. Sprinkle with pinons. Bake at 400 for about 10 – 12 minutes or until the nuts are toasted and light brown and the pizzas are good and hot.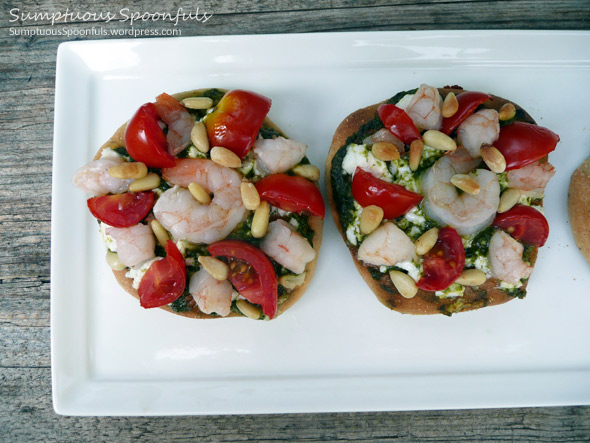 Beer Pizza Crusts
1 cup beer (I used Leinenkugel Sunset Wheat this time)
2 tablespoons olive oil
2 tablespoons sugar
1 teaspoon salt
1 1/2 cups bread flour
1 cup unbleached white whole wheat flour
2 1/4 teaspoons yeast
2 teaspoons Italian Seasoning
1/4 teaspoon garlic powder
Put all ingredients into the bread machine and put it on the dough setting. When the dough is done, divide it into 24 balls of roughly equal size. I did this by cutting the dough in half, then cutting each one in half again, then each piece into three and then cutting each of those into half. Use cornmeal on your work surface to keep the balls from sticking. Shape each ball into a disc shape, set on a flat pizza peel or cutting board dusted with cornmeal, cover with a towel and let rest about 5 – 10 minutes. Then gently stretch each one into a slightly larger disc, cover and let rest until they have risen to the desired size. Bake at 425 for about 10 minutes or until a light golden brown in color. You can throw them in a bag and freeze them at this point and pull them out as needed for snacks or dinner.
This recipe was featured at Carrie's Experimental Kitchen Seafood Frenzy Fridays.
This recipe was shared at Thursday's Treasures, Tastetastic Thursday, KM's Seafood Bloghop, Foodie Fridays, Katherine Martinelli's Pizza Bloghop and Manic Monday.