Pineapple Peach Yogurt Parfait
with honey and lime and homemade maple cranberry granola …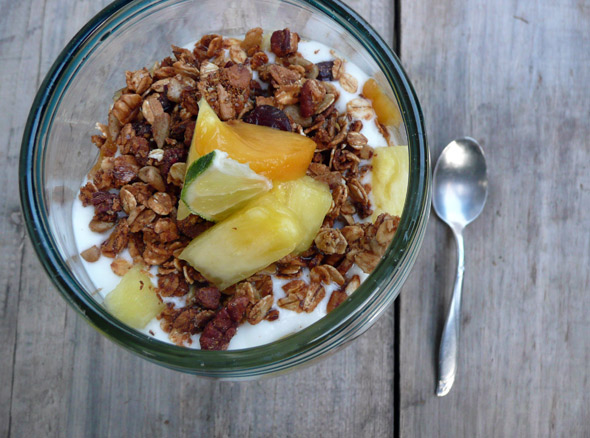 The great thing about having granola in the house is you can make pretty parfaits with it. All you need is some fruit and some yogurt and a pretty glass to put it in. It can be for breakfast or dessert or even a mid-day snack. A little something pretty to dress up your day and make you feel good inside.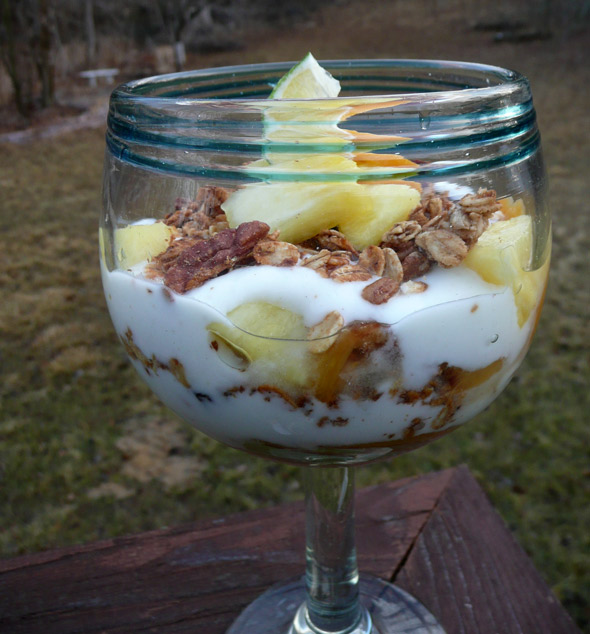 Pineapple Peach Yogurt Parfait
1/2 cup plain nonfat yogurt (regular or Greek-style … whatever you prefer)
2 – 4 teaspoons honey
sprinkle of nutmeg
1/4 teaspoon or so of vanilla
Juice and zest of 1/4 of a lime
Pineapple chunks
Peach slices
Granola (I used my maple cranberry granola: recipe here)
Mix the yogurt, honey, vanilla and nutmeg together in a small bowl. Layer fruit, yogurt, and granola in a pretty glass. I did fruit, then yogurt, then granola, then repeated, ending with granola on top and garnished with a couple chunks of fruit and a slice of lime.