Product Review: Pfister Pasadena Slate Faucet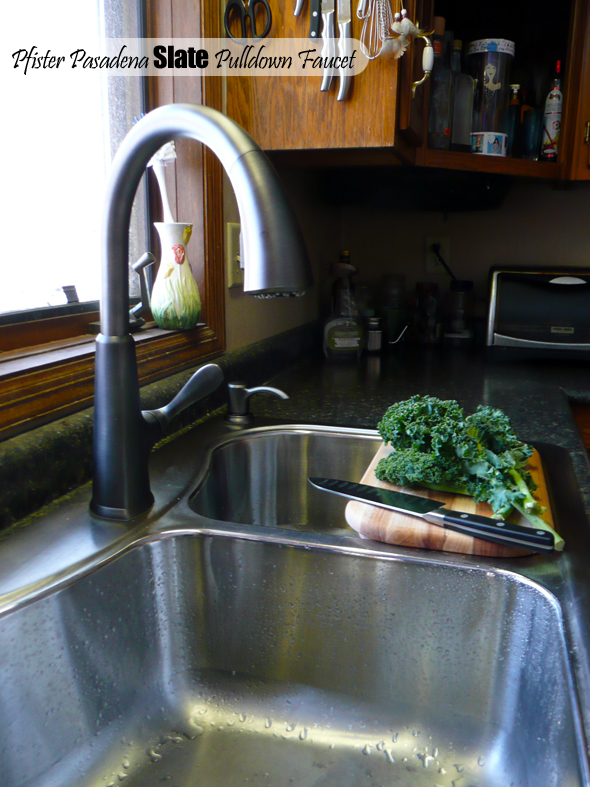 Back in November, Chloe contacted me and asked me if I'd like to review their Pfister Pasadena Slate Faucet. The email stated I'd have it in time for the holidays. They sent it out in early December, but things don't move quite that fast around this house. I was too caught up in the holidays to manage a home improvement project BEFORE the holidays. The pretty faucet sat in it's box in my living room awaiting its time.
It wasn't until late January that I had the time to go shopping for a new sink to go with this lovely faucet. I had wanted a new sink for AGES. I purchased the sink, scheduled a plumber to come install it, and then I found myself back at the sink shop the Thursday night before the new sink was getting installed, having them punch a hole in the sink for the soap dispenser and getting the extra accessories (e.g., a sink stopper) that I hadn't thought about when I'd purchased the sink. I got a Kohler stainless steel sink to go with it. I was a little worried that the brushed Slate finish on the faucet wouldn't look good with the stainless steel sink, but I needn't have worried. In my kitchen where the lighting isn't all that great, it's hard to get a great pic, but the faucet looks GORGEOUS with the stainless steel … I feel like I have a whole new kitchen!
I worked from home while they were installing the new sink, which was really interesting because I could see and hear them as they were working. The three guys who were installing the faucet were admiring it an awful lot and asking me where I got it. These guys are plumbers–they see new faucets every day, so I gathered from their comments that this is not your everyday ordinary kinda faucet. (Come to think of it, they didn't have anything like this Pfister faucet at the store where I bought the sink either.) Anyway, I told them the story of how I came upon this pretty faucet and the plumber who'd installed the faucet on the sink told me that it's very easy to install. That's a plus!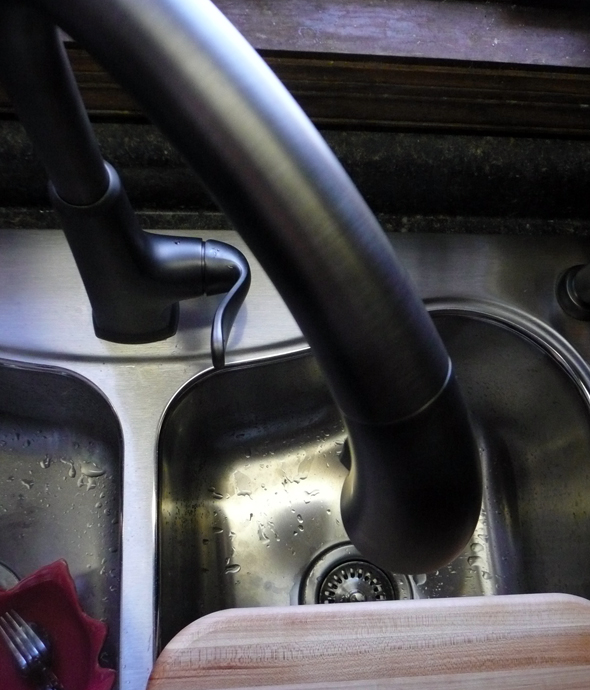 The other thing that I thought was interesting was how much the plumbers were amazed at the power of this faucet. After they'd installed it, they were testing it and they seemed very impressed by the powerful jet of water that comes whooshing out the faucet when you have it on full blast.
The powerful stream of water that comes out of this faucet is really awesome for cleaning and getting food off of your dishes, but it does splash a bit, so it helps to have a nice deep sink when you've got it on full-blast. The real joy in this faucet, though, is how easy it is to turn on and off, how effortless it is to adjust the temperature, and yes, the finish is simply beautiful. I have had to wipe down the sink several times, but the faucet needs hardly any cleaning … it just stays beautiful.
To turn it on, it's just a feather touch to push the control lever outwards away from the faucet. Forward is cold, backwards is hot. It's hard to describe how easy and wonderful this is … it's such a pleasure how smoothly this control lever works.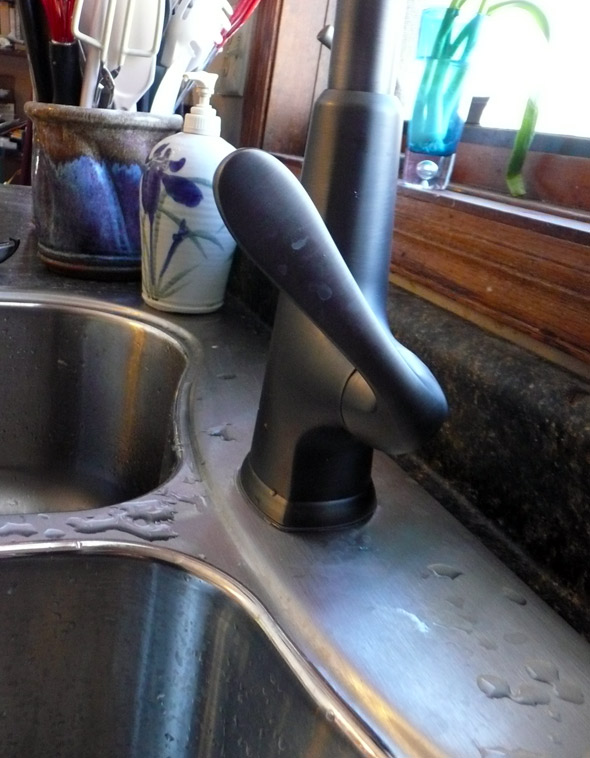 The soap dispenser has a nice deep bottle beneath for holding soap. I had a little trouble getting it to squirt out soap once I'd filled it up, but my son had it working in no time, so I'll chalk that up to my ineptitude with all things mechanical.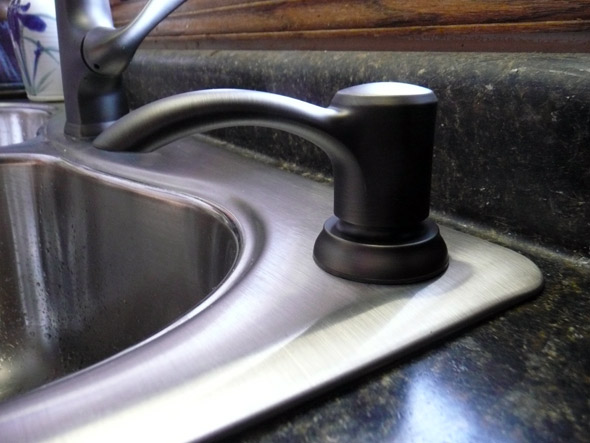 On the back of the faucet head, there is a switch that is activated when you have the water on. It switches the stream of water from a powerful single jet to a bunch of little gentle streams, just right for washing vegies.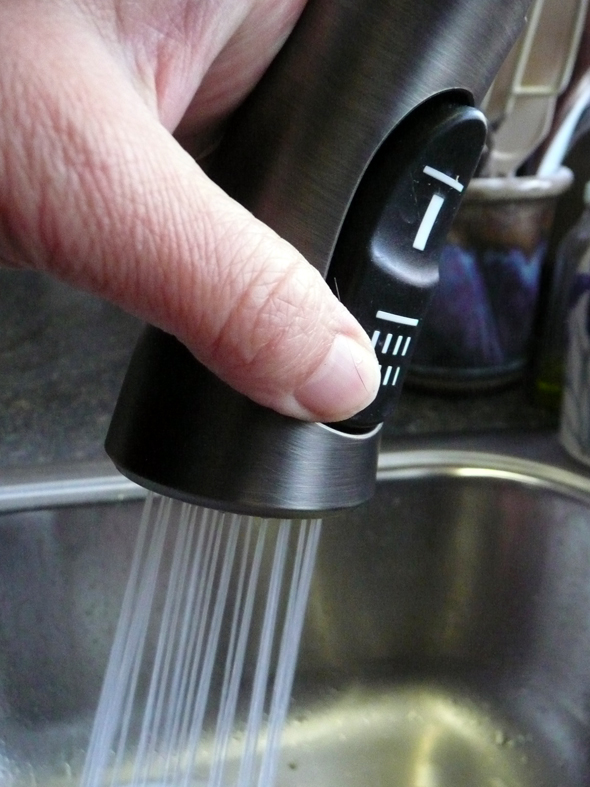 The faucet also pulls out to allow you to pull it down and stretch it to wherever you need it, then it snaps back into place. This is the one little thing I think could be better about the faucet: you have to have it in just the right spot, then push a bit to get it to snap back into place. Not a lot, but given the dreamy way the "on" lever works, I kind of expected this part to be uber smooth and simple too.
But it's such a little thing … all in all, I am quite pleased with the Pfister Pasadena Pull-down Faucet and I'd highly recommend it to anyone who's considering the purchase of a new kitchen faucet.
The faucet was given to me to review, but I was not paid for this review. The opinions expressed within are my own.