Pumpkin Swirl Bread with Pumpkin Maple Mascarpone

My daughter, her friend and I went up to my friend's lake house this weekend for a "girls" weekend. I wanted to bring along some fun "girly" things to eat, so I made up some chocolate mascarpone spread so we could make chocolate strawberry bruschetta, and while I was at it, I made a pumpkin maple spread too. But then I needed something to put the pumpkin spread on, so, despite the fact that it was a crazy busy day, on a total whim I started up some dough in my bread machine to make pumpkin cinnamon swirl bread. I wasn't really sure that I would be home long enough on Saturday to bake it before we left, but somehow I managed it. And I was SO glad I did. This bread, with the pumpkin mascarpone spread is pure bliss to eat. You can just close your eyes and lose yourself in the lovely taste of it. My friend said she felt like she could just keep eating it till she exploded. I told her I wasn't going to share that on my blog, but now here I am sharing it LOL. The young teenage girls loved it too.
We had such a fun weekend. We went for a LONG walk along the lake, then we had tea and hot chocolate and a lovely dinner … I made the salad, my daughter's friend made cajun chicken pasta, my friend made green beans and we had rotisserie chicken and chicken sausages too, then we listened to funky music and my friend and I had wine and chatted while the girls danced their hearts out in the living room.
My friend who has three boys and has rarely (if ever?) had a girls weekend, wanted to take some of the bread home to her boys. I couldn't let her have it ALL (my daughter wanted some!), but I did give her the smaller loaf to take home  … so the boys could try it too. I think she loved the girls weekend, but I could also tell she felt a little lost without her boys. I was craving some male energy too. Girls' weekends are great, but … well, we need our boys, too. However, I do have to tell you my daughter and I were awfully tempted to buy this lakefront house we saw, move to the lake and leave our "city" life behind.
Yeah, that's not going to happen. It is tempting, though …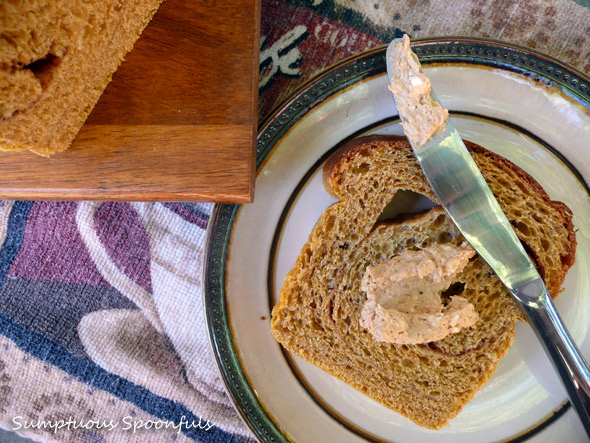 Pumpkin Cinnamon Swirl Bread
Adapted from King Arthur Flour. If you don't have a bread machine or bread attachment for your mixer, see King Arthur Flour for traditional bread-making instructions.
1 package (1 tablespoon) active dry yeast
3/4 cup milk
1 large egg
3/4 cup puréed pumpkin
1 Tablespoon vegetable oil
2 1/4 cups bread flour
1 1/4 cups unbleached white whole wheat flour
1/4 cup brown sugar
1 teaspoon salt
1 teaspoon cinnamon
1/2 teaspoon ground ginger
1/8 teaspoon ground cardamom
1/4 teaspoon nutmeg
To make the swirl: Cooking spray (or melted butter) + cinnamon sugar
Directions:
Dump all the ingredients except for the "Swirl" ingredients into your bread machine and set it on the dough setting.
When the dough is ready, roll it out into a rectangle, spray with cooking spray, then sprinkle with cinnamon sugar and roll it up. (I rolled it up lengthwise, and the dough was long enough to make one loaf pan plus a smaller loaf.)
Spray your loaf pans with cooking spray and carefully transfer the dough into them, tucking under the ends to form a nice loaf shape. Spray the loaves with cooking spray, cover with a clean towel and set in a warm place to rise.
When the dough has risen to a big, puffy state (roughly double the size), bake at 375 F. for about 30 minutes or until the loaves are a deep golden brown on top and the loaves sound hollow inside when you thump them.
Let the bread sit for about 5 – 10 minutes, then slice and serve with Pumpkin Maple Mascarpone Cream.
Pumpkin Maple Mascarpone Cream
3 oz. light cream cheese
1/4 cup mascarpone cheese
1/4 cup pumpkin puree
1 1/2 Tablespoons maple syrup
3/4 – 1 teaspoon pumpkin pie spice (if you don't have any on hand, here's a quick recipe to make your own)
1/2 teaspoon real vanilla extract
Let the cream cheese warm up a bit at room temperature, then in a small mixing bowl, mix the cream cheese with the rest of the ingredients until it's all smooth and very well mixed. You can use a spoon or a mixer does the job quickly and gets the spread all nice and fluffy. Store in an airtight container in the fridge.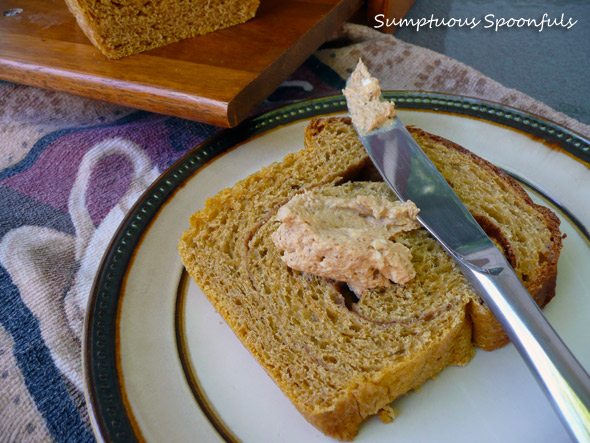 This recipe was shared at Scrumptious Sunday, Melt in your Mouth Monday, Totally Tasty Tuesday, Tuesday Talent Show, Tasty Tuesday, Wonderful Food Wednesday, Newlyweds Recipe Linky, Show & Share Wednesday, Cast Party Wednesday , Full Plate Thursday and All my Bloggy Friends.