Pumpkin Toffee Oat Cake +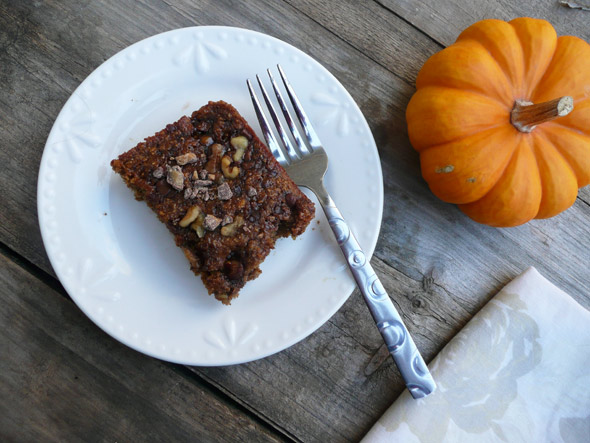 I met a new friend the other day. Her name is Kate and she is a healthy foodie that likes to cook with protein powder. She posted this pumpkin protein cake recipe and I was intrigued. I do not normally cook with protein powder, but I know it's important when you're working out to get enough protein, and being someone who works out a lot, yet doesn't eat much meat, I thought this was certainly worth a try. It sounds like an awesome treat to have after a good workout, doesn't it?
I added just one little thing: some toffee chips. It just seemed like the thing to add. I know it pulls down the nutritional value, but you know what? If it tempts me to eat it, that is a good thing, right? I didn't add toooo many …
I like to mix a little bad in with the good. Life is all about balance, my friends.
You wouldn't believe how good this cake smelled while it was baking …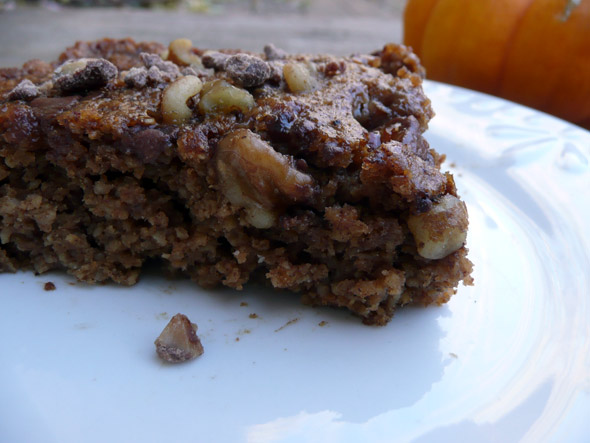 Pumpkin Toffee Oat Cake +
The + is for the extra protein and fiber!  … Recipe from Kate at Weights and Cakes.
When I first tasted this cake, I thought it needed more sweetness, but now the not-so-sugary-taste is kind of growing on me. So if you like your cake really sweet, you may want to add a little extra sugar or maybe stir the "toppings" into the batter and add a bit of frosting?
1/4 C Xylitol Brown Sugar Blend or light brown sugar (I used brown sugar)
2 oz. applesauce – (her recipe called for baby food applesauce, but I used my own homemade applesauce)
1 ½ tsp. pumpkin pie spice
1/2 tsp. baking powder
1/2  tsp. baking soda
1/4 tsp. salt
1 tsp. vanilla extract
2 large egg whites
1/2 of a 15 oz. can of raw pumpkin or 3/4 c. pumpkin puree
1 c. oat flour – (put rolled oats in a blender or food processor!)
1 scoop vanilla whey protein powder
1/4 cup almond milk or milk
Toppings (optional)
1/4 c. chopped walnuts
1/4 c. chocolate-covered toffee chips
Directions:
Preheat the oven to 350.
Spray a 9×9 square baking dish with non-stick spray.
Combine all ingredients (except the topping ingredients) in a medium bowl.
Spread batter into the baking dish. Sprinkle with the toffee chips and nuts.
Bake for 30 min. Cut into squares. Enjoy!