Red Cherry Rosemary Sangria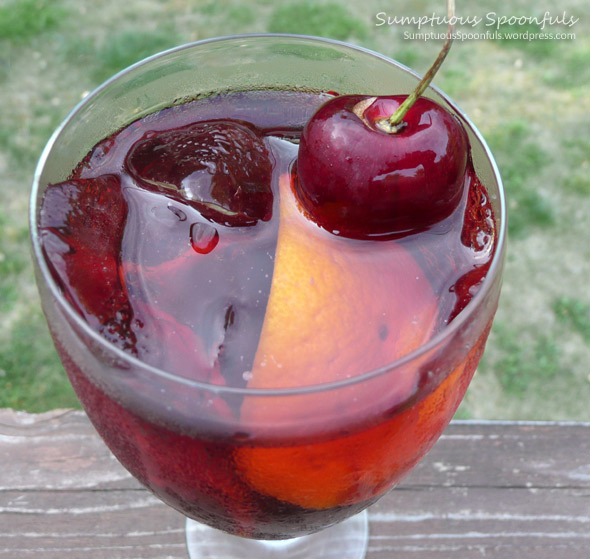 I made this sangria last weekend and finished it off last night and I miss it already. I am going to have to go get more fruit so I can make it again … the recipe came to me when I read my friend Ann's recipe for classic Spanish Sangria. It looked so good, but of course I had to mess with it. I can never follow a recipe. I had to add some of my current obsessions … cherries. and rosemary. yes. wouldn't that be perfect in Sangria? OMG, it was … soooo perfect.
(Slight basil tangent here, but bear with me, this will make sense later …) Last weekend at my party when I was explaining to one of my friends "what that taste was" in the watermelon sorbet … (basil) … and also mentioning that I put basil in my daughter's berry syrup for the Italian Cream Sodas … he said (jokingly) "Ann, it sounds like you need a basil intervention!" … I laughed so hard! … yes, I probably do … I really love basil … (and can you believe I didn't even mention the basil gelato!)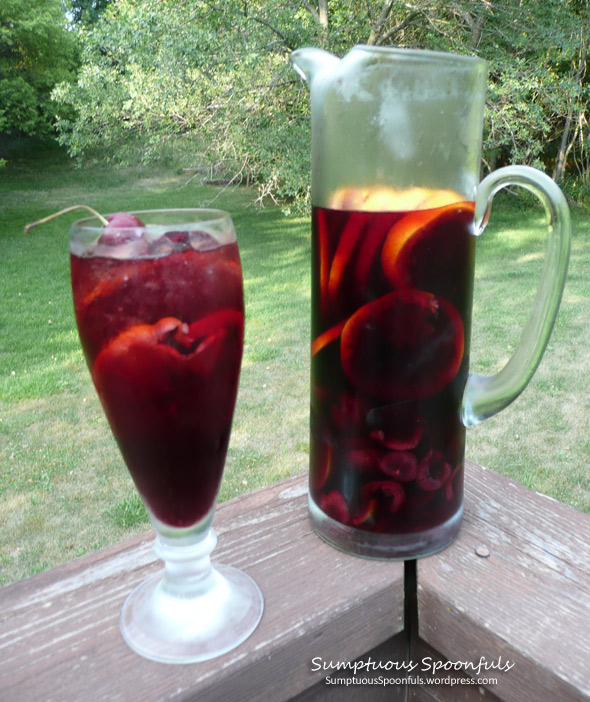 Of course then I mentioned this basil intervention joke on facebook and another friend said I need an intervention for roasted garlic and rosemary too. Yes, he's right. On both counts. I have two garlic cookbooks from the Gilroy Garlic Festival (which I dream of attending someday!) … and I have a rosemary plant that I tend in a pot year round so I ALWAYS have rosemary. Yes, you could definitely say I have a rosemary obsession. I recently discovered it goes very well in drinks. Water (yes, water! put a sprig of rosemary in a jar of water in your fridge in the morning … it adds such a lovely flavor to it!), cocktails, and now, sangria. I have yet to try it in tea, but yes, I will try that too.
So this beautiful dark red sangria features two of my current obsessions: rosemary and cherries. It has been years since I've had fresh, sweet cherries so I am reveling in them.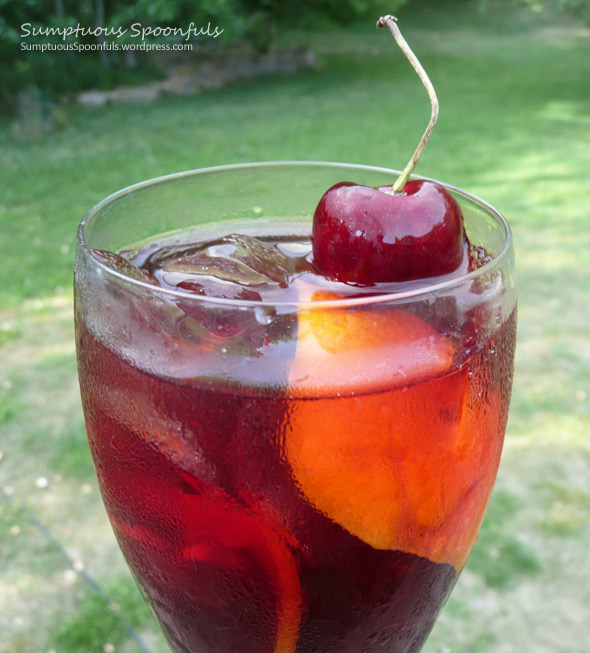 Red Cherry Rosemary Sangria
Adapted from the Fountain Avenue Kitchen
1 lime, halved and sliced
1 orange, sliced
2 handfuls of sweet cherries
1 tablespoon rosemary syrup (recipe here)
1 bottle fruity red wine (I used a bottle of my dad's Trinity Red)
1/2 cup berry or cherry brandy (I used my mulberry liqueur)
1/4 cup orange liqueur (such as Cointreau or Grand Marnier)
A couple sprigs of fresh rosemary
1 cup seltzer or club soda, chilled
ice cubes
 Directions:
In a large pitcher or bowl, add the lime and some cherries. Muddle the fruit a bit with the back of a wooden spoon.
Add the remaining ingredients except the seltzer or club soda and ice.
Chill several hours or overnight. Just before serving, stir in seltzer or club soda and ice. What I did, actually, was as I mixed each glass, I put a few cubes of ice in the glass, add some fruit from the sangria, add a bit more ice and fruit, then pour in the sangria to fill 3/4 of the glass and put a splash of club soda over each glass.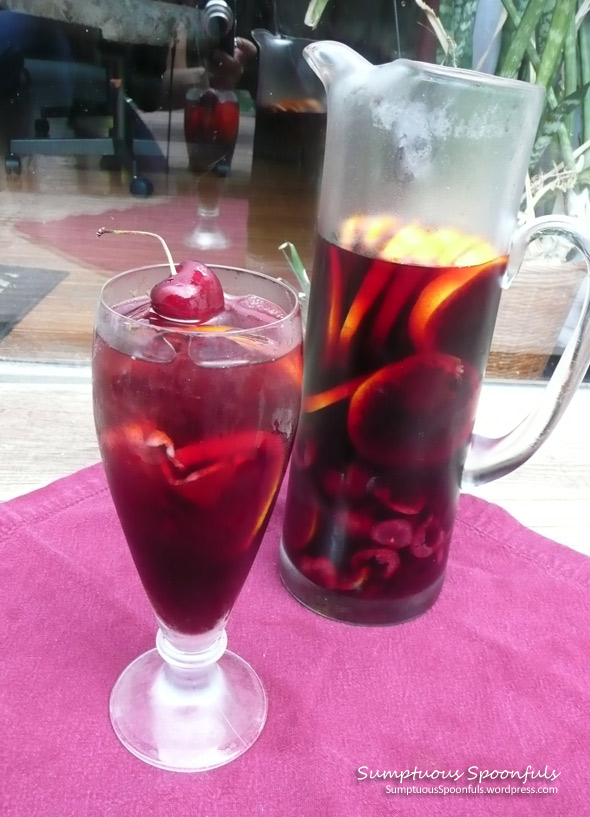 This is my self-portrait/blooper shot. Do you see me there?
This recipe was shared at Cast Party Wednesday, Tastetastic Thursday and Weekend Potluck.