Roasted Pepper Tomato Tapenade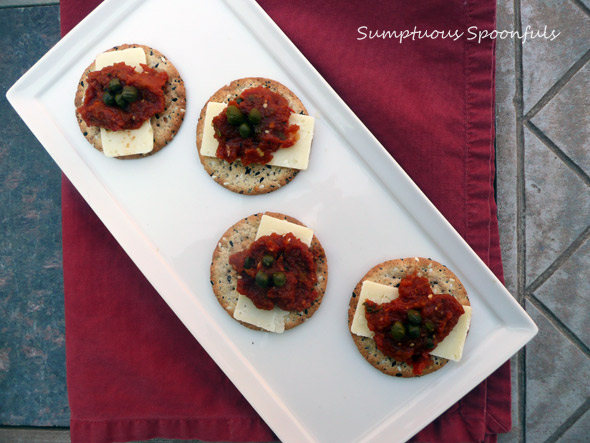 My friend gave me a bit of this lovely roasted pepper tomato tapenade she made. Ooh it was delicious! I tried spreading it on toast with melted cheese over top. Yum. I put it on a sandwich. Oh yes! I imagined all the things I could do with this scrumptious spread: it would be lovely in lasagna and all sorts of appetizers (little toasts! yes!) and pizzas and things. I only had a tiny bit that she gave me … but … she had told me what she put in it … tomatillos, sundried & fresh tomatoes, roasted peppers, garlic, olive oil … hmmm …
I still had four of the tomatillos she gave me and a couple fresh garden tomatoes, and oh yes, peppers from mom's garden … and I even had some of the "sundried" tomatoes (that I dried in the oven), so I thought I would see if I could make a tapenade.
I threw in some fresh herbs and capers for good measure. It's not exactly like her tapenade, but even if I had had her recipe on hand, I am sure I wouldn't have followed it precisely. I just can't properly follow a recipe!
I want to thank my dear friend Denise for giving me her marvelous tapenade … which spurred me to try making it. What a wonderful spread!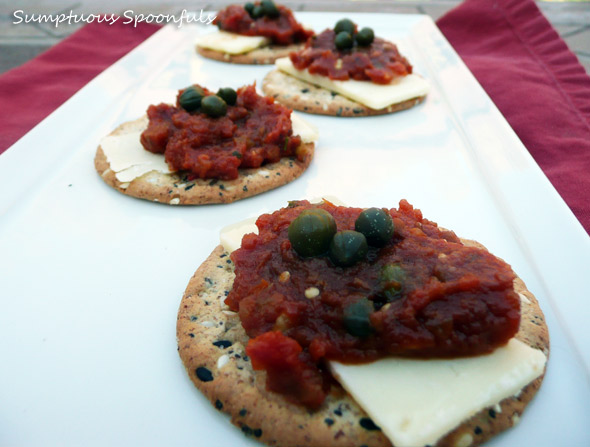 Roasted Pepper Tomato Tapenade
The best way to roast the peppers, tomatillos and tomato for this tapenade is on the grill, but you could also roast them in the oven.
1 medium fresh garden tomato
3 roma tomatoes
4 tomatillos
1 large bell pepper
1 hot pepper (I used this big hot red pepper my mom gave me similar to a New Mexico Green Chile, only it's red … but I think you could use any hot — or not so hot — red pepper)
2 – 4 cloves of garlic, peeled
1/2 cup sundried tomatoes
1 Tablespoon olive oil
1 Tablespoon balsamic vinegar
Several sprigs of rosemary
A couple sprigs of tarragon
A few fresh basil leaves
1 – 2 tablespoons capers
Directions:
Heat up the grill and set the tomatoes, tomatillos, and peppers directly over the heat. Roast until the skins of the peppers are charred and black (make sure you turn them to roast all sides of the vegies!) and the tomatoes are soft. This should only take a few minutes if your grill is good and hot.
Let the roasted vegies cool for a bit till they are cool enough to handle, then cut out the stem & core of the peppers and tomatoes, leaving the charred skin ON.
Pop all the ingredients except the capers in a handi chopper or food processor and blend until it forms a smooth paste. Pour the tapenade into a bowl and stir in the capers. Add salt if you like … I didn't think it needed any.
Serve on toast or crackers, use as a sauce for pizza, stir it into the ricotta mixture for your lasagna, use it as a tasty sandwich spread … or just let your imagination run wild.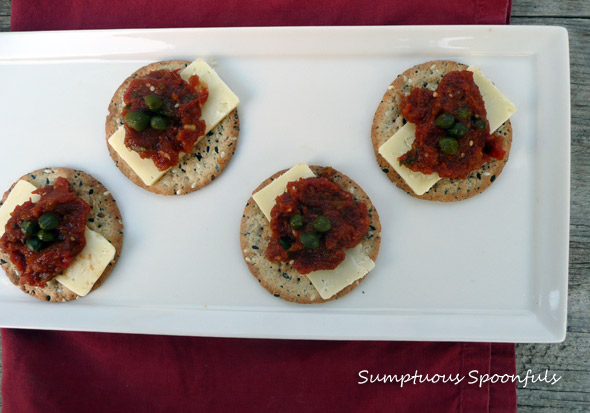 This recipe was shared at Melt in your Mouth Monday, Totally Tasty Tuesday, Tuesday Talent Show, Tasty Tuesday, Show & Share Wednesday, Cast Party Wednesday, Newlyweds Recipe Linky, Gala Dinner Party, Fit & Fabulous Fridays and All my Bloggy Friends.