Silvia's Italian Focaccia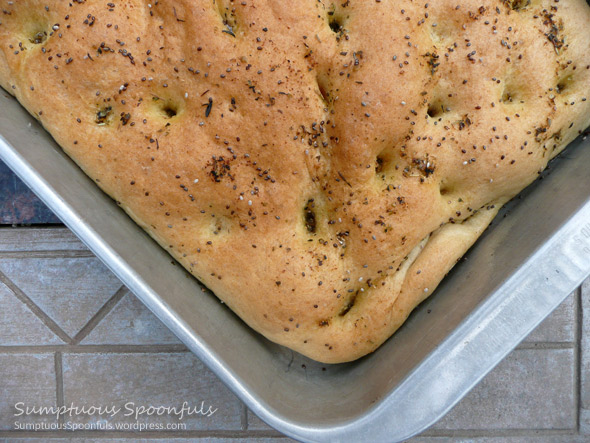 Last night Silvia's Cucina shared a beautiful authentic Italian focaccia and it made me soooo hungry for focaccia that I went in the kitchen and made it right away. I already had focaccia on my mind after Sherron's amazing caramelized onion & garlic focaccia and was dying for some good homemade bread after our travels. I was tempted to add some caramelized onions or tomato or cheese or something, but it was late and I thought perhaps I had just enough time before bed to make a simple focaccia.
I'm very glad I did. A slice of focaccia and a glass of wine was the perfect end to my day, and now I have a whole pan of delicious homemade focaccia to make sandwiches and things with!
Silvia says this recipe is from her brother, a professional Chef who made Focaccia daily when he worked at "Il Genovese" , in Milan in the late 90′s. I cheated and used my bread machine to mix up and knead the dough, though, so I'm not sure that mine has the same texture as hers did.  I did the glaze wrong as well, forgot the water in the glaze and then I added some Italian seasoning & granulated garlic, so I'm guessing the top is quite a bit softer than hers. Make sure you pop over and look at her recipe if you want a more authentic Italian focaccia.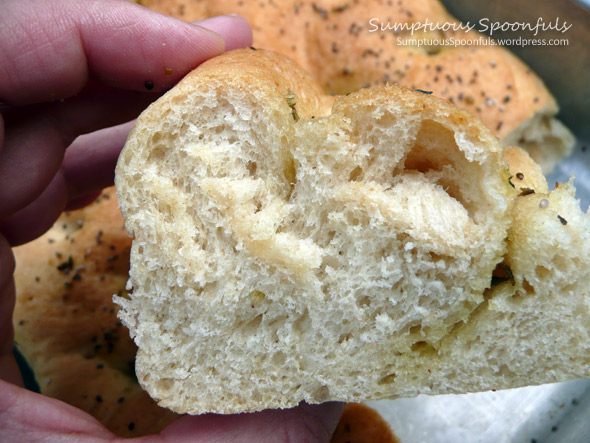 Silvia's Italian Focaccia
1 tablespoon of dried yeast
3/4 cup water (I had to add a little extra water because the dough wasn't sticking together properly)
1 teaspoon of honey
2 cups bread flour
3/4 cup whole wheat flour
2 tablespoons of extra-virgin olive oil
1 teaspoon salt
For the glaze : 2 tablespoons of extra-virgin olive oil , 1 teaspoon Italian seasoning, 1/4 teaspoon granulated garlic.
For the top: chia seeds (or other seeds … optional … I just thought it would be fun to dust my bread with chia seeds)
Put all the ingredients except the glaze into a bread machine and put it on the dough setting. I was in a rush and only let the machine go for about 45 minutes, then I took the dough out, rolled it, folded it (as Silvia did), and stretched it to fit my 13 x 9 x2 inch pan. I turned the oven on the lowest setting (170 F), then shut off the oven, covered the pan and set it in the oven to rise. In about 30 minutes I checked it and it had puffed up quite nicely, so I poked it all over with my finger and then drizzled it with the glaze, then covered it again and set it in the oven for about 15 minutes to puff up a little more.
I sprinkled it with some chia seeds and baked it at 390 F for about 20 minutes, until it was a nice golden brown.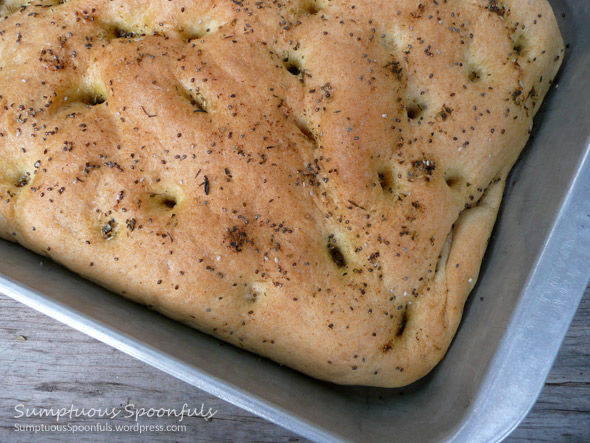 This recipe was shared at Weekend Potluck and Cast Party Wednesday.