Skinny Peppermint Mocha Slushie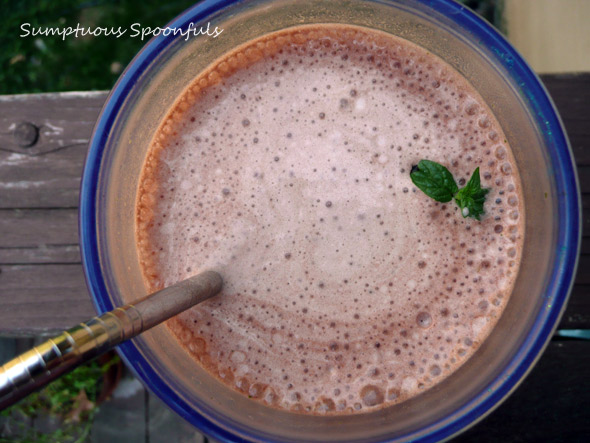 It's National Coffee Day … I intended to make it to the coffee shop this morning to buy myself a fancy coffee, but then I got busy with other things … When I finally got home this afternoon, I still had a craving for coffee. I opened the fridge and there sat a pot of cold coffee that my son had made. It's very warm (almost summer-ish!) for late September, so I decided a peppermint mocha slushie would be a fitting way to celebrate the occasion.
If I had thought ahead, I would have frozen some coffee ice cubes. Oh well, it was still delicious.
Skinny Peppermint Mocha Slushie
1/2 cup coffee, brewed double strength, then chilled
1 cup 2% lowfat milk (or fat free half and half would be even creamier … I am sure almond or coconut or soy milk would work fine for this too)
3 teaspoons dark unsweetened cocoa powder
3 Tablespoons Stevia in the raw
1 teaspoon vanilla extract
1/4 teaspoon peppermint extract
several fresh mint leaves (if you have them)
1 – 1 1/2 cups crushed ice (or frozen coffee)
Pour everything into a blender and blend till it's a nice smooth, slushie texture. Add more ice if needed to get it to the desired thickness.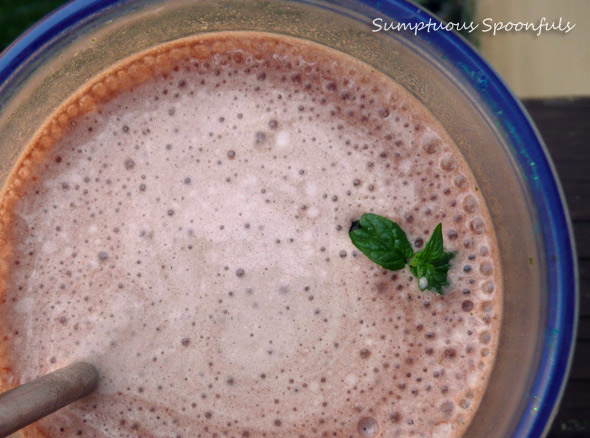 This recipe was shared at Fit & Fabulous Friday, Share it Saturday, Scrumptious Sunday, Weekend Potluck, All my Bloggy Friends and Everyday Mom's Meals.