Sunday Mornings & Vanilla Waffles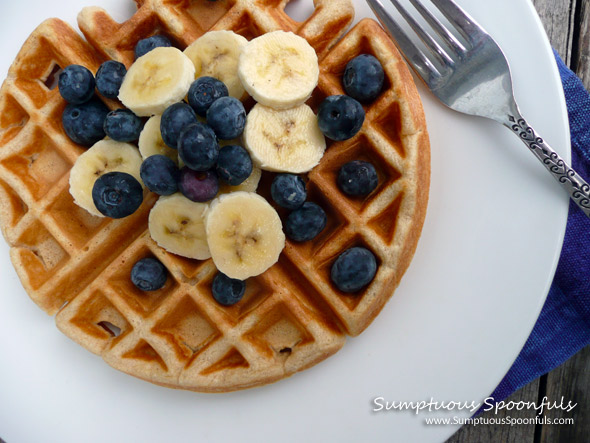 Sundays are waffle days. Or sometimes they are pancake days. But pretty much always one of the two. with Bacon. Always with bacon. On rare occasions we MAY have breakfast sausage instead, if we're out of bacon.
It has been this way with my kids for ages, it seems. Some friends of ours gave us an antique waffle maker. We used and used and used that waffle maker until the cord on it literally wore out and broke off. For a while we were waffle-less, and we made do with our sandwich maker, making waffle puffs, as my kids called them.
Finally I broke down and bought a new waffle maker, we brought this amazing nonstick waffle maker home, put in a waffle, and tried to open it. It was stuck shut. We broke the handle trying to pry it open (and we didn't even try that hard!) … that waffle maker went back to the store! You should be able to make more than one waffle with it before the handle breaks, shouldn't you? So I ordered a new one online, and it makes lovely waffles. Now we can continue our Sunday morning waffle fest. Except my kids have grown so much that this recipe makes just enough for them, so mom gets to eat something else. In fact, I got in big trouble for putting fruit on the waffle to take a picture of it. My son complained that the waffle "smelled like banana" … but he ate it. And now I have the recipe blogged, so I won't be messing with his waffles anymore.
Sunday Morning Vanilla Waffles
Ingredients
3/4 cup flour
3/4 cup white whole wheat flour
1 teaspoon baking powder
1/2 teaspoon salt
1 Tablespoon sugar
1 cup milk
2 teaspoons of good-quality vanilla
2 eggs, separated
1/4 cup butter, melted
Instructions
In a medium mixing bowl, mix the dry ingredients.
Set the butter in the microwave to melt (cover the butter to keep it from splatting the microwave as it melts).
Add the milk and vanilla to the batter, then separate the eggs, putting the whites in a separate bowl and adding the egg yolks to the batter. Turn the waffle maker on to give it time to heat up.
Stir the batter till it's fairly smooth; it will be thick at this point.
Now take the butter and stir the batter with one hand while drizzling the melted butter into it with the other hand. Keep stirring till the butter is all mixed in.
Beat the egg whites on high with a mixer until they form stiff peaks. Fold the whites into the waffle batter.
Spray the waffle maker with cooking spray and pour some of the batter into the hot waffle iron. For our new waffle iron, it takes about a cup of batter per waffle, but you might need to adjust the amount of batter for your waffle maker.
Cook until the waffle is a lovely golden brown in color. Eat it while it's hot, with a little butter on top and drizzled with syrup .. and if you are like me, some fresh fruit on top. My kids prefer their waffles plain.
Notes
You can cut the fat in this recipe by using 2 Tablespoons of butter and a Tablespoon or two of yogurt; however, the waffles won't be as crisp.
http://www.sumptuousspoonfuls.com/sunday-mornings-vanilla-waffles/
Copyright 2012 by Sumptuous Spoonfuls. Recipes are meant to be shared! Nothing makes me happier than to hear about someone who has tried one of my recipes. All I ask is that if you are going to share my recipe online, give me credit and a link. And if you want to use one of my photos, please ask first. You can contact me at http://www.SumptuousSpoonfuls.com/contact/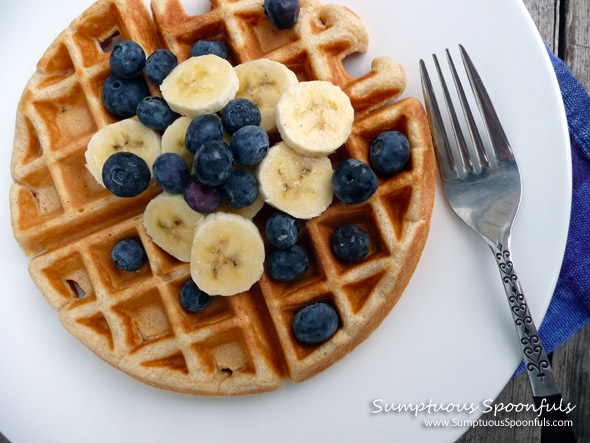 This recipe was shared at Mop it Up Mondays, Melt in your Mouth Monday and Everyday Mom's Meals.