Thanksgiving Aftermath & Parmesan Cornmeal Biscuits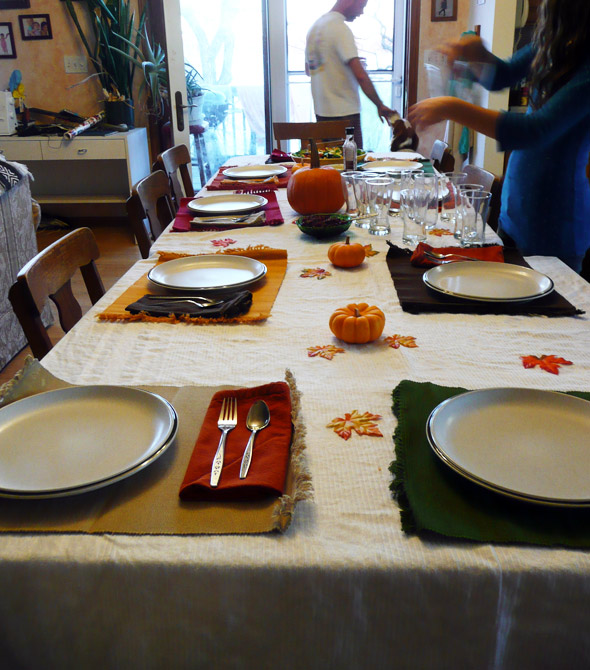 We had a festive Thanksgiving this year.  The table was all decked out with autumn colors, pumpkins and leaves. My dad and sister cooked up one of his wild turkeys. Of course we had all the fixings too: stuffing and mashed potatoes, beer-braised brussels sprouts with bacon, mashed vanilla sweet potatoes, maple walnut cranberry sauce, a big beautiful salad with tahini yogurt dressing, dinner rolls, and lots of wine and pie.
The next day I had to work, but I am fortunate that my boss lets me work from my parents' house. We munched a lot that day. I had pie and chai tea for breakfast. We didn't really have lunch–we just munched on leftovers and things. My sister made turkey nachos. I spooned some of the cranberry sauce over a block of cream cheese.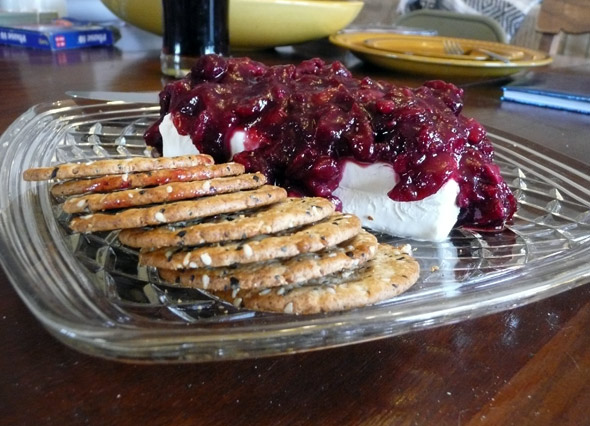 We discovered yes, it is even better with a slice of jalapeno.
… and then for dinner, my sister made turkey soup with homemade noodles, and I made up some of my parmesan cornmeal biscuits. My boss called while I was mixing up the biscuits, and I forgot to put in the egg. I was so disappointed–I have made these biscuits so many times and they should be light and tender, with a beautiful contrasting crunch from the cornmeal. I was arguing with everyone that the biscuits sucked because I know how they are supposed to taste, but everyone else insisted that they were great. They were okay I guess … just promise me when you make them that you won't forget to put in the egg. Even if it's the day after Thanksgiving, there are people and dogs everywhere, and your boss calls while you're mixing up the batter.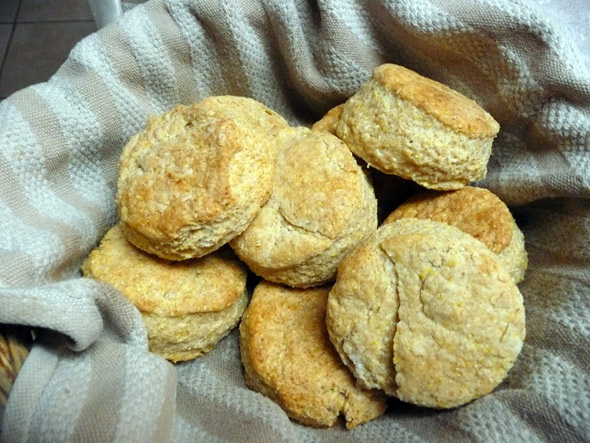 Parmesan Cornmeal Biscuits
I made half with jalapenos, half without. The adults all loved the jalapeno version, but my kids wanted the "plain" ones. Try other cheeses in place of the parmesan.
1 cup white flour
1/2 cup whole wheat flour
1/2 cup yellow cornmeal
2 tablespoons sugar
2 1/2 teaspoons baking powder
3/4 teaspoon salt
1/2 teaspoon baking soda
5 tablespoons chilled butter
1/4 cup parmesan cheese
1 large egg
1 cup plain low-fat or nonfat yogurt
2 – 4 Tablespoons of finely chopped jalapenos or green chile (optional)
Directions:
Preheat oven to 400 degrees F.
Mix first 7 ingredients (flour through baking soda) in a large bowl.
Cut butter into small bits and mix in with a pastry cutter, 2 knives or use your fingers to blend until butter is blended in and mixture is a coarse meal. I like to use my fingers because I love the feel of the crumbly flour and butter on my hands.
Add parmesan cheese and mix until blended.
In a small bowl, whisk egg and yogurt until smooth.
Add the egg/yogurt mixture to flour mixture. Stir well to mix into a moist, thick batter. Add chopped jalapenos, if you're using them.
Turn the batter onto a well-floured surface and sprinkle with flour.
Roll to 1/2 to 3/4 inch thick and cut into shapes.
Bake at 400 for 15 – 20 minutes or until nicely browned on top.