"To Die For" Cheesy Chili Layer Dip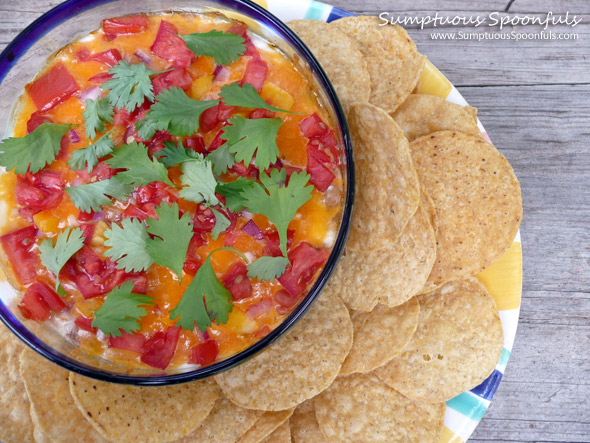 I totally LOVE this dip … I confess I have, at several points in my life, been guilty of making a pot of chili just so I could make this dip.  And yes, when I made my latest chili (the Fire Roasted 7-Bean Crockpot Chili), this dip was definitely on my mind.
My sister (the middle one) invented this dip ages ago … and when my other sister and I tasted we thought it was "to die for" … see the beautiful layers in there? You can't quite make out the bottom layer in the photo … it's cream cheese. I think I made that bottom layer a bit too thin this time … you want it thick enough so you can dip down into it.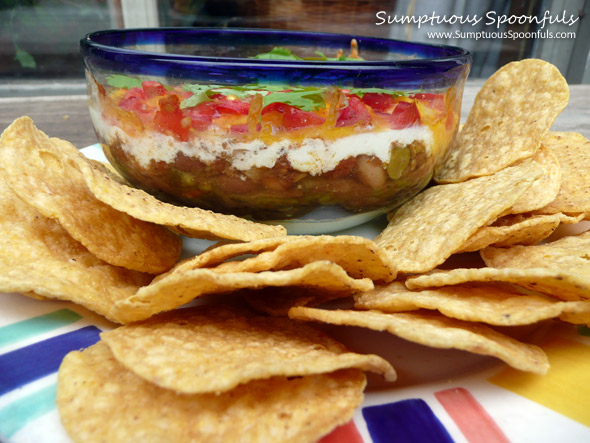 Here is how it goes. I'm not including amounts because you can adjust this recipe to the size of your baking dish or bowl. Try to keep the upper layers pretty thin so you can actually dip a chip all the way to the bottom of the bowl–you really want to get some of that cream cheese with the chili and the other layers. When they all play together in your mouth, it's SO good!
"To Die For" Cheesy Chili Layer Dip
Ingredients
Light cream cheese
Refried beans
Chopped onion
Green chiles, roasted and chopped (or use frozen or canned ones ... I was lucky to have some frozen Hatch green chile on hand so that's what I used) ... you can substitute other hot peppers for the green chile if you like.
Your favorite chili (this time I used my Fire Roasted 7-Bean Crockpot Chili)
Greek yogurt or sour cream (optional ... I think including this layer might be a bit too much)
Shredded sharp cheddar cheese
Chopped tomato and/or peppers
Chopped green onion and/or cilantro for the top
Instructions
Preheat the oven to 350 degrees F.
In an oven-proof bowl, glass dish, or pie plate, spread about a 1/3 inch layer of cream cheese on the bottom.
Next spread a layer of refried beans over the cream cheese.
Now sprinkle with chopped onion and chopped green chile, then spread a layer of your favorite chili over that.
Cover the chili with a good layer of shredded sharp cheddar cheese.
Sprinkle the top with chopped onion, peppers, and/or onion.
Bake at 350 for 15 - 30 minutes or until everything is hot and the cheese is melted and bubbly. (cooking time depends on how big of a dish you are baking)
Sprinkle with chopped green onion and/or cilantro and serve hot with tortilla chips. Make sure to tell your guests to dip all the way down to the bottom so they get some of that cream cheese with the rest of the flavors. THAT Is what makes it "to die for"!
http://www.sumptuousspoonfuls.com/to-die-for-cheesy-chili-layer-dip/
Copyright 2012 by Sumptuous Spoonfuls. Recipes are meant to be shared! Nothing makes me happier than to hear about someone who has tried one of my recipes. All I ask is that if you are going to share my recipe online, give me credit and a link. And if you want to use one of my photos, please ask first. You can contact me at http://www.SumptuousSpoonfuls.com/contact/
Note: my pretty bowl actually did "die" in the making of this dip … I discovered a crack in it when I was cleaning up … note to self: make sure your bowl is oven-safe!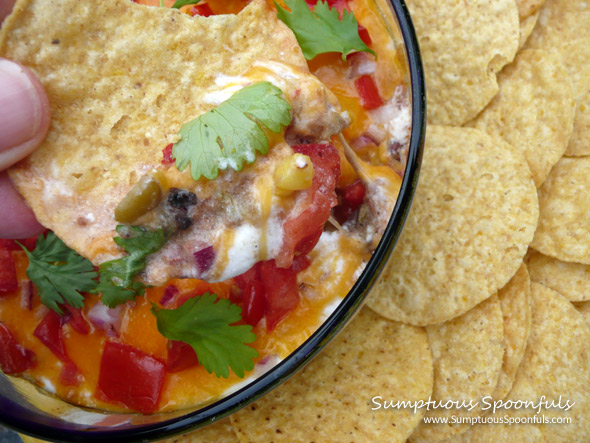 This recipe was shared at Foodie Friday, Show & Tell Saturday, Strut your Stuff Saturday, Manic Monday, Tasty Tuesday, Cast Party Wednesday, Thursday's Treasures, Foodie Friends Friday, All my Bloggy Friends, Katherine Martinelli's Taco Bloghop, Show off your Stuff, Back for Seconds, Super Bowl & Chili Party, Kitchen Dreaming Chili Cookoff and Clever Chicks Bloghop.