Tropical Trail Mix Granola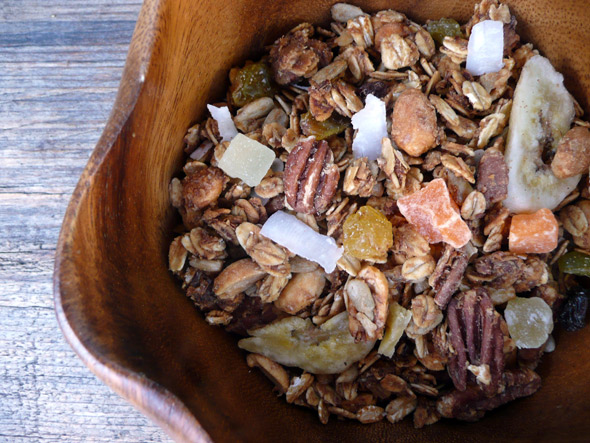 I am SOoooo into homemade granola! I love love love love LOVE it! Ideas for different granola flavors are bouncing around in my head like crazy. The idea for this tropical granola sprung from a peanut butter trail mix cookie I used to make with tropical trail mix (come to think of it, I need to make those cookies again sometime for the blog …)
But not today … nope no siree bob … Today it's time for GRANOLA! The perfect sweet healthy snack to munch on when you need a little boost of energy. That wonderful crunchy mix that is so welcome sprinkled on yogurt … or in a bowl with fruit and milk.  This granola is chock full of tropical fruits, so you don't need to even add any more fruit … unless, of course, you want to. It is awfully good with a couple fresh strawberries tossed in.
You are going to love this stuff. I just know it.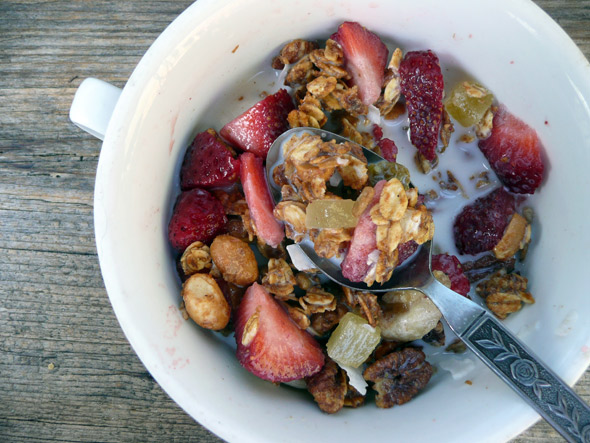 Tropical Trail Mix Granola
Dry ingredients:
1/2 cup sunflower seeds
3/4 cup peanuts
3/4 pecans
4 cups old fashioned oats
1/4 cup flaxmeal or flax seeds
1/4 cup wheat bran or wheat germ
Wet ingredients:
1 very ripe banana
1/4 cup maple syrup
1/4 cup peanut butter
2 teaspoons vanilla extract
1 teaspoon cinnamon
1/2 teaspoon ginger powder
1/2 teaspoon nutmeg
1/2 teaspoon coarse sea salt (optional … you can lower the amount of salt or leave it out for a low-sodium granola)
1/4 cup honey
And then mix in …
2 cups mixed dried tropical fruit pieces (pineapple, coconut, mango, banana chips, etc.)
Directions:
Preheat the oven to 275 degrees. In a large bowl, mix the oats, flax, wheat bran and nuts. Set aside.
In a separate small bowl, mash the banana very well until it's smooth (not too lumpy). Put the banana in a small saucepan with the maple syrup, and other wet ingredients. Heat over medium heat, stirring frequently, until the mixture is hot and bubbly. Stir in the honey and remove from heat.
Pour the hot sweet sticky banana mixture over the nutty oat mixture in the bowl. Stir it all up until it's well mixed.
Spread all this wonderful stuff out into a thin layer on a large jellyroll pan (or other big flat baking pan with an edge to it). Set it in the oven and bake for about an hour and 15 minutes, stirring every 15 minutes. It should be browned to a lovely brown color and smelling fantastic. You can taste a little sample to see if it's crunchy enough. If it's not, bake it a little longer.
Let the granola cool for a bit before stirring in the fruit. Store in an airtight container. It will keep for about a month or so. There's NO way mine is going to last that long …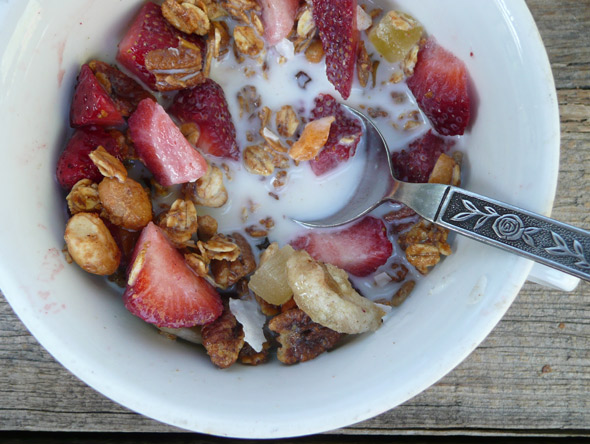 This recipe was shared on Totally Tasty Tuesdays and Newlyweds Recipe Linky.