Tulip & Violet Salad with Salmon Cucumber Toasts
a.k.a., Tiptoe through the Tulips with Me Salad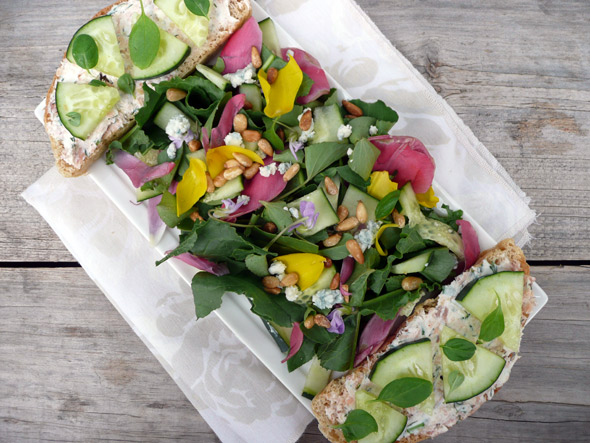 I have been wondering what beautiful blossoms in my yard are edible? There must be something besides dandelions and wild violets …
So I did a little research and it turns out there is a reason the deer chomp off the tulip blossoms so quickly … they're delicious! Tulips have a faint taste sort of like asparagus, but with a lighter, more flowery taste.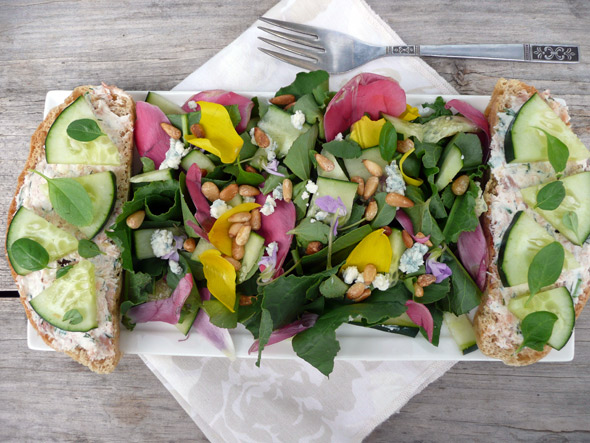 I have planted a lot of tulips, but I don't get to see very many of my sweet tulip blossoms, thanks to the deer that visit my yard so frequently. I welcome the deer as a magical presence in my life … and at the same time I get frustrated with them for killing my trees, eating all my tulips, lilies, strawberries, hostas, apple and apricot trees (will I EVER have apples?) … it's very hard to garden with deer around.
I had just three surviving tulip flowers  … I figured I had better pick them before the deer got them.
Please do not try eating your tulips if you use chemicals on your tulips or on your lawn anywhere near your precious tulips.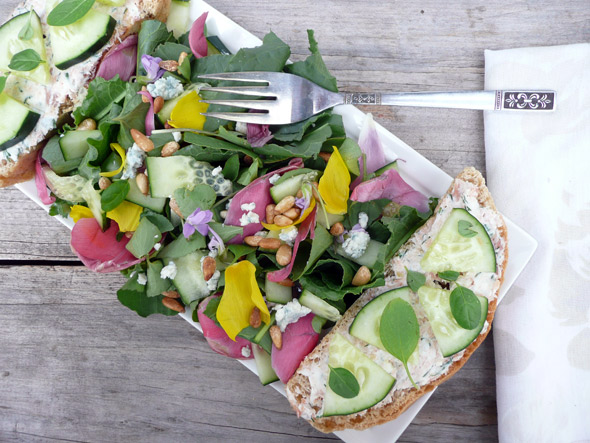 Tulip & Wild Violet Salad with Blue Cheese and Pinons
Find some greens. I snipped some "volunteer" greens from my garden. Make a bed of greens on your salad plate or bowl.
Arrange tulip petals and wild violet greens and blossoms (whatever you have) on top of your greens.  (Just please make sure there aren't any nasty lawn chemicals on your flowers!)
Sprinkle your beautiful salad with crumbled blue cheese and toasted pine nuts (pinons) … or other nuts of your choosing.
Drizzle with your favorite vinaigrette. I was sure I had some berry vinaigrette in my fridge, but I couldn't find it and settled for my maple cranberry vinaigrette. It worked out beautifully anyway.
Salmon Cucumber Toasts
French bread
1 oz. light cream cheese
1 tablespoon or so of blue cheese
A sprig of fresh dill, snipped
Garlic scapes, snipped … or a bit of fresh garlic, chopped
A bit of finely chopped onion … or green onion
A small fillet of salmon, grilled or smoked
Cucumber slices and basil leaves, for the top
Directions:
Toast the french bread lightly
Mix the cream cheese, blue cheese, scapes or garlic, onion, dill and salmon in a small bowl till mixed well.
Spread the french bread toast with the cheese mixture and top with cucumber slices and basil leaves.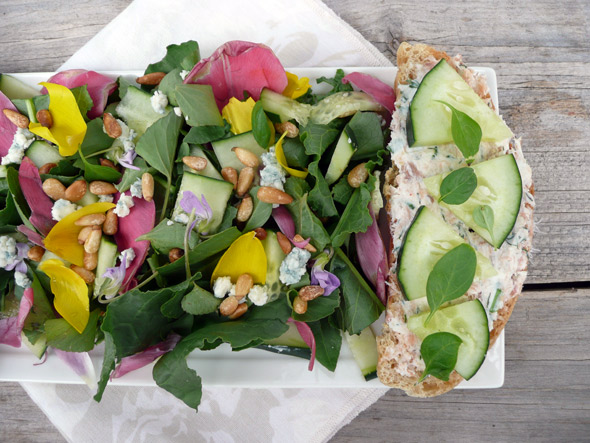 This recipe was shared at Full Plate Thursdays, Tastetastic Thursdays, Katherine Martinelli's Easter Blog Hop, Fit & Fabulous Fridays, Everyday Mom's Meals, Milestone Link Party: Easter Recipes and Totally Tasty Tuesdays.