Veggie-licious Millet Cakes & Cookbook Review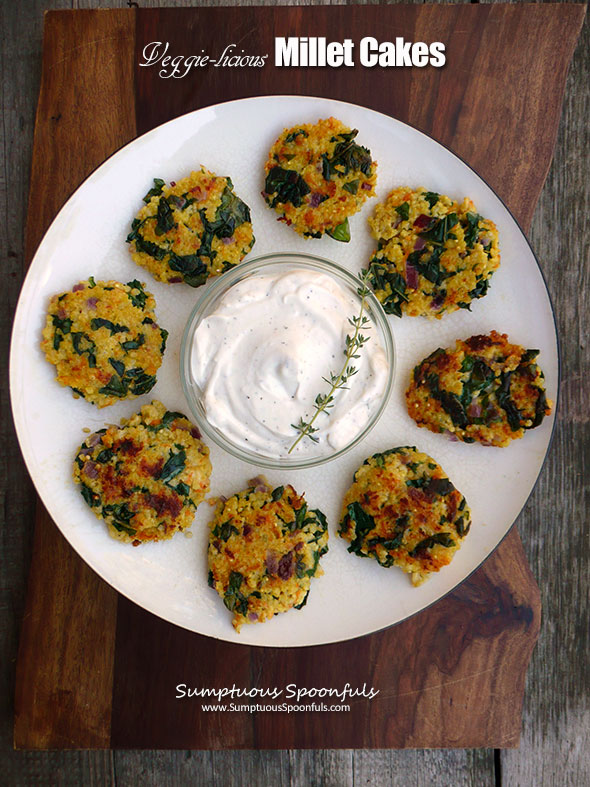 My dear friend Sonali (a.k.a, The Foodie Physician) has written another wonderful book! I have contributed recipes in some her books in the past … but when contacted about this one, I have to admit I hesitated, because I thought at my stage of life, with a daughter who's just entering her senior year in college and a son who is in college, what do I have to say about a baby food book? How would I possibly even try any of the recipes? I have nobody in my house or in my life that eats baby food … but you know what?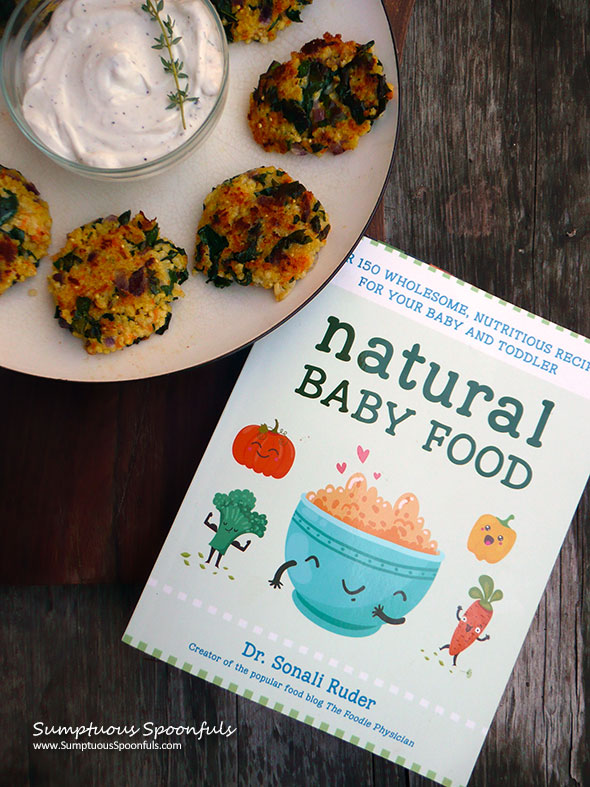 While the focus of the book is baby food, it's not all about baby food–there are also recipes towards the back of the book that are for toddlers and they are things that adults and kids alike would enjoy. After paging through the adorable and very informative ebook they gave me to preview, I decided that yes, I would love to review this cookbook. And as I dived into it, I was drawn by the informative pages like this herb chart: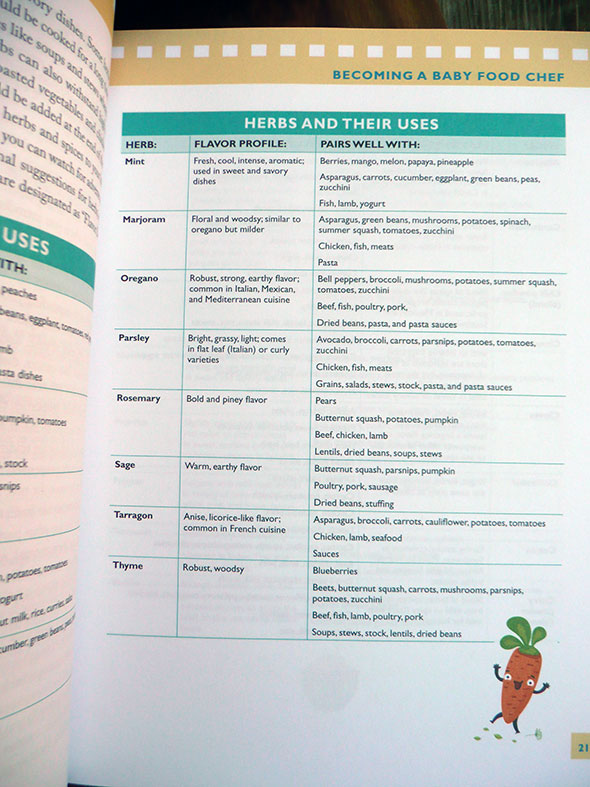 I use fresh herbs in my cooking all the time, but I just LOVE this chart! How handy to have a reference like this at your fingertips. The book is full of all sorts of useful information, like what to feed your child at each stage of early development, when to start solids, what foods are good to feed them and what you should avoid. I brought this book to work and shared it with several of the moms of young children. The moms that love to cook or want a natural foods approach absolutely loved the book … when I went to gather the book, one of the moms exclaimed, "Wait! I need a picture of this book … I need to go buy it!" Another one of the moms from work asked if she could spend several days with it because she has little ones with allergies to a lot of foods.
Personally, I'm in love with the quote from the "why homemade baby food?" page … "You are developing your baby's palate for real, natural foods and making them an adventurous eater." Oh, if only I'd had a book like this when my children were little! Would my kids be more adventurous eaters now? In general in my life, I don't have many regrets, but in a way, I wish I'd made my own natural baby food when my kids were little.
So let's talk a little about these millet cakes. I had never heard of or tried millet before I saw these cakes, but I learned a lot about it on my "baby food" journey. The millet cakes recipe appears in the toddler snack section towards the back of Sonali's book. Millet is an ancient, easily digested grain that's also gluten free and a good source of fiber, so it's good for both young and old tummies. It costs a lot less than quinoa and in these cakes, it's absolutely delicious! I added a little cheese, mostly because I'm a cheese fanatic, but also because I thought it would help the cakes hold together (and it did). The little veggie fritters are good without the cheese, too. I do recommend using avocado oil for frying … it has a high smoking point and delicious flavor, and just a tiny bit of oil can be used to fry up the cakes.
Veggie-licious Millet Cakes
Ingredients
1 cup low sodium vegetable or chicken broth
½ cup millet (dry)
2 teaspoons avocado oil (or other heat-tolerant vegetable oil)
¼ cup finely chopped shallot or onion
1 carrot, peeled and grated
1 clove garlic, finely chopped
A couple sprigs of fresh thyme leaves (or 1/4 teaspoon dried thyme)
3 ounces (3 cups) kale or baby spinach, chopped
Kosher salt
1 large egg plus 1 egg white
1/2 cup shredded Italian cheese (optional)
2 teaspoons avocado oil (or other heat-tolerant vegetable oil)
Instructions
Bring the broth to a boil in a small saucepan and add the millet. Cover, reduce to a simmer, and cook until soft, 15-20 minutes. Transfer the cooked millet to a large bowl.
Heat 2 teaspoons oil in a nonstick skillet over medium heat. Add the shallot or onion, carrot, garlic and thyme and cook 2-3 minutes until partially softened. Add the kale or spinach and season it with a pinch of salt. Cook until wilted, another 2-3 minutes. Transfer the mixture to the bowl with the cooked millet and let it cool for a few minutes. Add ¼ teaspoon salt, the egg, and egg white and stir to combine. If desired, stir in the shredded cheese.
Form the mixture into 12 - 16 patties (about 2 tablespoons each), compacting them well so that they hold together. Heat 2 teaspoons oil in the skillet over medium heat. Add half of the patties to the pan and cook until golden brown, about 4-5 minutes. Flip and cook another 4-5 minutes on the second side. Remove from pan. Heat another 2 teaspoons oil and cook the remaining patties.
Notes
RECIPE SOURCE: http://www.sumptuousspoonfuls.com/
© Copyright 2016, Sumptuous Spoonfuls and The Foodie Physician. All images & content are copyright protected. Please do not use my images without prior permission. If you want to publish any of my images, please ask first. Recipe is from Natural Baby Food cookbook by Dr. Sonali Ruder (The Foodie Physician).
http://www.sumptuousspoonfuls.com/veggie-licious-millet-cakes-cookbook-review/
Copyright 2012 by Sumptuous Spoonfuls. Recipes are meant to be shared! Nothing makes me happier than to hear about someone who has tried one of my recipes. All I ask is that if you are going to share my recipe online, give me credit and a link. And if you want to use one of my photos, please ask first. You can contact me at http://www.SumptuousSpoonfuls.com/contact/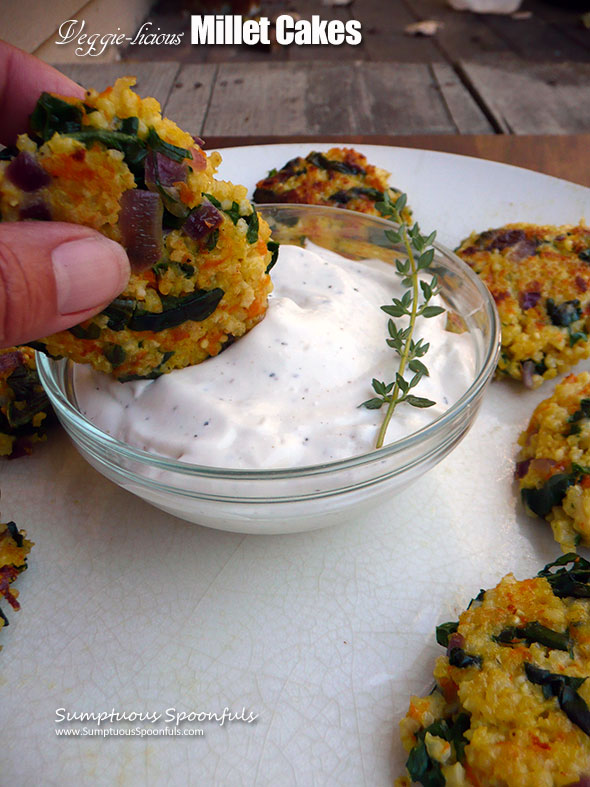 This recipe was shared at Foodie Friends Friday and Sunday Fitness & Food.