Watermelon Rosewater Slushies
There is something insanely romantic about roses. When my roses started blooming this year, don't ask me why, but I desparately wanted to make some rosewater. I had no reason why I was doing it or what I was going to do with it, but I wanted to make it. So I did. The jar of rosewater has been just sitting in my fridge, waiting for me to find something to do with it … I could easily drink it in an hour, but it seems too special to just drink like water.
And then today it was so hot and windy … my daughter and I went out on a short shopping expedition and when we came back, we were both all hot and thirsty. I opened up the freezer to look for some food for my son and there right on the top was a bunch of frozen watermelon cubes.
I wasn't really sure what I was doing; I just started doing it. I knew both my daughter and I needed some serious hydration. Something to cool us off. I threw a bunch of the frozen watermelon cubes in the blender, added some rosewater and some water and started blending. It turned out lightly sweet, rose-scented, frothy and slushy, pink on the top, and bright red on the bottom. Refreshing, cool, inviting, and insanely romantic. What I really love about it is: you can taste the roses.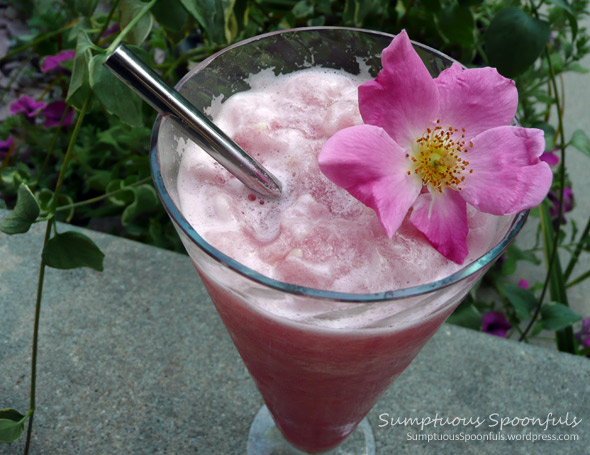 Watermelon Rosewater Slushies
About 4 cups of watermelon cubes, frozen
1 cup of culinary rosewater (recipe below)
Water, as needed (I used 1 1/2 cups, I think)
Honey or juice concentrate or a simple syrup made with rose petals or rosewater, to taste (I didn't add any, but if you're used to a sweeter drink or serving to children who want it sweeter, you might want to add some … my parched 13-year-old daughter said it was fine just like that, with no sweetener)
Put the watermelon cubes and rosewater in a blender. Add water as needed to make a slushie consistency that you can sip through a straw. Add sweetener if you like. I really don't think it needs any; the watermelon and the roses both have such a lovely flavor, but make it to suit your own tastes. Garnish with a fresh organic rose, if you have one, or a slice of watermelon.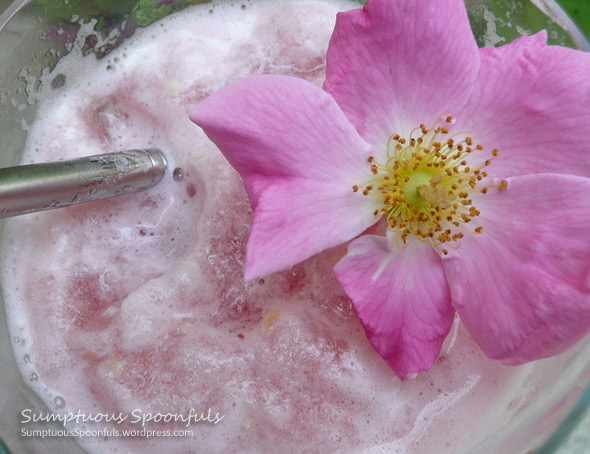 How to make Culinary Rosewater
Cut fresh organic red roses and wash to remove any residue or bugs. Remove the petals and snip the white part at the bottom off of each petal. Fill a quart jar with the snipped rose petals, packing them in. I think I used about 18 big roses. Boil water and pour the boiling water over the roses, filling the jar. Let sit at room temperature for 24 hours, then strain out the rose petals. Store in the fridge in a sealed container.
To make a rose-scented simple syrup: mix 1 cup rosewater with 1 cup sugar. Add some rose petals (with white parts trimmed off) if you like. Bring to a boil, then cook for a few minutes and strain out the rose petals. Let cool before using. Use in beverages or anything that needs a little sweetening.
This recipe was shared at Melt in your Mouth Mondays, Makin' you Crave Mondays, Totally Tasty Tuesdays, Summer Drinks Potluck Party and Thursday's Treasures.