White Wine & Red Roses Sangria
This is a white wine sangria with red rose petal-infused vodka and a tumble of wonderful fruits. It's romantic and beautiful and tastes so wonderful that it's a little dangerous. Please be careful not to drink too much of this if you're driving … it's probably best just to get a designated driver if you're going to drink this, or stay home. I had a hard time keeping myself from drinking the whole pitcher myself …
My sister and her husband came for a visit this weekend and they left early this morning. I felt a little sad when they left, wished we could have made the visit longer somehow, but we both need to get back to our lives. I wish I had had time to make her some of this sangria too, but really we ran out of time.
White Wine & Red Roses Sangria
1 bottle of white wine (I used Riesling)
1/4 cup orange liqueur
1/4 cup rose petal vodka (you can buy it, but if you have organic roses, it's easy to make … here's my recipe)
2 Tablespoons very berry syrup (recipe here)
1/2 of an orange
1 lime
2 plums
3 strawberries (or more if you have them … I just had a few left so I tossed them in)
Put some of the fruit in a pitcher and muddle it around a bit to release the flavors. Add the rest of the fruit, the wine, and the liqueurs. Set the pitcher in the fridge to "steep" for at least a couple hours, then enjoy over ice. You can top it with a little club soda when you serve it to add some sparkle if you like. I didn't this time and was perfectly pleased with it just like this.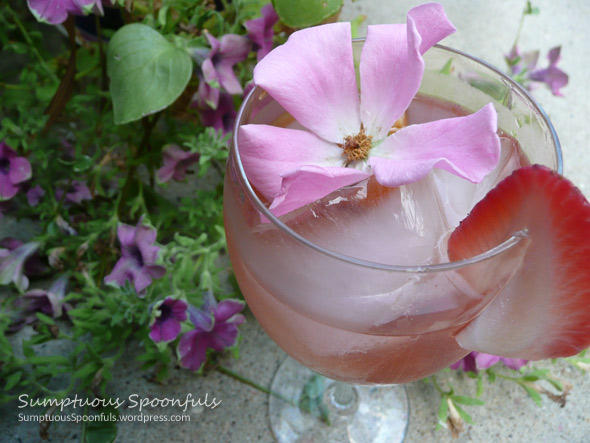 This recipe was shared at Serendipity & Spice, Scrumptious Sundays, Family Fresh Meals, Weekend Potluck, and Tastetastic Thursday.