Wild Mushroom & Sausage White Pizza
with Rachael Ray's Pizza Crust (adapted for the bread machine)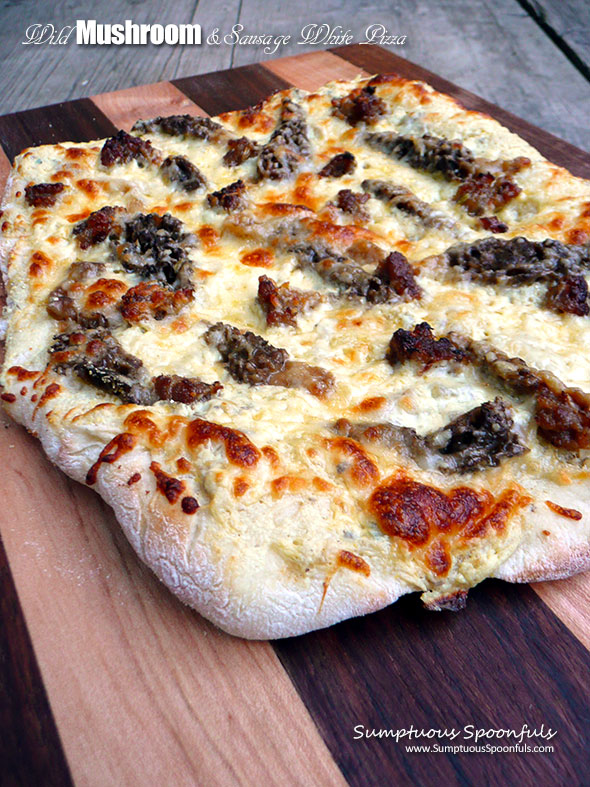 Have you ever had a white pizza?  The first time I encountered a white pizza, I have to admit I was a little befuddled. Growing up in middle America where pizza equated to Domino's or Pizza Hut … or,  if you're going with the frozen variety, Red Baron, Tombstone, or Tony's, the whole concept of a white pizza was foreign to me. I don't recall exactly where I was or even how old I was but I remember I was willing to try it and, once tasted, I was definitely hooked.
In my childhood, we used to go mushroom hunting. We always made silly jokes about needing "mushroom guns" for the mushroom "hunting". It was a little like fishing … tons of fun when you found lots of mushrooms, not so much when you didn't. The very best mushroom that we "hunted" was the elusive and highly treasured morel mushroom. There were days when we filled the cooler with them, and other days when we found just a few. Every single one was a treasure, though, and we always thought hard on the best way to use these special mushrooms. If you try to purchase these lovelies, they will cost you. It's really best to go hunt them in a damp forest somewhere in the springtime.
I always loved mushroom hunting as a girl, but as an adult, my allergies have gotten worse and the mushrooms always seem to hang out right by the poison ivy which I am wickedly allergic to. I can't do it anymore. Sigh. But my dad and sisters can … they go and they get lots of mushrooms and they are so kind and sweet to share with me. I was floored when Dad said he'd share his morels with me this year because they didn't get that many. The least I can do for him is put them to good use and maybe give him a good recipe to use for his next morel adventure.
As a girl, I loved morels in many forms, but I really, really loved them on a pizza. We used to put them on frozen pizzas back then (what WERE we thinking?) … I suppose it was an easy way to spruce up a quick meal when my parents were busy working and caring for their children.  Looking back at it now, I can't imagine wasting the precious morels on a prefabricated pizza. So I decided to make a homemade pizza worthy of the prize of a morel mushroom. This white pizza makes the morel mushrooms the star, with morel mushrooms in the thick, creamy, cheesy white sauce on the bottom, morels on the top, and then accentuated with a bit of hot Italian sausage and topped with melty white cheeses. It's the to-die-for version of morel mushroom pizza. If you have other wild mushrooms, go ahead and use those instead, but if you can find morels, do please use some of them to make this pizza.
I had the mushroom cream sauce on hand from making the Spinach Mushroom Ravioli the other day (since I froze some of my ravioli), but I've included the recipe here as well. If you get a chance, try the ravioli too. They are both a little taste of heaven.
Wild Mushroom & Sausage White Pizza
Ingredients
For the crust:

About 1/4-1/3 cup dry white wine
3 teaspoons dry active yeast
3/4 cup water
1 1/2 Tablespoons honey
1 round teaspoon salt
1 1/2 tablespoons extra virgin olive oil (EVOO)
2 1/2 cups bread flour (or 00 flour, if you can find it!)

For the mushroom cream sauce:

1 teaspoon butter
1 - 3 cloves garlic, peeled & chopped
1 cup chopped wild mushrooms
A splash of white wine
4 oz. Greek cream cheese (or Neufchatel)
1 cup chicken or vegetable broth
1 egg, beaten
1/2 cup shredded Asiago cheese
1 teaspoon cornstarch

For the toppings:

Several wild mushrooms (I used about 4 - 5 morels per pizza, quartered), gently sauteed in a bit of butter with chopped garlic and a splash of white wine
Hot Italian sausage, cooked
Shredded Dubliner and/or other Italian cheeses
Snipped chives
Instructions
Put the pizza crust ingredients in the bread machine and set it on the dough setting. Once it has gone through its first cycle of kneading, stop the machine and take out the dough. Set your pizza stone in the oven and preheat the oven to 500 F.
While the bread machine is kneading the dough, make the cream sauce: Add the butter and garlic to the frying pan and cook until the garlic is fragrant and starts to soften.
Add the mushrooms, stir, cover and cook for a few minutes. Stir well. Add the wine, cover and cook a little more. Sprinkle lightly with Red Robin Seasoning and freshly ground pepper.
Reserve a bit of the broth (1 - 2 Tablespoons) then add the rest of the broth to the pan, then add the cream cheese in small blobs. Whisk and cook until the cream cheese is fully melted and the sauce is creamy. Reduce heat to medium low.
Take several large spoonfuls of this hot mixture and whisk into the beaten egg. Do this for 8 or 10 large spoonfuls, then, while whisking the sauce, pour the egg in a thin stream into the saucepan. Bring heat back to medium and continue whisking while the sauce thickens. Add the cheese and whisk a little more.
You can stop here if you think the sauce is thick enough, but I wanted my sauce a little thicker. To thicken it further, whisk the cornstarch into the reserved broth, then whisk this mixture into the sauce and cook for a few more minutes until the sauce is good and cheesy and thick. Add more seasoning and fresh pepper to taste. Set aside.
Cut the pizza dough into four pieces and shape each into a disc shape. Cover the discs with a clean towel, and take one at a time out. On a floured surface, use a rolling pin to roll the dough into a circle. Dust a pizza peel or flat cutting board or baking sheet with cornmeal and transfer your crust to the pizza peel. Roll out a little more if needed. Cover the crust with cream sauce, then sprinkle with mushrooms and cooked sausage. Sprinkle lightly with the shredded cheese.
Set in the oven and bake at 500 F. for 5 - 10 minutes. In the last few minutes when the pizza is looking mostly done, turn the broiler on briefly for just 3 - 5 minutes to brown, but make sure you turn the oven back to "Bake" before you put in the next pizza.
Remove your lovely pizza from the oven and sprinkle with chives. Cut and serve!
Repeat this process with the other balls of dough to make 4 pizzas--or top your other pizzas with other toppings as desired. I made a sausage pizza with red pizza sauce for my daughter and 2 puffy flatbreads (by letting them rise for a while) for my son.
Notes
Make sure to use good-quality Italian sausage.
You can make the mushroom cream sauce ahead of time and warm it in a microwave-safe bowl in the microwave before using it on the pizza.
RECIPE SOURCE: http://www.sumptuousspoonfuls.com/
© Copyright 2015, Sumptuous Spoonfuls. All images & content are copyright protected. Please do not use my images without prior permission. If you want to publish any of my images, please ask first. If you want to republish this recipe as your own, please re-write the recipe in your own words or link back to this post for the recipe.
http://www.sumptuousspoonfuls.com/wild-mushroom-sausage-white-pizza/
Copyright 2012 by Sumptuous Spoonfuls. Recipes are meant to be shared! Nothing makes me happier than to hear about someone who has tried one of my recipes. All I ask is that if you are going to share my recipe online, give me credit and a link. And if you want to use one of my photos, please ask first. You can contact me at http://www.SumptuousSpoonfuls.com/contact/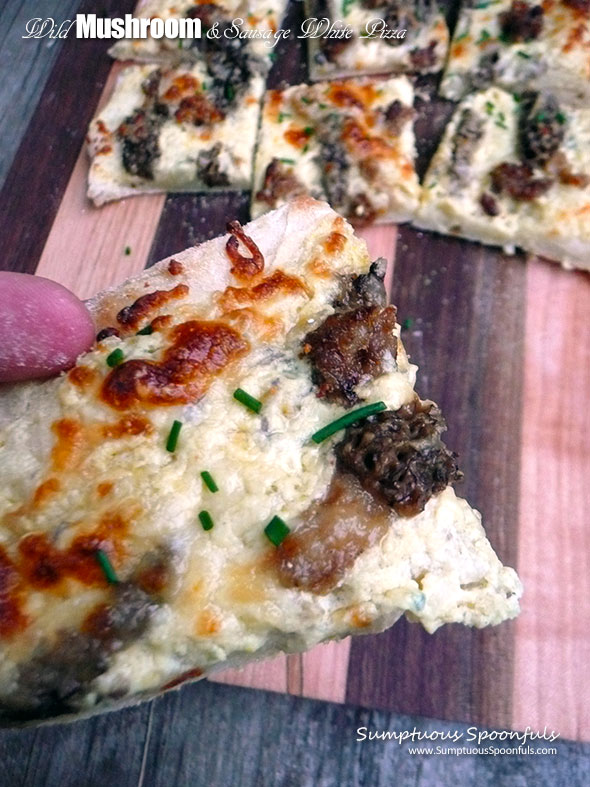 This recipe was shared at What to Do Weekends, The Weekend Potluck, Munching Monday and Tuesday's Table.
Support this blog by starting your shopping here: