Wilted Kale, Quinoa & Bacon Salad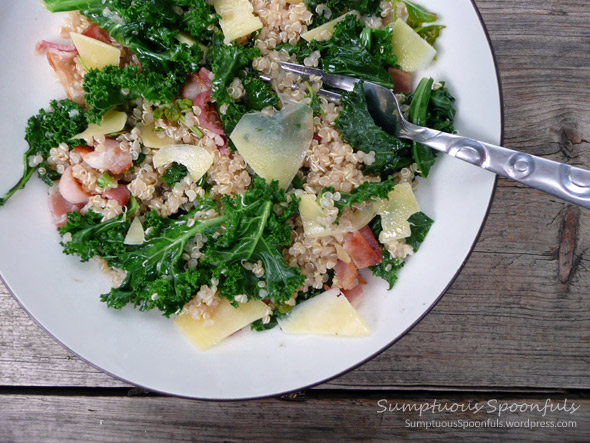 So we got back from vacation last night after a long long 14-hour drive. I needed some GOOD food today, something that not only tastes good, but has all those super-nutritional things in it that are hard to find when you're travelling. So I threw together this wilted kale salad. It has just the right mix of protein, fiber, grains, greens and herbs, with a little salty smoky taste from the bacon and cheese and a bit of crunch from the sunflower seeds. This was just what I was missing while I was on vacation!
The trip to Yellowstone was lovely, the scenery was spectacular, and it was great to spend time together with my kids where we actually TALKED to each other and joked around and just enjoyed each other's company … we really had a good time … but there were a few aspects of a normal "vacation" we kind of missed. Trips to the coffee shop. Eating exceptional food. We ate our meals in the car or the hotel for the most part. The first night I tried to get the kids to go out with me, but they were exhausted from the drive and just wanted to chill (and play on their computers) in the hotel room. The second and third days we ate sandwiches in the car and breakfast & dinner in the room. The resort we stayed at had a gas grill, so I cooked up grilled salmon one night and chicken and hot dogs the next, but by the third night we were dying for some really good food OUT. So Wednesday after the tour of my favorite brewery, the Grand Teton Brewing Company (which was wonderful!), we decided to try a brew-pub in Jackson, the Snake River Brewing Company. We were disappointed. The food was okay, but the pretzel was cold and hard, the pizzas and fish and chips were mediocre. It wasn't the really good food we were hoping for at all on our "big night out". And after visiting Grand Teton, even the beer tasted kind of blah. The whole experience just made us want to go home.
Oh but before we go on, you need to see the awesome beer I had at the Grand Teton Brewing Company … this is the Wake Up Call Imperial Coffee Porter. I really wanted to bring some home with me, but they didn't have any bottled for sale … I'm hoping like mad that they DO send some our way soon because I really loved this deep dark beer! The other cool part about our brewery tour was my teenagers each got a bottle of the Black Cherry soda straight off the bottling line, which was REALLY cool. It made them feel much more welcome.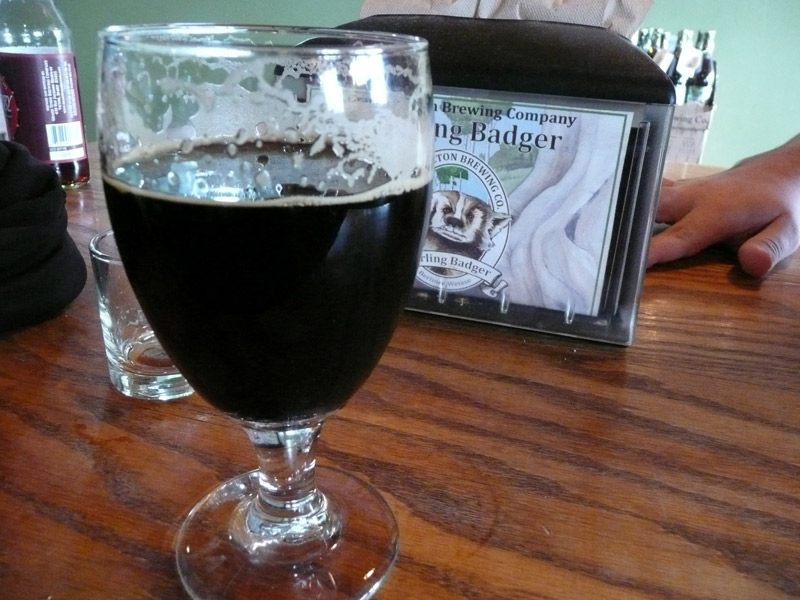 (No, there's no beer in this dish … I just wanted to TELL someone about this awesome beer and the great time we had at the brewery … if you want an awesome recipe for dark beer, check out the Black Cauldron Imperial Chocolate Stout Cake)
Okay, anyway, back to the topic at hand … what were we talking about? Oh yes, the quinoa, kale & bacon salad …
So my daughter and I went shopping for shoes and groceries today. (Way fun on both parts!) I had to get some kale. Kale is my new favorite food. It crisps up delightfully to make kale chips, but you can also quick-steam it for omelets and salads. My friend Sonali, the Foodie Physician can tell you how wonderful kale is for your body … and how to make those crispy fun kale chips. But kale also tastes good, and because kale is so good for you, it makes your body feel wonderful all over when you eat it. The bacon and cheese might even win over some of your more skeptical eaters.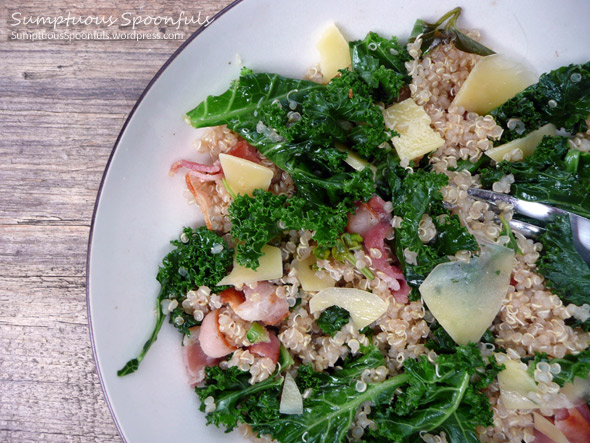 Wilted Kale, Quinoa and Bacon Salad
for each serving, you'll need:
1 cup cooked quinoa
2 slices lean bacon
2 stalks of kale, stems removed, then take the greens and chop or tear them into smaller pieces
1 teaspoon balsamic vinegar
1 teaspoon olive oil
About 3 Tablespoons fresh basil leaves
Red robin seasoning (or your favorite seasoned salt) & freshly ground pepper, to taste
A few very thin slices of Dubliner cheese (you could substitute Parmesan or Romano if you don't have Dubliner)
About 2 tablespoons roasted sunflower seeds
Directions:
Cook the quinoa.
While the quinoa is cooking, in a frying pan, fry the bacon until it's crisp, then remove from pan and set on a clean towel to soak up the excess fat. If there's any excess fat in the pan, drain it out, but don't wipe out the pan … leave a micro thin coating of bacon fat on the bottom.
Over medium high heat, throw in the kale along with a splash of water. Stir them around a little. The kale will soften and turn a brilliant green almost immediately.
Add in the quinoa, bacon, vinegar, oil, basil and season to taste.
Pour the salad into a bowl and top with the cheese shards and sunflower seeds.
For me this was a full meal, but you could serve it as a side with some meat if you prefer.
This recipe was shared at Fit & Fabulous Fridays, Manic Mondays, Best Healthy Salad Recipes, Recipe of the Week and Summer Salad Sundays, and Eating Inside the Box Greens Party.