Bacon Asparagus Ribbon Pizza w Zucchini Crust
Zucchini crust recipe is from My Humble Kitchen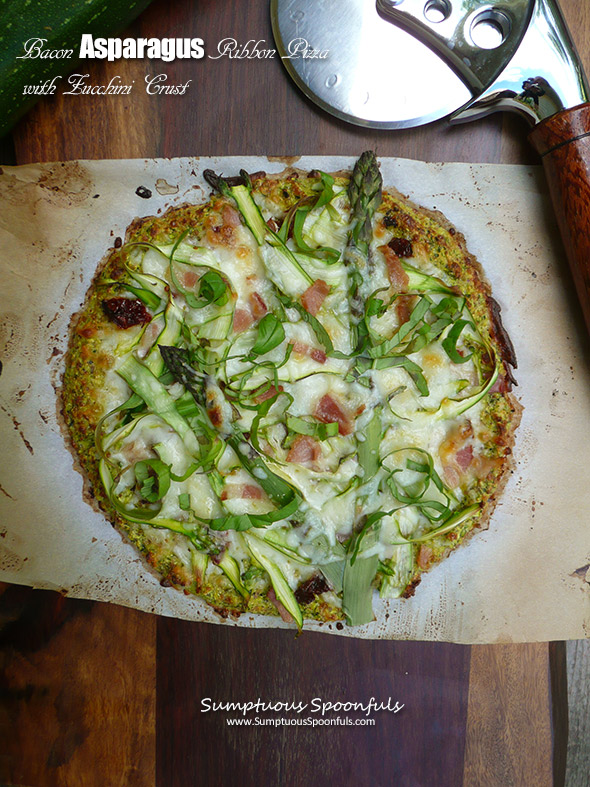 A simple, but ah-mazing healthy pizza with a zucchini almond crust, shaved asparagus ribbons, sun-dried tomatoes, bacon, mozzarella cheese and basil chiffonade (cut into ribbons).  The crust is completely gluten free, but so flavorful and delicious … and it uses 4 cups of zucchini! I'm so psyched for zucchini season now.
I know I've been absent from blogging for a few days and very distracted for months … you guys, my baby girl just graduated from high school. I am elated, excited, amazed that she made it. It's been a rocky journey and I'm so happy to see her move on to the next stage of her life and see what she does with it. It all comes with many mixed emotions … she's my baby! How can this be happening? I don't want her to leave, but I know that she will … and she should. She wants to take a gap year and figure out her plan, which I think is smart because she didn't have time or energy to think about that while in school. Although she's highly intelligent, just getting through middle and high school was a huge challenge for her. So she's not "out of the nest" yet, but it's on the horizon. I'm mentally preparing myself for this journey …
So naturally we've been busy getting ready for graduation these past several weeks (months?) … I don't know how long I've been thinking about it, but I knew we needed to get the house in order for that big graduation open house. It took more time and energy than I realized, but I'm grateful for it, since some spaces in my house are finally cleaned up and have transformed into pleasant living spaces. We had an awesome party … so many of the important people in her life showed up and enjoyed the food and the drink and my girl's beautiful art work that we had on display.
That was yesterday. We had her open house from 1-4. There were late-comers (that I hadn't anticipated!) and the party went on until 5:30 … she had to be at graduation at 5:45. We thought there would be time in between for her to relax and get ready for graduation. Instead she laid down for 5 minutes, did a quick change of clothes, and we were off to graduation. She was incredibly anxious, but she made it through the ceremony and the smile on her face when she walked across that stage was so worth it. Everything we had gone through, all the pain, the angst, the struggles, it was all summed up in that one beautiful smile. She made it. She DID it!
Today I tried to go to work, but I was too exhausted (both physically and emotionally) to do it. I worked 2 hours and took the rest of the day off. We (in my family) all took a chill day today, resting, relaxing, rejuvenating. Tomorrow we'll get back on the horse, but today … today, we just need to breathe and rest. So I'm taking a few moments to bring this recipe to you. Cooking, photographing, blogging … this is my "chill time". I did some water walking, took a nap and went to yoga too. And this recipe that has been waiting in my backlog, I wanted to make sure to get it posted so you can enjoy it. The crust is not as "solid" as a regular yeast crust, but it's delicious! The toppings are super simple, but the flavors together made my heart sing. I can't wait to make this again. It's one of the best pizzas I've ever tasted, and when I say that, I mean it is even better (in my book) than the super thick crusted pizzas sopping with grease. I pay close attention to what my body is telling me when I eat, and my body was superbly happy when I ate this beauty of a pizza.
Bacon Asparagus Ribbon Pizza with Zucchini Crust
Ingredients
For the zucchini crust:

4 cups shredded zucchini (about 3 zucchini)
1/2 teaspoon salt
1/2 cup shredded Italian cheese
1/3 cup almond flour
1 clove garlic, peeled & chopped
1 teaspoon dried oregano
1 teaspoon dried basil
1 egg

For the pizza:

Olive oil, for brushing the crust
3 - 4 Tablespoons chopped sun dried tomatoes
1 - 2 cups shredded part skim mozzarella cheese
About 6 large, thick asparagus spears
2 - 3 slices lean bacon, cooked and crumbled

For garnish: a couple fresh basil leaves, chiffonade
Instructions
Preheat the oven to 500 F with pizza stone in the oven. Line a flat baking sheet with parchment paper.
Use a food processor to grate the zucchini, then sprinkle with salt and toss to mix. Let the zucchini sit for about 15 minutes, then pour it out over a clean kitchen towel or cheesecloth and roll up, then, over the sink, wring out the excess moisture.
Return the zucchini to the food processor and add the rest of the crust ingredients. Blend to mix the ingredients well. Form the zucchini mixture into one large or two smaller circles on the parchment paper, about 1/2 inch thick. (I made two individual pizzas about 7 inches each.)
Bake at 500 F. for about 8 - 12 minutes or until the crust is golden brown on top and bottom.
While the crust is baking, prep the rest of the ingredients. Use a vegetable peeler to "shave" the zucchini lengthwise into ribbons.
When the crust is ready, reduce heat to 425 F. Brush the crust lightly with olive oil, sprinkle with chopped sun dried tomatoes, then add most of the cheese (saving some cheese for the top). Arrange the zucchini ribbons over the pizza, then sprinkle with bacon and the rest of the cheese.
Bake at 425 F. for about 10 - 15 minutes or until the cheese is nicely melted and starting to bubble and brown in spots. Top with fresh basil cut into ribbons, slice and enjoy!
Notes
RECIPE SOURCE: http://www.sumptuousspoonfuls.com/
© Copyright 2017, Sumptuous Spoonfuls. All images & content are copyright protected. I love it when you share, but please do not use my images on your own site/page without prior permission. If you want to publish any of my images, please ask first. Sharing, pinning, and tweeting is always appreciated as long as the shares and pins link back to here for the recipe. If you want to republish this recipe as your own, please re-write the recipe in your own words or link back to this post for the recipe.
http://www.sumptuousspoonfuls.com/bacon-asparagus-ribbon-pizza-w-zucchini-crust/
Copyright 2012 by Sumptuous Spoonfuls. Recipes are meant to be shared! Nothing makes me happier than to hear about someone who has tried one of my recipes. All I ask is that if you are going to share my recipe online, give me credit and a link. And if you want to use one of my photos, please ask first. You can contact me at http://www.SumptuousSpoonfuls.com/contact/

This post was shared at Hearth & Soul Bloghop.