Baked Strawberry Rhubarb French Toast for Mom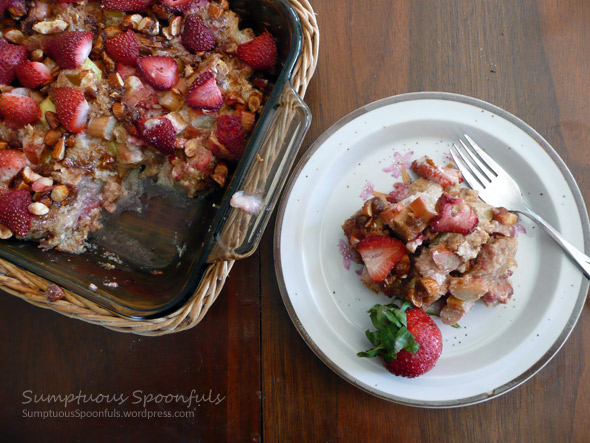 My mom loves strawberries. I know this because I remember, as a child, she always wanted one of her kids to go to Dairy Queen with her on Mother's Day to get her free sundae. And she ALWAYS got a strawberry sundae. So I always ALWAYS think of strawberries on Mother's Day.
My mom doesn't live anywhere near a DQ anymore. And my dad happened to mention to me last week that they really needed to stay home and plant the garden this weekend. So my daughter and I decided that we should go surprise them with a visit. After dance rehearsal on Saturday, we hopped in the car and drove up there. We arrived a little after 5:00, walked in the house, and it was empty. Heeeeeellloooo? Mom? Dad? Anybody home? No response …but their dog was there … and the front door was open … so I knew they couldn't be toooo far!
Mom was down on the dock, checking the fishing lines. That's my mom, always fishing. Or reading. Or gardening. And dad? He had gone off mushroom hunting. Mom tried to call his phone, but she was having trouble. So I called him.
He made it really easy for me NOT to tell him we were there at his house. He mentioned right away he was on his way home and told me about his mushroom hunt and how I would have to call mom on her phone … he asked what I was doing. "Oh, not much,"  I said. We talked for a while … and I managed not to say anything about us visiting … So he was a little surprised when he drove in … hee hee.
Anyway, I made them some thai curry for dinner last night … and then I made this for mom for breakfast today. Because she loves strawberries …  I think Mom really enjoyed it … And then we planted the garden together. It's been a long time since I have helped with the planting of the garden.
I love you so much, Mom. There isn't anything I can give you, let alone anything I can do for you to thank you for all that you've done for me. I feel like this is such a feeble attempt at saying thank you … but I just felt like the best thing I could do as a daughter on Mother's Day was to just BE with you. That's the best Mother's Day gift I could think of. I can't take you to Dairy Queen for your strawberry sundae anymore. But I CAN make you something wonderful with strawberries …
We ate breakfast on the patio in the sunshine, overlooking the lake. I think it was much better than Dairy Queen. I hope my Mom agrees …

Baked Strawberry Rhubarb French Toast
Adapted from "From Valerie's Kitchen"
About 4 1/2 cups of bread, cubed (I used my dad's whole wheat yogurt bread)
4 oz. Mascarpone cheese
2 cups of chopped rhubarb
1 cup of chopped strawberries
4 eggs
1 cup milk
2 teaspoons vanilla
1 teaspoon almond extract
3 Tablespoons sugar
1/2 teaspoon cinnamon
1/4 teaspoon nutmeg
1/4 teaspoon ginger
2 Tablespoons butter, melted
1/3 cup brown sugar
1/2 teaspoon cinnamon
1/2 cup chopped almonds
Sliced fresh strawberries
Directions:
Spray a 13 x 9 x 2 inch glass or ceramic (non-metal) pan with cooking spray. (The acid in the rhubarb will react with metal, so I like to use glass pans when I'm baking with rhubarb.) Make a layer of bread cubes in the bottom of the pan. Top with the rhubarb and the chopped strawberries, and add dabs of the Mascarpone cheese. Add the rest of the bread cubes.
Mix up the "goop" … in a bowl, whisk the eggs, then add milk, vanilla, almond extract, 3 tablespoons sugar and spices. Whisk till smooth. Pour over the bread cubes in the pan, then gently stir to make sure all the cubes get moist. At this point, you can cover the pan and refrigerate for an hour or several or even overnight. I just let it sit for about 15 minutes, and gently stirred around the cubes again to make sure all the bread cubes got a good soaking. It made a little bit of a mess with the mascarpone, but now we're going to add the topping so that will make it all pretty again.
About an hour before you're ready to eat, make the topping by melting the butter. Then in a small bowl, mix the butter, brown sugar, cinnamon and almonds. Sprinkle this all over your french toast bake, then add fresh sliced strawberries to your heart's content.
Bake at 350 for about 40 – 45 minutes or until the eggs are set. Let the dish set for about 5 minutes after you remove it from the oven, then serve.
Mom got the first piece.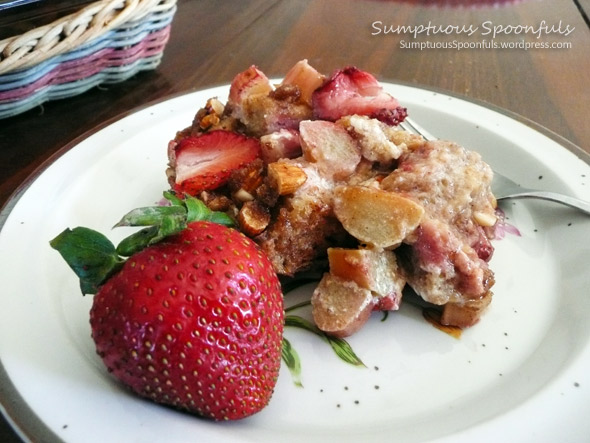 This recipe was shared at Mom's Everyday Meals, Mealtime Monday,  Trick or Treat Tuesdays, Totally Tasty Tuesdays, Delicious Dish Tuesday, Cast Party Wednesdays, Milestone Link Party: Easter Recipes and This Week's Cravings: Eggs.