Beef Bruschetta Buddha Bowl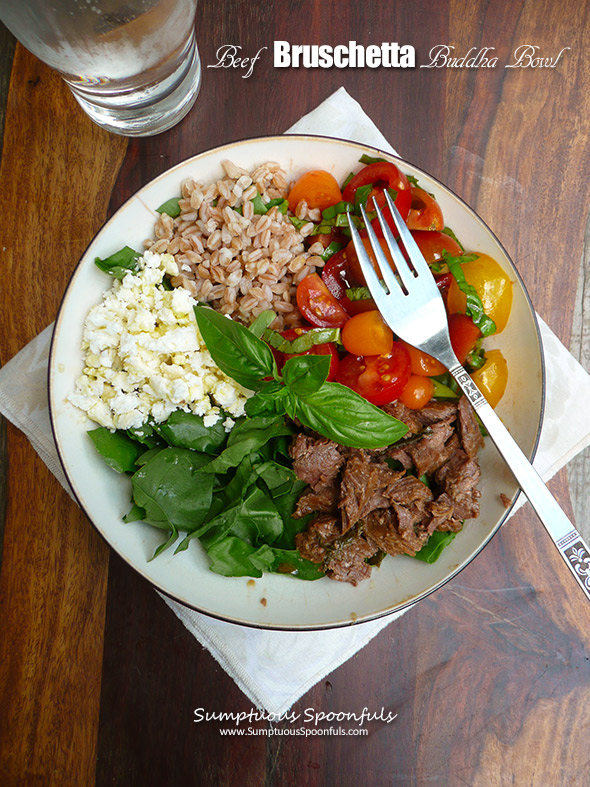 Beef (or venison) slow cooked in juices until fall-apart tender, served on a bed of spinach with a bruschetta tomato mixture, farro, and crumbled feta cheese. Drizzled with bacon ranch dressing on at the end for even more flavor, this pretty buddha bowl is full of colors, flavors, protein and, as any good buddha bowl should be, loaded with nutrients.
It was Father's Day weekend and my son and I were pondering what to do for his dad. Daughter was away (and really, not much help in the matter). My son thought we should make their dad some no salt chex mix (as he can't have much salt in his diet), so I pulled up the recipe from the last time we made him spicy no-salt chex mix and my boy set off to make that. But we wanted something more to give him for this momentous occasion. I put my mind to it and remembered how much he likes venison, but he doesn't have a supply of venison available to him anymore. I suggested this to my son who thought it was an excellent idea. So we dug through the freezer in the garage and picked out a wide variety of venison for him.
This meant we had to really dig as the freezer is not an upright, but rather an old-school chest-style freezer where things tend to settle to the bottom and get forgotten. I found several packages of venison that had done just that, some marked as old as 2007 and 2008. I decided these needed tossing, but as I gathered some of these ancient pieces of meat, I thought to myself: could I possibly cook any of this in some way that would taste good? Most likely not, but hey, it was worth a shot, right? I threw out the ones from 2007 and 2008, but kept a few of the packages from 2010.
Since this impromptu mission resulted in the cleaning/purging of the freezer, I continued my cleaning in the fridge, stumbling across some hoisin sauce and a jar of pork juices (complete with fat!) from one of my shoulder pork roasts that smelled completely delicious. I decided that all these things were meant for each other and I tossed them all in the crock pot, which, I decided, was the most likely method to render my ancient meat edible. The green onions had been gathered from my dad's garden just the day before and were threatening to take over my fridge since Dad had encouraged me to take "a bunch of onions," so I used some of the excess onion greens to make a lovely bed for my elderly venison.
As it turned out, the meat was not only edible but really quite good! So then I had the puzzle of what to pair it with. I chose to use some lovely colorful sweet tomatoes that I'd purchased at Aldi and some marinated feta from my fridge … plus fresh spinach from mom and dad's garden and a bit of farro (also from Aldi) to make myself a delightful little buddha bowl.
If you don't have ancient bits of venison in your freezer, count yourself lucky and use beef or fresh(er) venison in its place! If you don't have pork juices in your fridge waiting to be used, then substituting beef broth would be quite suitable. If you want to add some fat to ensure your beef is tender and delicious, add 1/4 cup olive oil. If you want a smoky flavor, add a Tablespoon or two of natural liquid smoke.
Beef Bruschetta Buddha Bowl
Ingredients
For the beef:

Several green onions, chopped
5 - 7 cloves garlic, peeled
4 - 6 small beef or venison steaks or chops
1/3 cup hoisin sauce
About 1 cup beef broth or juices (with fat) from cooking pork

For each buddha bowl:

Fresh spinach
1 piece of cooked beef, roughly shredded, tossed with cooking juices
About 1 cup fresh sweet heirloom garden tomatoes, chopped into chunks
1 teaspoon extra virgin olive oil
1 teaspoon balsamic vinegar reduction
2 - 3 large basil leaves, cut into ribbons
A sprinkle of freshly ground pepper and salt
About 1/3 - 1/2 cup cooked farro
Several cubes of feta cheese, crumbled
Bacon ranch dressing (from this recipe)
Instructions
Make a bed of green onions in the crockpot and add the cloves of garlic. Put the meat in the crockpot, then drizzle with hoisin sauce and broth or juices. Turn the crockpot on low and cook for 8 hours. Once cooked, let sit in the juices for at least 30 minutes before removing from the crockpot.
To make the buddha bowls, make a bed of spinach in the bottom. Top with shredded beef. In a separate bowl, toss the tomatoes with the olive oil, balsamic vinegar reduction and basil, then sprinkle with freshly ground salt & pepper. Add the tomato mixture into the bowl and then the farro and feta cheese.
Drizzle with bacon ranch dressing, stir to mix the flavors and colors, and enjoy!
Notes
RECIPE SOURCE: http://www.sumptuousspoonfuls.com/
© Copyright 2017, Sumptuous Spoonfuls. All images & content are copyright protected. I love it when you share, but please do not use my images on your own site/page without prior permission. If you want to publish any of my images, please ask first. Sharing, pinning, and tweeting is always appreciated as long as the shares and pins link back to here for the recipe. If you want to republish this recipe as your own, please re-write the recipe in your own words or link back to this post for the recipe.
http://www.sumptuousspoonfuls.com/beef-bruschetta-buddha-bowl/
Copyright 2012 by Sumptuous Spoonfuls. Recipes are meant to be shared! Nothing makes me happier than to hear about someone who has tried one of my recipes. All I ask is that if you are going to share my recipe online, give me credit and a link. And if you want to use one of my photos, please ask first. You can contact me at http://www.SumptuousSpoonfuls.com/contact/
This recipe was shared at Foodie Friends Friday, Weekend Potluck, What to Do Weekends, What's for Dinner Sunday, Amaze Me Monday, Busy Monday, and Pretty Pintastic Party.