Cherry Beef Salad with Cherry Malbec Vinaigrette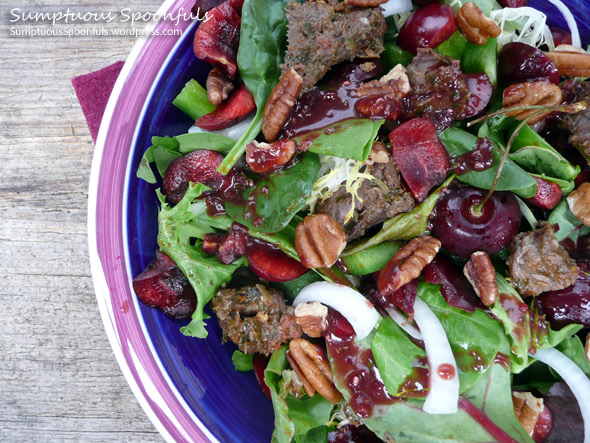 I'm SOooo excited … there are sweet cherries in my house! I almost never have sweet cherries. They just don't grow here, and I can't bear to pay $4 to $5 per pound for them so I very very rarely buy them. But this year must be a good cherry year because I've seen them for $2.50 – $3.00/pound. So I bought some! Three times now! The first time my daughter ate all of them. The second time she ate most of them, but I got a few. THIS time must be my turn because she hasn't touched them yet. So I seized the opportunity and put them in my salad. And while I was at it, I made a cherry red wine vinaigrette, which turned out even better than I ever dreamed it would. I just started throwing things together and up came this brilliant-tasting cherry red sweet/tart vinaigrette that's just super yummy.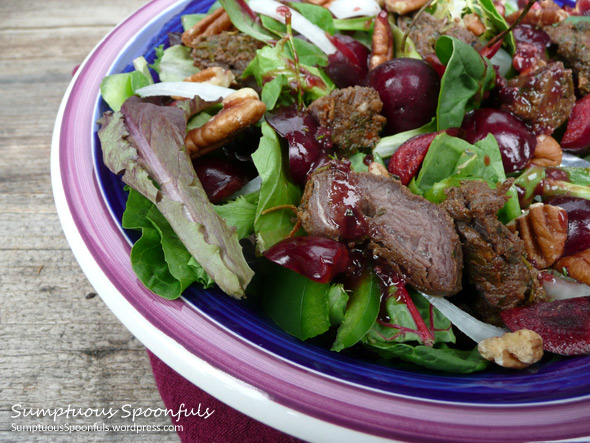 Cherry Beef Salad with Toasted Pecans
I think some goat cheese would be nice on this salad too, but I'm all out of it!
Mixed greens with spinach
Pitted sweet cherries
Sweet onion, sliced and roughly chopped
Sweet bell pepper, chopped
Toasted pecans
Chunks or slices of cooked beef or venison (I used some leftover Spiedies)
Cherry Malbec Vinaigrette (recipe below)
Fill your salad bowl most of the way with greens. Toss on a bunch of cherries, some onion, a little bell pepper and then sprinkle with a few toasted pecans. Drizzle generously with cherry malbec vinaigrette and enjoy.
Cherry Malbec Vinaigrette
10 sweet cherries, pitted
1/4 cup Malbec (or other red wine)
2 Tablespoons cherry (or berry) syrup
2 Tablespoons balsamic vinegar
1 clove of garlic
1/2 teaspoon finely chopped fresh rosemary
a few fresh basil leaves
a few sprigs of fresh thyme
a few sprigs of fresh dill
1/4 teaspoon Sriracha
1 teaspoon extra virgin olive oil
1 teaspoon chia seeds (optional, but they add nutritional value and help thicken the dressing)
In a handi chopper, blender or food process, blend up all the ingredients well till the cherries and garlic are fully pureed. Store in a covered bottle in the fridge.
This recipe was shared at Summer Salad Sunday, Hearth & Soul Bloghop and Manic Monday.