Chocolate Mocha Amaretto Balls for our Troops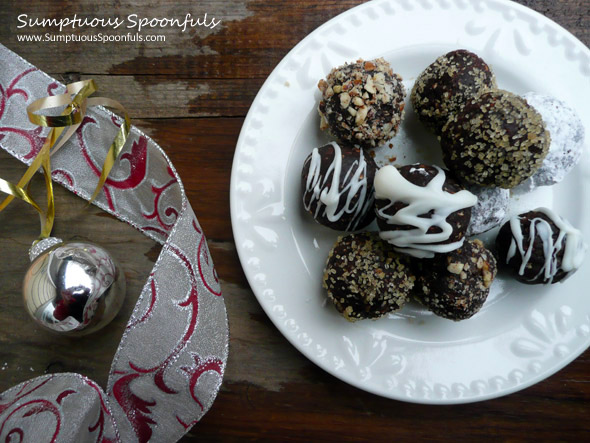 Yesterday I got a message on my Sumptuous Spoonfuls facebook page from a friend of a friend of mine. She has been sending cookies to our troops in Afghanistan and this year they asked for 178 dozen cookies/treats … she was feeling a little overwhelmed and was looking for some help! 178 dozen cookies is a LOT for one person to handle … but I quickly realized, it wouldn't be a lot for 15,000 people! I shared with my facebook foodie friends and immediately several people volunteered to help. I love my foodie friends! They are such loving, caring, kind people.
So I started thinking: what could I make that would stay fresh till Christmas? I wracked my brain for something that would still taste perfect a month from now if I made them today–RUM balls! Yes, perfect! … But when I went to the cupboard to check my rum supply, it was in rather sorry shape. I seem to have used just about all of the rum in the house for my Cranberry Rum Bread (ooops!) … But hey, I do still have homemade Kahlua and plenty of Amaretto … I bet that would work! I rustled up the rest of the ingredients, got out my handi chopper and went to work.
These little balls combine some of my very favorite flavors: chocolate, coffee, nuts, and amaretto. And since they use dates to stick them together instead of sugar, they are healthier for you: dates are rich in fiber, and they contain many health benefiting tannins. Tannins are known to have anti-infective, anti-inflammatory, and anti-hemorrhagic (prevent easy bleeding tendencies) properties. Plus dates are rich in vitamin A, iron, potassium, minerals and antioxidant flavonoids such as beta-carotene, lutein, and zeaxanthin*. Pair that with the health benefits of the dark chocolate and the healthy oils in the nuts and you (almost) have a lovely little health-ball! All right, there is still sugar and alcohol so it's not quite health food, but my point is, you don't have to feel TOO guilty when you eat these beauties.
I only ate one little one, though. The rest got packed up into a Christmas tin to travel to Afghanistan, along with some white chocolate dipped pretzels that I made with the rest of the white chocolate I had melted for the drizzle on top. I think I may have to make some more before the holidays.
Chocolate Mocha Amaretto Balls
Ingredients
1/2 cup dates, chopped
1/4 cup amaretto
1/4 cup coffee liqueur
1 Tablespoon Frangelico
2 cups chocolate graham crackers, crushed into crumbs (about 1 1/2 sleeves of crackers)
1 cup finely ground nuts (I used a mix of almonds and walnuts)
1/2 cup oats, ground fine in a food processor or handi chopper
2 ounces milk or dark chocolate, melted (I used half of a 4-oz. chocolate bar … )
For topping: finely chopped nuts, raw (turbinado) sugar, powdered sugar, or melted white chocolate
Instructions
Chop the dates into small chunks and put in a small bowl. Pour the liquors over the dates and allow them to soak and soften while you gather the rest of the ingredients.
In a large bowl, stir together the cracker crumbs, oats and nuts.
Put the dates & liquors into a food processor, blender or handi chopper and blend till the dates break down into tiny bits ... it should form a sort of syrupy paste.
Stir the liquor/date mixture into the bowl with the crumbs and stir to mix.
Add the melted chocolate, and stir until thoroughly combined. The mixture should be starting to stick together.
With your hands, form the mixture into balls about 3/4 inch in diameter, and roll each ball in finely chopped nuts, raw sugar, powdered sugar, or drizzle them with melted white chocolate.
If you did the chocolate drizzle, allow the chocolate to set, then store in an air-tight container or package in pretty tins for a lovely gift.
Notes
If you want to make chocolate mocha amaretto RUM balls, use 1/4 cup rum, and reduce the amount of amaretto and Kahlua to 1/8 cup each. You can also substitute 1 Tablespoon vanilla extract for the Frangelico.
If you can't find chocolate graham crackers, use chocolate cookies crushed into crumbs instead.
http://www.sumptuousspoonfuls.com/chocolate-mocha-amaretto-balls-for-our-troops/
Copyright 2012 by Sumptuous Spoonfuls. Recipes are meant to be shared! Nothing makes me happier than to hear about someone who has tried one of my recipes. All I ask is that if you are going to share my recipe online, give me credit and a link. And if you want to use one of my photos, please ask first. You can contact me at http://www.SumptuousSpoonfuls.com/contact/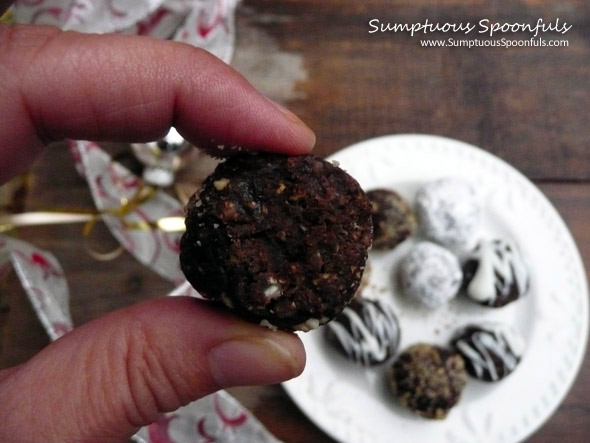 * Date nutrition facts are from Nutrition and You.
This recipe was shared at Melt in your Mouth Monday, Mix it Up Monday, Mop it Up Monday, Tasty Tuesday, Totally Tasty Tuesday, Terrific Tuesdays, Cast Party Wednesday, Wednesday Extravaganza, Full Plate Thursday, Fantastic Thursday, Tasty Thursday, Foodie Friends Friday, the 2012 Cookie Exchange, All my Bloggy Friends, Recipe Box Linkup, Dash to the Holidays Cookie Party and The Bulletin Board.