Chocolate Mocha Date Bars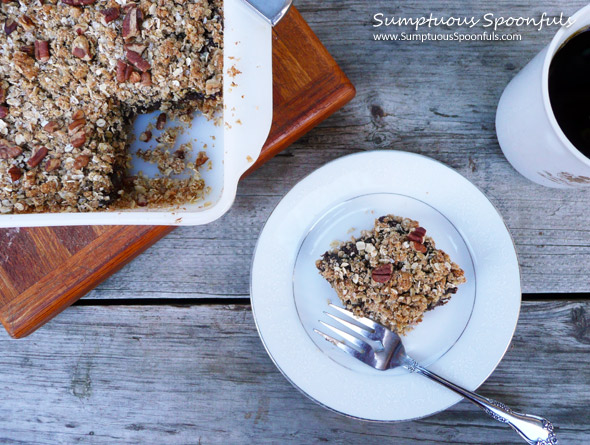 These date bars are like your childhood favorites … all grown up. With underlying hints of chocolate, coffee … and Kahlua. And a bit of Nutella in there, too, just for fun.
This recipe reminds me of my baby sister. She was the one who just loved date bars when we were growing up. Mom made them just for her, but we all ate them. Now my sis has grown up and she has four little ones of her own. She still loves date bars, but we don't make them very often anymore. My sis has also now discovered a love for coffee. She frequents the coffee shop in her neighborhood so much that her small children could even direct me to it! So I think these mocha date bars are just SO fitting for her!
The recipe happened quite by accident. I was trying to make these date/cocoa balls I'd seen over at the Nutrition Guru and the Chef but as usual I couldn't help but mess with the recipe. The mixmaster in me came out and added Nutella and coffee and Kahlua … I mixed them up and made them into balls and coated them with sesame seeds, and since it was Halloween, I even gave them chocolate chip eyes and they were so cute! But when I tasted one, well it was just too sweet for my taste (this is no reflection on their recipe, though … I had deviated so far from the recipe!) … I gave up and threw the balls I had rolled out all back in the bowl and mixed it up and thought: I'll figure out what to do with it tomorrow.
And as it usually happens after going away and pondering on things for a bit, the answer came to me: make them into date bars! Yes! Chocolate Mocha Date Bars. How awesome does THAT sound? And it's quite a bonus that they have sesame seeds, chia seeds and flaxmeal in there too. Plus oats and whole wheat flour! All those super fiber and omega-3 packed things us "grownups" are supposed to be eating "for our health", made into a totally decadent-tasting, adult treat … I think maybe it's not so bad growing up after all as long as I get to eat stuff like this!
I do want to warn you: there is caffeine (from the coffee) in these bars, so they are best consumed early in the day!
The oat crumble part of this was adapted from Cindi's Recipes. The filling was adapted from the Nutrition Guru and the Chef.
Chocolate Mocha Date Bars
Ingredients
For the filling:

8 oz. dates, chopped
1/4 cup coffee, brewed double strength
1/4 cup kahlua
1 1/2 Tablespoons natural peanut butter
1 1/2 Tablespoons Nutella
1 teaspoon vanilla extract
1/4 cup cocoa powder
3 Tablespoons sesame seeds
2 Tablespoons chia seeds
1/4 cup flaxmeal

For the oatmeal crumble mixture:

1 1/2 cups quick-cooking oats
1 cup white whole wheat flour
1/2 cup packed brown sugar
1/2 teaspoon baking soda
1/4 teaspoon salt
1/3 cup butter, melted
1 egg white

For the top:

a little coarse sea salt
About 1/4 cup coarsely chopped pecans
Instructions
Soak the dates in the coffee and Kahlua for 15 minutes or longer, to soften them up. I think I left them in for about an hour, just to be safe. Stir a few times during the soaking to make sure all the dates get a good soak in the coffee bath.
Then put the date mixture along with the rest of the filling ingredients in a food processor or handi chopper and blend until it forms a nice gooey paste.
In a medium mixing bowl, stir together the oats, flour, brown sugar, baking soda and salt till they are all well mixed up. Drizzle on the melted butter and mix thoroughly. To make a really good crumble, use your hands to make sure the butter gets mixed up with the oat mixture. Add the egg white and mix that in as well.
Spray a 9x9 inch square pan with cooking spray, pour about 2/3 of the oat crumble mixture in and press down with your hands to make a good "crust" on the bottom.
Carefully spoon on small spoonfuls of the date mixture and coax it to stick together and cover the entire pan. It's a little tricky because the oat mixture will want to stick to the gooey dates, but it's doable.
Top with the rest of the oat crumble mixture, sprinkle with about 1/2 teaspoon of coarse sea salt, then sprinkle with pecans.
Bake at 350 for about 25 - 30 minutes or until the date bars are nicely golden brown.
http://www.sumptuousspoonfuls.com/chocolate-mocha-date-bars/
Copyright 2012 by Sumptuous Spoonfuls. Recipes are meant to be shared! Nothing makes me happier than to hear about someone who has tried one of my recipes. All I ask is that if you are going to share my recipe online, give me credit and a link. And if you want to use one of my photos, please ask first. You can contact me at http://www.SumptuousSpoonfuls.com/contact/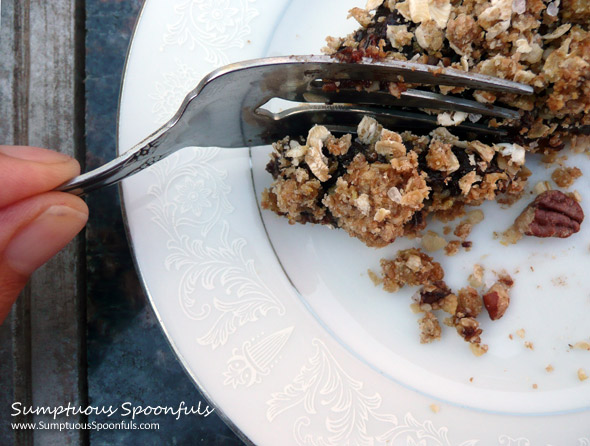 This recipe was shared at Full Plate Thursday, Farm Girl Friday, Foodie Friends Friday, Weekend Potluck, Foodie Friday, Strut your Stuff Saturday, Show & Tell Saturday and Five Little Chefs.