Chocolate Strawberry Truffle Crepes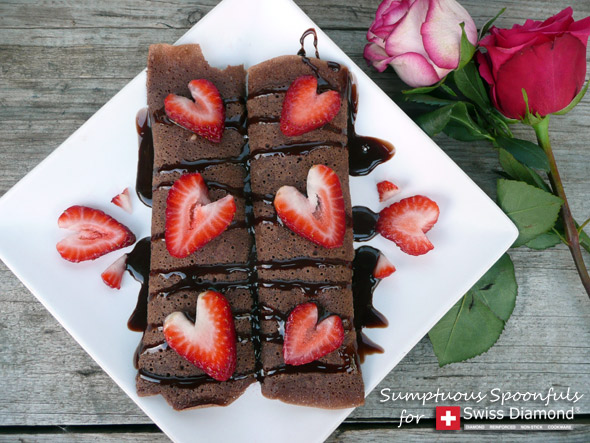 Perfect for your valentine or your little sweethearts … or just for yourself! … a chocolate crepe with creamy dark chocolate mascarpone filling and fresh heart-shaped strawberries, drizzled with chocolate syrup and more juicy berries.
I have a funny story to tell you about this one. Swiss Diamond International (my favorite pan company!) asked me to make them a Valentine's Day recipe last fall. They wanted it done by November. So on Halloween, I was home with my teenage daughter who was sick and I was busy making Valentine's Day chocolate crepes. We had trick or treaters at the door as I was cooking up and photographing the crepes. It was just an odd interplay of holidays.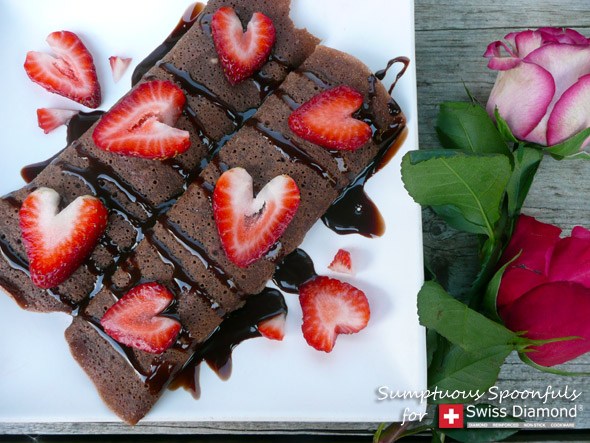 Now that Valentine's Day is almost here, it looks so much more fitting and I'm wishing I had some of these delicious crepes in my fridge … I just might have to make them again! My Swiss Diamond crepe pan is still here … one of the most used pans in my kitchen … we use it for scrambled eggs almost daily, and for bacon … and it's just wonderful for making chocolate valentine crepes. It doesn't have to be  Valentine's Day to make these chocolate truffle crepes … make them anytime you have a hungering for chocolate, strawberries, and a need to show someone special that you love them. (And it's quite all right if that "someone special" is yourself.)
Chocolate Strawberry Truffle Crepes
Ingredients
For the crepes:

3/4 cup flour
3/4 cup white whole wheat flour
1/4 cup sugar
1/4 cup good quality dark, unsweetened cocoa powder
1/2 teaspoon baking powder
1/2 teaspoon salt
2 cups milk
1 teaspoon vanilla
2 eggs
2 Tablespoons butter, melted

For the filling:

1/2 cup semi-sweet or dark chocolate chips (be sure to use a high-quality chocolate! I used Ghirardelli)
8 oz. Mascarpone cheese (a sweet Italian cream cheese)
1/2 cup lowfat vanilla yogurt
1 - 4 Tablespoons dark cocoa powder (to taste)
1 package of fresh strawberries
Instructions
In a medium mixing bowl, stir together the flours, sugar, cocoa powder, baking powder & salt.
Make a well in the center and add the milk, vanilla and eggs. Whisk together until the mixture is smooth, then add the melted butter in a small stream while whisking.
Heat a crepe pan over medium heat. Pour 1/4 cup of the batter in the pan, then immediately swirl the batter around the pan until the batter covers the bottom of the pan. Cook until the crepe batter is set, then carefully lift the edge of the crepe, slide your spatula under it and flip the crepe. Cook for just a minute or so on the other side, then slide the crepe onto a plate and start on the next one. Repeat until the batter is gone. Keep the crepes warm by covering them with a clean towel.
Next, make the filling. Melt the chocolate chips over a double boiler or in the microwave on high 1 minute, then stir, then microwave on high for 30 seconds and stir. If they are not melted yet, microwave another 30 seconds and stir. Be careful to get the chocolate just to the point where it is melted ... don't overcook it!
Meanwhile, mix together the Mascarpone cheese and the vanilla yogurt.
When the chocolate is melted, let it cool slightly (for about 5 - 10 minutes), then stir into the cheese/yogurt mixture. Taste the mixture and add cocoa powder to taste. (I added 4 Tablespoons of cocoa powder, but I like really deep, dark chocolate.) Get your mixer and beat the chocolate filling until it's light and fluffy. It should be about the taste and consistency of the wonderful creamy inside of a chocolate truffle.
Cut the strawberries into heart shapes by making a small "V" at the top, removing the head of the strawberry. Then turn the strawberry and slice it.
To assemble the crepes, place a chocolate crepe on a plate, spread a good amount of the chocolate truffle filling down the center, then top with strawberries. Roll up the crepe and turn over so the seam side is down. Drizzle lightly with chocolate syrup, then top with strawberry hearts.
http://www.sumptuousspoonfuls.com/chocolate-strawberry-truffle-crepes/
Copyright 2012 by Sumptuous Spoonfuls. Recipes are meant to be shared! Nothing makes me happier than to hear about someone who has tried one of my recipes. All I ask is that if you are going to share my recipe online, give me credit and a link. And if you want to use one of my photos, please ask first. You can contact me at http://www.SumptuousSpoonfuls.com/contact/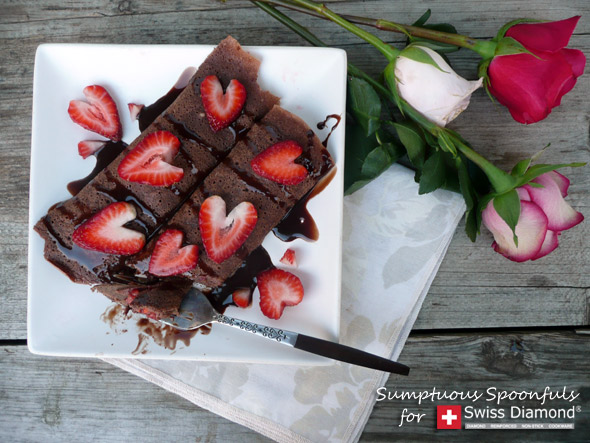 This recipe was shared at Manic Monday, Tasty Tuesday, Totally Tasty Tuesdays, Cast Party Wednesday, Wednesday Extravaganza, Full Plate Thursday, Fantastic Thursday, Foodie Friday, Foodie Friends Friday, Strut your Stuff Saturday, Scrumptious Sunday, Iron Chef Mom Strawberry Battle, Valentines Day Sweets, Keep Calm & Cook On Valentine's Day and All my Bloggy Friends.