Drunk n Nutty Pumpkin Amaretto Fruitcake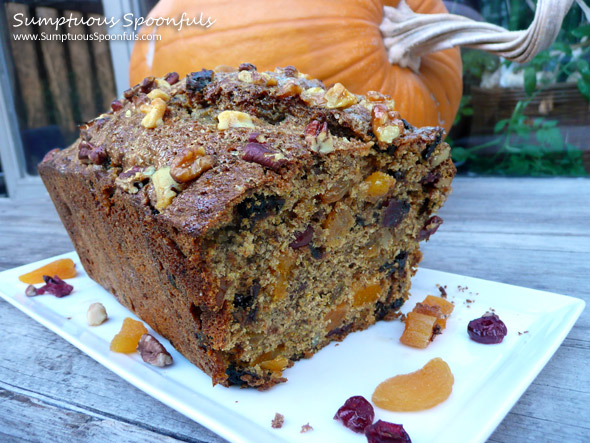 I don't know about you, but at our house we sometimes get a little drunk and  nutty over the holidays, so I'm thinking this fruitcake will fit right in! Don't be scared: this fruitcake is something any "nut" on your list would LOVE to dig into. A sweet pumpkin cake laced with amaretto and rum, filled with an assortment of dried fruits and nuts. I baked it in a loaf pan, like fruitcakes are often made, but I suppose you could bake it in a cake pan if you prefer.
When I was young, my mom used to make this amazing fruitcake soaked in rum. For three weeks that fruitcake soaked in the fridge, tantalizing us, but Mom wouldn't let us eat it until the three weeks was up. I don't exactly recall what fruits she put it in it, but I remember the apricots. I love apricots! There were no nasty artificially colored fruits … it was made with dried fruit instead. I don't know if she put nuts in it or not, but we all loved nuts so I'm guessing she probably did.
I have asked Mom if she still had that recipe, but she has lost it. So I thought I would try to replicate it from my memories. I don't have the patience to wait three weeks and soak it in rum, though, so I just glazed it with a sweet rum/amaretto syrup instead. I'm pretty sure my Mom didn't use amaretto, but I love the taste of amaretto, especially in sweet baked goods, so I gave it a bit of my own twist too.
I think the end result came out pretty close to Mom's Fruitcake. I'm taking it up to my mom and dad's place for Thanksgiving … I can't wait to see what she says!
This is a relatively healthy fruitcake. It's made with healthy pumpkin, whole wheat flour, lots of dried fruit and nuts, and very little added oil. It's adapted from Epicurious' Pumpkin Cranberry Bread recipe.
Drunk & Nutty Pumpkin Amaretto Fruitcake
Ingredients
2 cups mixed dried fruit, chopped into small pieces as needed (I used 1/2 cup each: dried cranberries, dried apricots, prunes and golden raisins)
1/4 cup rum
1/4 cup amaretto
1 cup pumpkin puree
1/2 cup sugar
2 large eggs
1/4 cup vegetable oil
1 1/2 teaspoons real vanilla extract
3/4 cup all-purpose flour
1 cup whole wheat flour
1/4 cup flaxmeal
2 teaspoons baking powder
1/2 teaspoon salt
1/4 teaspoon baking soda
3 teaspoons pumpkin pie spice
1/2 cup toasted nuts (I used 1/4 cup walnuts, 1/4 cup pecans)

For the top:

A couple Tablespoons of nuts
About 1 Tablespoon raw (turbinado) sugar

For the glaze:

1 Tablespoon rum
1 Tablespoon amaretto
2 Tablespoons powdered sugar
Instructions
Put the dried fruits in a bowl and pour the rum and amaretto over them and let them set for 30 minutes to an hour to plump up. Stir a few times during this time to make sure all the fruits get a good soaking.
Preheat the oven to 350 degrees F. In a large mixing bowl, mix the pumpkin, sugar, eggs, oil, and vanilla. Stir till it's all mixed up well.
Add the flours, flaxmeal, baking powder, salt, baking soda, spices, and nuts. Stir until the batter is mixed well and there are no pockets of flour anywhere. Add the drunken fruits with any "juice" that's not soaked up and stir them gently into the batter too.
Spray a 9 x 5 inch loaf pan with cooking spray, then pour the batter in and smooth it out with a spatula. Sprinkle the top with a few extra nuts and some Turbinado sugar.
Bake at 350 for 1 hour 15 minutes to 1 hour 30 minutes or until a wooden pick or knife inserted in the center of the bread comes out clean. (Mine took about an hour and 25 minutes to cook through.) Remove from oven and allow it to cool off a bit.
While the bread is cooling, mix up the glaze by mixing the powdered sugar with the rum and amaretto till smooth. The glaze should be very thin and syrupy.
Remove the bread from its baking pan and set it on a serving plate. Drizzle the glaze over the bread and down the sides. Let the syrup soak in for a few minutes, then slice the bread and enjoy!
http://www.sumptuousspoonfuls.com/drunk-n-nutty-pumpkin-amaretto-fruitcake/
Copyright 2012 by Sumptuous Spoonfuls. Recipes are meant to be shared! Nothing makes me happier than to hear about someone who has tried one of my recipes. All I ask is that if you are going to share my recipe online, give me credit and a link. And if you want to use one of my photos, please ask first. You can contact me at http://www.SumptuousSpoonfuls.com/contact/
I did polish off the end of a bottle of rum making this recipe, so I took this shot just for fun … 😉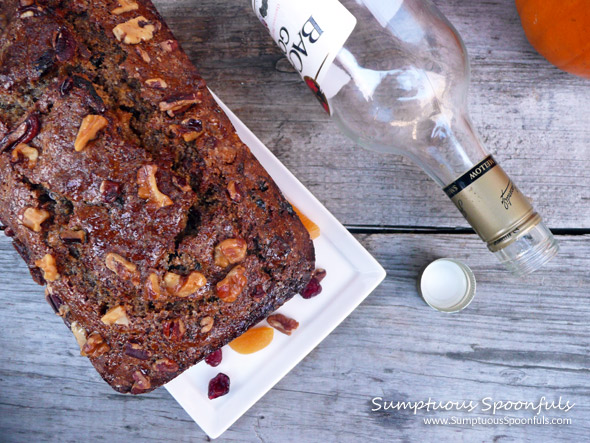 This recipe was shared at Wednesday Extravaganza, Wonderful Food Wednesday, Thursday's Treasures and the Thanksgiving Linky.