Fresh Tomato and Blue Cheese Soup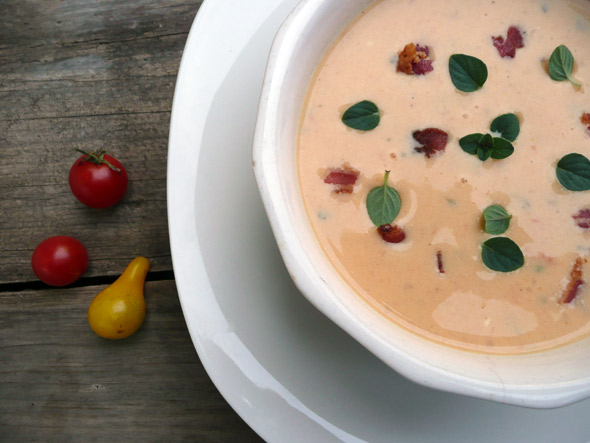 A couple weeks ago my sister and I were talking on the phone and she was suggesting some ideas for my blog, which is really sweet of her, but she lives in a different world than I do. She was saying I should give people ideas on what to pack in their kids' lunches. Which is a great idea … except I don't have anybody to pack lunch for anymore. My daughter's in middle school now and would rather die than take her own lunch because NOBODY does that. My son does home school and I work from home. In order to blog about something, I have to actually MAKE it and there's not much point in me packing a lunch for an imaginary person, is there?
So the next thing she suggested is tomato soup, because it was tomato season and she had tons of fresh tomatoes from her garden … but I didn't. In fact, I didn't have any tomatoes in my house. My tomato plants only yielded 3 tomatoes this year … total. And anyway, I told her, I don't like tomato soup.
That floored her. How can I NOT like tomato soup? Well, I said, I just don't. I never have.
But she gets the last laugh on this one because the very next day I saw someone post a tomato blue cheese soup recipe and the thought of tomatoes and blue cheese in a soup really intrigued me … and then my friend gave me some tomatoes from her garden. Not a lot of tomatoes mind you … it's towards the end of the season … but I had 4 tomatoes that were getting to the point that they NEED to be used right NOW. And the tomato blue cheese soup recipe popped into my head. Yes, I thought, today would be a good day to try that soup. So I made it … and guess what?
I love it. I mean,  like … I really really really LOVE this soup!
Ok, sis, you win! Tomato soup rocks the planet. Well, tomato blue cheese soup does anyway.
Fresh Tomato and Blue Cheese Soup that ROCKS!
Sort of roughly adapted from Amateur Gourmet. My version makes maybe 3 or 4 bowls of soup. If you're making it for a crowd, you're going to want to at least double the recipe.
Ingredients:
1 t. extra virgin olive oil
1/2 of an onion, chopped
2 cloves garlic, peeled and chopped
4 medium sized tomatoes, peeled and chopped. I used 2 red tomatoes and 2 yellow tomatoes.
1 c. chicken or vegetable broth
1 c. fat-free half and half
Freshly ground pepper
About 1 T. fresh oregano leaves
1/4 c. blue cheese crumbles
Optional: Crumbles of bacon and fresh oregano leaves for garnish
Directions:
Heat a medium saucepan over medium-high heat, then swirl in the olive oil to coat the bottom of the pan. Add the onion and garlic and sautee, stirring frequently, until the onion is translucent and soft, about 5 minutes.
Add the chopped tomatoes and their juices. I let them cook for 5-10 minutes over medium heat, stirring occasionally.
Add the broth and half and half.
Lower the heat to medium-low and let the soup simmer (not boil!) for about 30 – 45 minutes.
Put the soup and blue cheese in the blender and blend until relatively smooth. I didn't worry too much about getting it perfectly smooth because I like little chunks in my soup. If you want a really smooth soup, I think I might blend it twice: first I would blend the vegies together before adding the broth and half and half. Then again at the end.
Serve immediately, garnished with a bit of bacon and oregano if you like.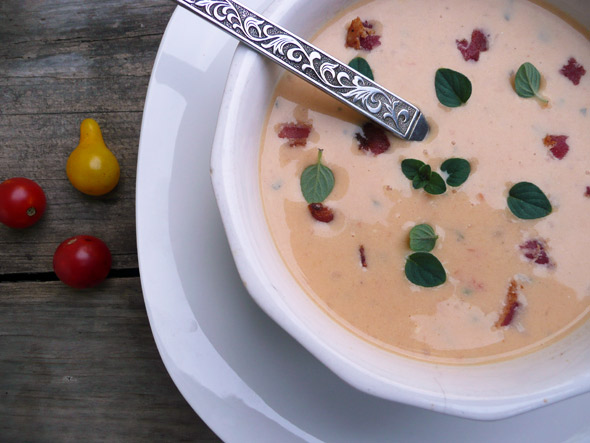 This is part of my series of 31 Days of Warmer Connections. Every day in October, I am blogging about connections through food.
This recipe was shared at Miz Helen's Full Plate Thursdays and Frugal Days, Sustainable Ways.
Good Deal Meals tried this soup and blogged about it! Go see what she has to say about it.