How to Turn your Favorite Meals Healthy
Good morning my dears! I have a guest post today from Virginia at Northwest Pharmacy. Virginia is a freelance writer who writes about healthy lifestyles. She wrote this article for our blog. I think it fits very well with my philosophy about food–and to help illustrate, I have sprinkled some recipes of mine throughout the article as examples … So without further ado, here's Virginia:
~
There's nothing quite as rewarding and soothing after a long, trying day than that of a favorite home-cooked meal; however, as the difficult days and comfort meals add up, you can soon find your waistline starting to expand.
Rather than give up your favorites, try some healthy substitutes in your recipes to reduce fat and calories. Many of theses alternates also boost vitamin, fiber, mineral and antioxidant levels in your revised recipes, as they use fruits and vegetables. Have a picky eater? These replacement options can sneak in an extra serving or two of heart-healthy produce without drastically changing the taste of their favorite dishes.
1) Unsweetened applesauce instead of butter or oil in baking. This amazing substitute is hard to believe, but applesauce can stand in for butter in many recipes. You can't taste the applesauce in the final product, but it does provide the moistness that butter or oil usually offers– you're cutting out a significant amount of fat, which leads to a lower-calorie treat.
Applesauce can also sometimes stand in for eggs as well, so if you're interested in creating a vegan treat, you might be able to use applesauce in lieu of eggs and butter in the recipe.
Comfort food makeover: Brownies, cakes, bread, muffins and more (but not pie crusts or certain cookies) can benefit from the applesauce makeover. The ratio for subbing is one-to-one: one cup of applesauce for one cup of butter. Whether you make it from scratch from an heirloom recipe or from a box you picked up at the grocery store, replace half of the butter with applesauce– you will likely not even be able to taste the difference or sacrifice the texture! Or, if you don't mind a denser and even more moist end product, you can opt to replace all of the butter or oil with applesauce.
These chewy low-fat chocolate chip cookies use applesauce in place of butter. I also like to use other pureed fruit such as berries, pears or bananas to lower the fat and up the flavor in my recipes.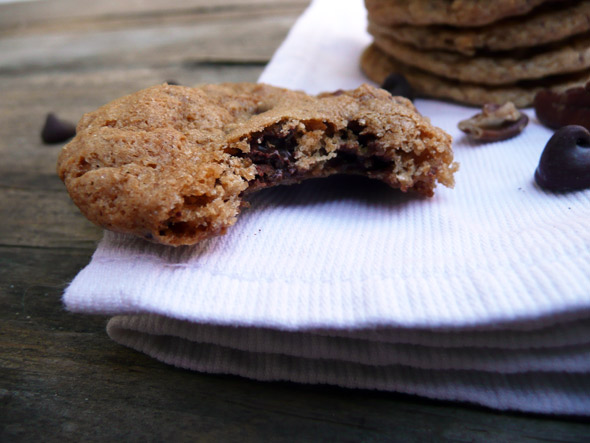 2) Nonfat greek yogurt instead of mayonnaise or sour cream. Greek yogurt has been the food industry's darling for a few years. No surprise, given that it has more protein and less sugar than traditional yogurt, while retaining its bone-healthy calcium, as well as having a thick and creamy mouthfeel (even in its nonfat versions). It's also very versatile and can be an easy substitute for high-fat mayonnaise or sour cream.
Comfort food makeover: Make homemade ranch dressing or chicken or egg salad with Greek yogurt instead of mayonnaise. The yogurt adds a subtle tang, but the consistency is a very close match for mayonnaise. Top your taco salad with protein-packed nonfat Greek yogurt for the cool creaminess of sour cream, but with none of the fat.
The Tahini Yogurt Ranch Dressing on this Tomato Cucumber Salad is made with Greek Yogurt in place of (most of) the mayo: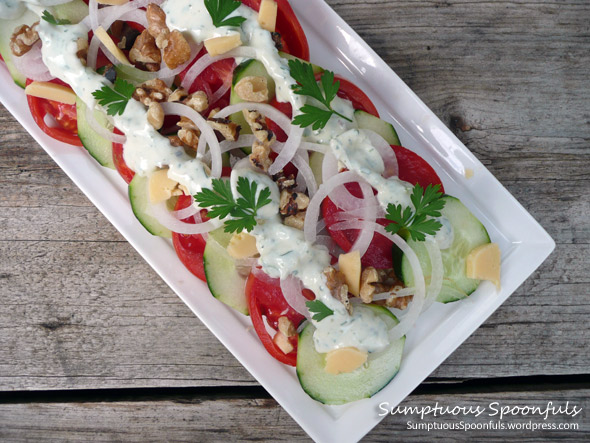 3) Pureed vegetables instead of cream as a soup thickener.  Nothing is quite as comforting as a rich, hearty bowl of soup in cold weather. Instead of using the usual fat-laden cream to thicken soup, try bulking out your soup with pureed vegetables instead. Not only are you cutting out saturated fat, but you are also adding in valuable vitamins, minerals and antioxidants. It's also a good way to sneak in an extra dose of vegetables for the picky eaters in your family.
Comfort food makeover: Cream of tomato, mushroom, broccoli or any chowder made with cream. For the soups, substitute pureed potato or cauliflower for cream to slash fat, add fiber and vitamins, or as a vegan alternative. Stir in a small amount of Greek yogurt if you need an extra hit of creaminess—after removing the soup from the heat.
This creamy Broccoli Cheese Soup uses pureed cauliflower and carrots to add thickness, color and creaminess without adding fat.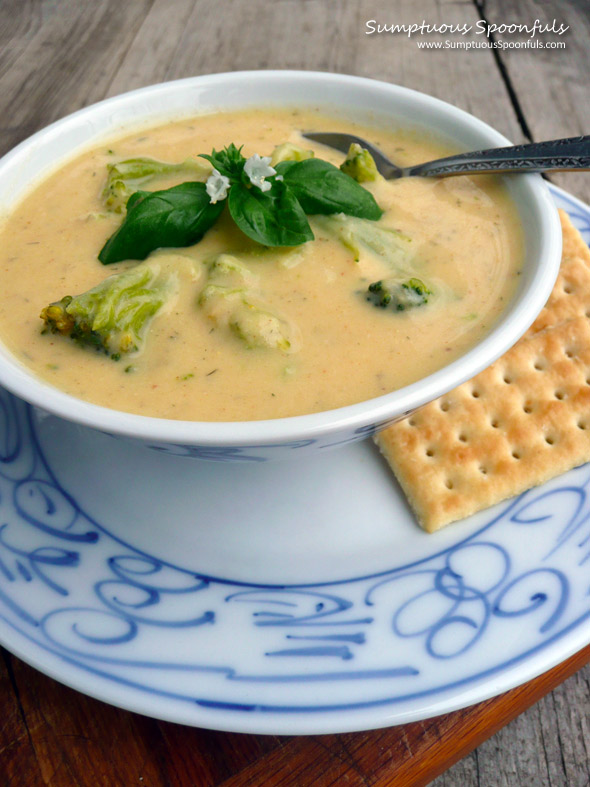 4) Whole grain instead of white. White bread, rice, and pasta and all refined carbohydrates have been fingered as the contributors to diabetes, expanding waistlines and possibly heart disease. Substitute these common carbs with their whole grain versions (whole wheat bread, brown rice, whole grain pasta) and get more fiber, B vitamins, magnesium, zinc and other nutrients in your diet. You can find whole grain versions of various snack foods too, including cookies and crackers. Instead of white flour, use whole wheat flour or whole wheat pastry flour for your baking efforts.
Make sure the ingredients list leads with "whole-grain" or "whole-wheat;" otherwise, you may not be buying the real deal.
 Comfort food makeover: Serve your grandma's famous marinara sauce over whole wheat spaghetti. Spread peanut butter and jelly on whole wheat bread instead of white. Instead of baking chocolate chip cookies using white flour, mix whole wheat with white flour for more fiber and vitamins in your baked treats.
Start with small steps at first, substituting only half of the ingredient or only one ingredient per recipe, and increasing the amounts as you get more comfortable. Here's a popular favorite than can have multiple swaps: macaroni and cheese. Instead of white elbow pasta, use whole wheat shells; instead of a béchamel sauce, add in pureed butternut squash for the creamy texture and moisture, with less fat and more fiber and vitamins.
You can use one or more substitutes in a recipe—tweak and adjust until you find a recipe that tantalizes your taste buds, but is packed full of healthy substitutes as well. Don't give up your favorite foods–make them over instead!
Virginia Cunningham is a freelance health writer, mom of three and works alongside with Northwest to educate others about how to live healthier lifestyles. While there is no denying that she loves her comfort foods, she tries to make them as nutritious as possible with healthier alternatives.
This post was shared at What to Do Weekends.