Making Berry Liqueur and the 7 Things Awards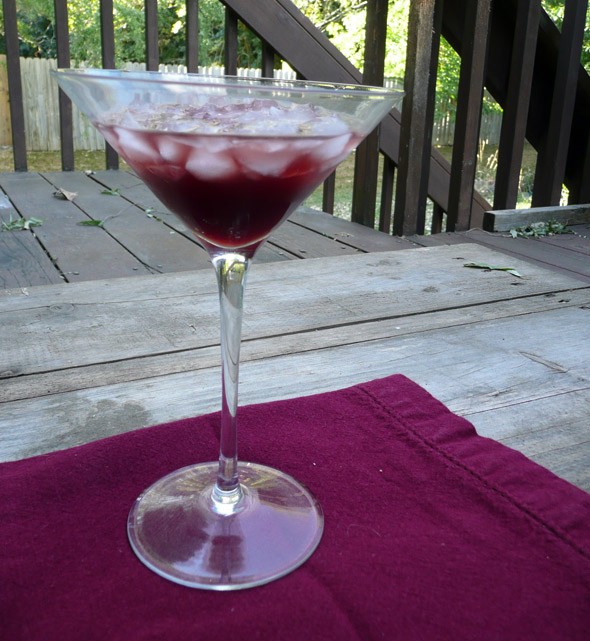 Sawsan, the Chef in Disguise, gave me The Versatile Blogger award!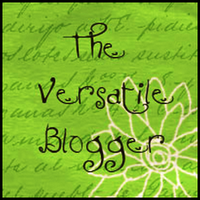 I am so honored … am I really worthy of that?
Sawsan is one of my favorite food bloggers. Her foods are always so beautiful and delicious. Really, you must go look at her blog — you will be drooling in no time.
The Versatile Blogger award comes with 2 conditions:
Pass it on to other wonderful bloggers
Share 7 things the readers don't know about you.
Ok, so what haven't I told you about myself yet? Hmmm …
The Seven Things You (Maybe) Didn't Know About Me
I used to be a bartender. That was one of the most fun jobs I ever had. I loved it!
I like almost all kinds of food, but I can't stand sushi. I've tried it several times and I just cannot get myself to like sushi.
I don't like sushi, but I like to fish. I'm not afraid of worms. I like frogs and alligators. I'm a weird girl.
I drink at least 5 cups of chai tea every day and I try to have at least 4 different kinds on hand at all times. The stores don't always cooperate with me on this endeavor.
I love art. My favorite work of art is Michelangelo's David. I have seen it in person in Italy and you know what? He has a cute butt.
I carry an emergency chocolate stash in my purse at all times. (Or did you already figure that one out?)
I started this recipe two months ago and have been DYING to share it with you.
Yes, really, I have been waiting for this day for two months. I even wrote up the post two months ago, preparing for this day … here's the story:
Last year was an incredible raspberry year. We had so many raspberries that I actually got tired of eating them! It takes a LOT of raspberries for ME to get to that point. I love love love raspberries.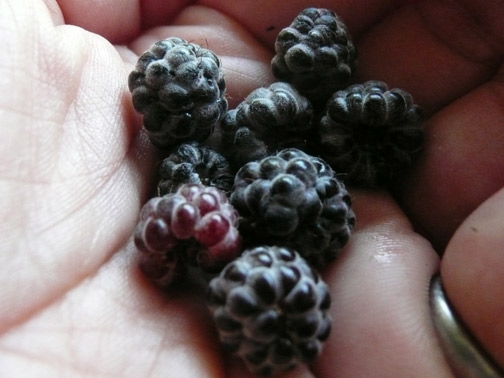 I have memories of going to my grandmother's house when I was little and she would look at me and smile and tell me to go open the fruit drawer in the fridge. She would have the entire drawer filled to the top with raspberries. We would put them in a bowl and pour cream over them, sprinkle sugar on top, and eat them. Back then we really did put cream on everything–we even ate our cereal with half and half! I can't believe that we did that … now I can't stand anything thicker than 2% milk!
Okay so now picture me as an adult, with bajillions of raspberries and whatever to do with all of them! I had made baked raspberry things and eaten bowls of raspberries, poured my raspberries over ice cream and in my cereal and even made raspberry syrup. My daughter and I had made raspberry fizzes and raspberry shortcake. And STILL there were raspberries. Beautiful red ones and dark black ones. The thought of letting the beautiful berries go to waste was breaking my heart.
So I made liqueur. Many years back a friend had given me a cookbook called Glorious Liqueurs. I found this recipe in there.
This recipe takes months, so you will need the first 2 ingredients now, and the rest much later. The anticipation will kill you, but you get to visit your liqueur while it is 'cooking' and anticipate the lovely flavors you will savor later.
I am trying this with mulberries this year. Last year was the year of the raspberries … this year it was mulberries. I started this batch at the beginning of July and now it is FINALLY September!!!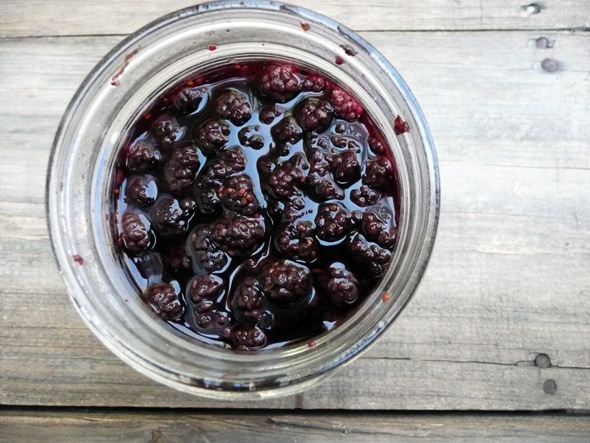 Raspberry Liqueur
Recipe from New Country Fare: Glorious Liqueurs. 150 Recipes for Spirited Desserts, Drinks and Gifts of Food. (If you are under 21, please skip this recipe.)
Ingredients:
2 1/2 c. ripe clean raspberries (or other berries … I'm trying mulberries this year, but I think you could use just about any kind of berries)
2 cups (roughly) of brandy
3/4 c. water
1/3 c. sugar
1 T. grated lemon zest
Directions:
Lightly crush 2 c of the berries with a fork or potato masher; place in a quart-size canning jar. Pour in enough brandy to completely cover the berries. Add equal portions of the remaining berries and brandy to reach the top of the jar's lip. Make sure all of the berries are covered by the brandy. Tightly cap the jar and wipe the outside clean.
Put the jar of berries and liqueur in a dark, cool place. I don't bother with labeling the date on the jar, but if you were making several liqueurs you might want to put a date on it so you remember when you need to do the next step.
Every 2 weeks, visit your liqueur and give it a good shake to distribute the flavors.
After 2 months, gently pour the contents of your jar through a strainer or sieve; discard the residue. Follow this by 2 strainings through slightly dampened cheesecloth. For further clarity, pour the strained mixture through a large clean coffee filter placed inside a funnel. You will want to loosely cover the contents with plastic wrap or other cover since it might take several hours to strain through.
Make a simple syrup by mixing the sugar, water, and lemon zest in a small saucepan and bring to a boil over med-high heat. Simmer, uncovered, for 5 minutes. Let cool to room temperature. Funnel the strained brandy into a glass bottle, then funnel in the sugar syrup through a strainer to remove the lemon zest. Cover tightly. Shake to blend the flavors.
Now the recipe says to let it mature at room temperature for at least a month, but I am sure I drank some right away.
It is lovely at room temperature straight, over ice cream or fruit desserts , I have even used it in baked goods and someday I want to try it in ice cream.
The Versatile Blogger Awards!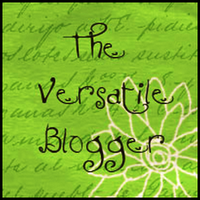 NO I didn't forget about the other part of the award! I am really excited to share this award with some of my amazing foodie friends. Since this is a week of sevens and a 7 things award, I think I need to award this to 7 amazing food bloggers. I hope you visit their blogs and follow them on facebook and/or twitter and I really really hope you love them as much as I do.
I know I said I would list 7 and then I couldn't help myself! I named 8. Let me tell you, it was very hard to narrow it down to 8!
Here's to you my Versatile Blogger friends!