Peach Berry Prosciutto Pesto Pizza
with Gorgonzola, Mozzarella & Havarti Cheeses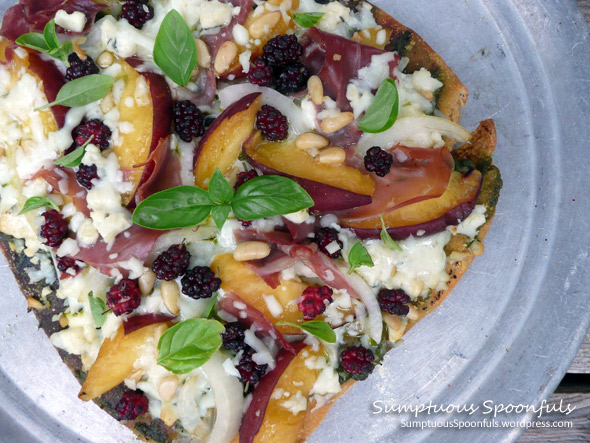 My friends told me about this Peach Pizza they've been making that they just LOVE … so of course I had to try it. Last night the crazy wind we've been having finally died down enough to light up the grill so my daughter and I decided we should grill up some pizza.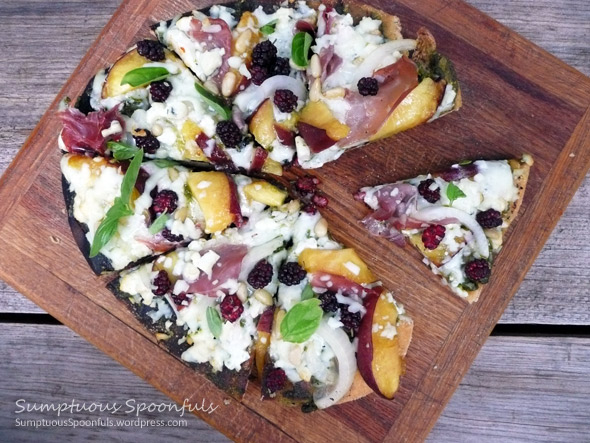 Peach Berry Prosciutto Pesto Pizza
Adapted from Eating Well
Pizza dough (I included my recipe below)
Toppings (per individual-sized pizza)
1/4 cup of Gorgonzola cheese crumbles
1/4 cup of shredded Havarti cheese
1/3 cup Mozzarella cheese
1 fresh peach (or nectarine), sliced
Thinly sliced sweet onion
A couple tablespoons of pesto (store-bought or homemade … my recipe for pesto is here)
1 thin slice of prosciutto, torn into pieces
A small handful of berries (I used mulberries, but I think blueberries would be beautiful with this too)
1 – 2 Tablespoons pinons (pine nuts)
For garnish/topping after cooking:
Balsamic vinegar
Fresh basil leaves
Directions:
Prepare the pizza dough and light up the grill.
Mix the cheeses together in a bowl and prepare/gather the rest of the toppings and place them close to the grill so you're ready to top the pizza crust as soon as the first side is cooked.
If you're using a charcoal grill, arrange the coals and make a hot spot for the pizza crusts to cook. I piled the coals up on one side of the grill, leaving the other side empty to make a cooler spot for the toppings to melt. (On a gas grill, turn one area up to high and another on low.)
Slide one of the prepared crusts onto the hot side of the grill, cover and let cook for 5-10 minutes, checking it periodically. (I was busy with other stuff and charred the bottom a little … oops! Shhh … don't tell anyone, maybe they won't notice …)
Once the crust is browned on the bottom, using a spatula, flip the crust over onto the cool side of the grill so the "raw" side is down. Spread the crust with pesto, sprinkle with most of the cheese, arrange the other toppings on there, then add a bit more cheese on top.
Cover and let cook another 5 – 10 minutes or until the cheese is melted. Remove from the grill (slide it onto a pizza pan or cutting board), sprinkle with some fresh basil leaves and a little drizzle of balsamic vinegar (if you like), cut into slices and enjoy!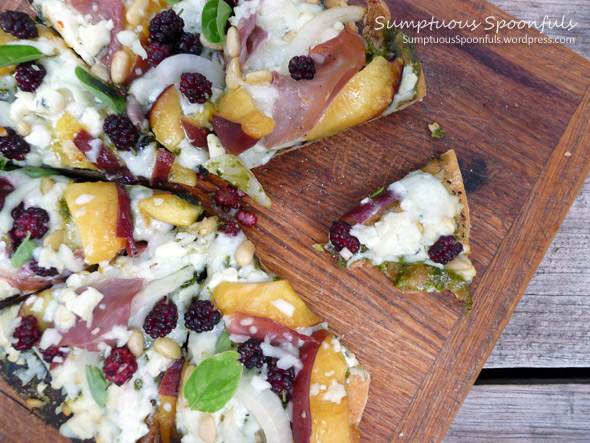 Italian Tomato Pizza Crust
Using tomato juice as the liquid gives the crusts a beautiful orange color.
1 cup tomato juice
2 tablespoons olive oil
2 tablespoons sugar
1 teaspoon salt
1 1/2 cups bread flour
1 cup unbleached white whole wheat flour
2 1/4 teaspoons yeast
2 teaspoons Italian Seasoning
1/4 teaspoon garlic powder
Put all ingredients into the bread machine and put it on the dough setting. When the dough is done, divide it into four balls. Shape each ball into a disc shape, cover with a towel and let rest about 5 – 10 minutes. On a clean, flat surface sprinkled with cornmeal, roll out the dough for your crust with a rolling pin. Cover the crusts with a towel until you're ready to cook them.
This recipe was shared at Newlyweds Recipe Linky, Cast Party Wednesday, Thursday's Treasures and Tastetastic Thursday.