Pumpkin Apricot Oatmeal Pie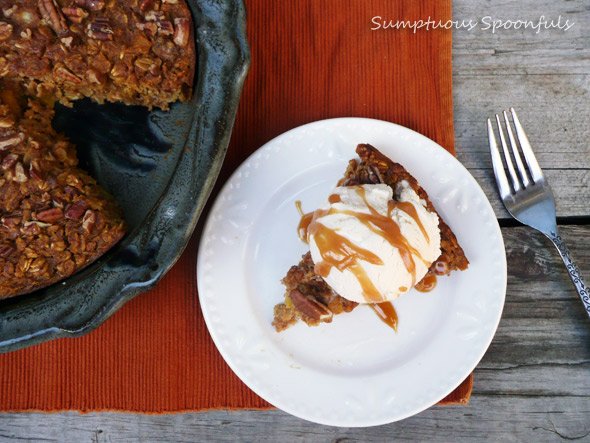 If you bake it in a pie pan, it's a pie, right?
I am naming this a Pumpkin Apricot Oatmeal Pie to distinguish it from the mushy stuff you usually think of as oatmeal. Don't get me wrong: I love a hot steamy bowl of oatmeal, but this definitely doesn't have that soft mushy texture of stove top oatmeal. But then again, it's not totally soft, moist and dense like a pumpkin pie either, and it has no crust. It's not cakey either. I think most people would call it baked oatmeal, but really, it's a cross between baked oatmeal and pumpkin pie. It is packed with dried fruit and has a slightly chewy texture to it. You could eat it for breakfast (because it's totally healthy and packed full of fiber and  protein and vitamins and other good things), or you could add ice cream and a little drizzle of caramel and call it dessert.
This lovely "pie" was inspired by my sweet friend Ann at The Fountain Avenue Kitchen, who made Pumpkin Baked Oatmeal the other day. She always soaks her oatmeal for several hours before she bakes it. I keep meaning to try that method, wondering if it would change the texture, but I never seem to think ahead enough to do it. Maybe next time?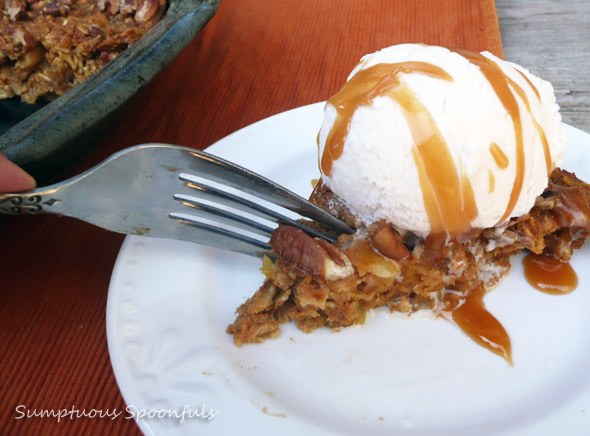 Pumpkin Apricot Oatmeal Pie
1/4 cup golden raisins
2 Tablespoons rum (optional)
1 cup pumpkin puree
1 1/2 cups old fashioned oats
3 Tablespoons maple syrup
2 Tablespoons Stevia in the Raw or brown sugar
2 teaspoons pumpkin pie spice
1 teaspoon real vanilla extract
1 cup lowfat milk
2 Tablespoons Amaretto (optional)
1 egg + 1 egg white
1 ripe banana, smashed (or grated apple would be wonderful too … )
1 1/2 Tablespoons melted butter
1/4 cup dried apricots, chopped into bits
1/4 teaspoon salt
1/2 teaspoon baking powder
For the top: 1/3 cup pecans + a Tablespoon or two of raw turbinado sugar
Directions:
Soak the raisins in the rum for at least 15 minutes to get them nice and plump. If you don't want to include the alcohol, you can use water with a little vanilla and/or rum extract to plump the raisins.
Preheat the oven to 375 degrees F.
Mix all the other ingredients (except for the topping) in a mixing bowl until everything is well mixed. Add the rum-soaked raisins (with any residual rum).
Spray a large pie pan with cooking spray and pour the pumpkin oatmeal mixture into it, spreading it evenly with a rubber spatula.
Sprinkle the top of the pie with pecans and raw sugar. Bake at 375 for about 40 minutes or until the pie is set and golden brown on top.
To serve, you can cut in wedges and eat it warm, with no topping, or for a fancier dessert oatmeal pie, you can top it with light vanilla ice cream (or vanilla yogurt for an even healthier option!) and drizzle with a little warm caramel sauce. The warm oatmeal pie with the toasted pecans on top and cold ice cream melting into it is really a wonderful contrast, but most of the time I ate it just plain, no topping, because it's quite nice just like that, with a cup of hot chai.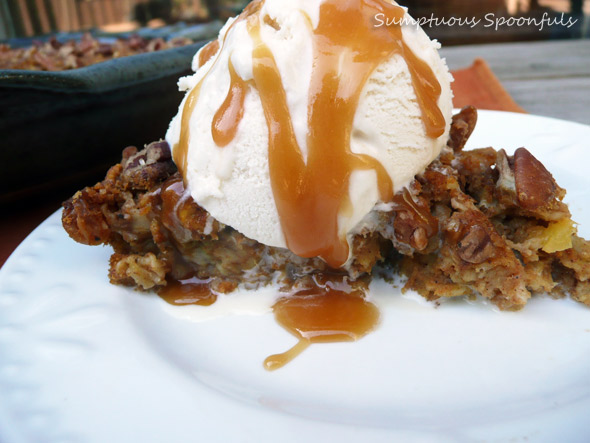 This recipe was shared at Fit & Fabulous Friday, Share it Saturday, Scrumptious Sunday, Weekend Potluck, Melt in your Mouth Monday, Totally Tasty Tuesday, Tuesday Talent Show, Thursday's Treasures, Foodie Friends Friday Pie Party and Everyday Mom's Meals.