Red Thai Curry Pepper Mushroom Chicken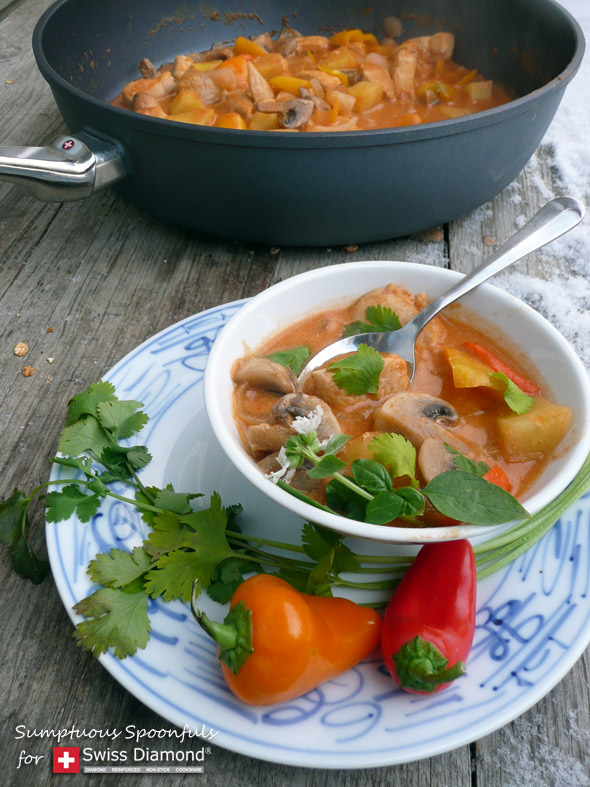 I fell in love with Thai curry in California. We used to go to this beautiful little Thai restaurant for lunch and they had the most marvelous Thai chicken curry. It came in a big bowl, all soupy, with big hunks of chicken and potato, with rice on the side. The sauce was pure heaven; I almost wanted to drink it from the bowl.
As part of my series of recipes for Swiss Diamond International, I thought I'd try making this curry in my BIG 5.8 quart saute pan. When I selected it, I don't think I really thought about how big a 5.8 quart saute pan might be, but this one takes up about 1/3 of my stove when I set it on there. It dwarfs the size of my large burners, but it really doesn't matter all that much that the pan overlaps the burner (by quite a lot) because the pan conducts heat so well that food still cooks pretty evenly.  I honestly don't have a lot of use for this large of a pan since my family is small, so I had to think about what kind of dish I could make in it. I thought it would be awesome for baking a chicken (in whole or in parts) because the pan is oven safe, but I decided to try a Thai curry in it instead, since this cold weather has me hungering for hot foods and curry just sounded so marvelous when it was cold, windy, snowing and below zero outside.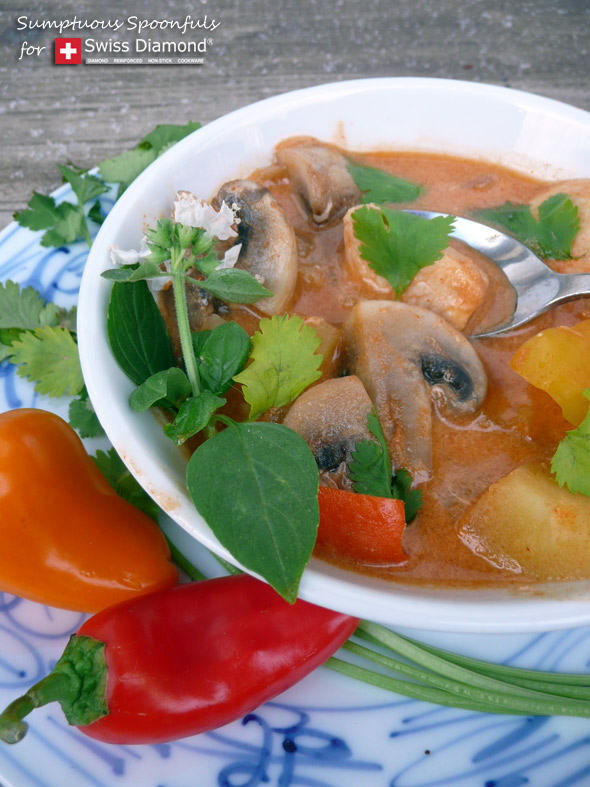 For this dish, I found these beautiful little sweet peppers at the grocery store. I had intended to get a bell pepper, but I balked at the price of $1.68 for a red bell pepper. Then, on the top shelf I spied a little bag of these beauties. It was totally silly because they cost almost twice as much as a red bell pepper, but the beautiful colors of these little peppers brought so much joy to my heart as I washed them and cut them for the curry. It's the little things in life …
You can adjust this dish to be sweeter or spicier … or both! Whatever makes your taste buds sing.
Red Thai Curry Pepper Mushroom Chicken
Ingredients
1 can light coconut milk
1 - 2 Tablespoons Red Thai Curry Paste (green would be ok too)
2 - 3 cloves of garlic
1 teaspoon ginger root, peeled and chopped fine
1 large chicken breast, cut into large chunks
1 large golden (or red) potato, peeled and cut into large chunks
1 onion, peeled and cut into large chunks
1 teaspoon lemongrass paste (optional ... I've made this dish without it and it's still delicious)
About 1 1/2 cups sweet red, yellow, or green pepper, cut into large chunks
7 medium/large mushrooms, quartered
1 - 2 Tablespoons brown sugar (I used 2)
1 1/2 Tablespoons fish sauce
Optional: 1 - 2 Tablespoons finely chopped hot pepper (I used jalapeno)
Fresh basil and/or cilantro leaves
Instructions
Put the potatoes in a bowl and microwave on high for 2 - 3 minutes or until the potato is tender but not falling apart yet.
In a large flat saute pan, mix the coconut milk and curry paste. Set the pan on medium heat until it is hot and bubbly. Add the garlic, onion, potato and chicken, stir well, cover and cook for about 10 minutes or until the chicken is nearly done.
Stir in the remaining ingredients (except the basil and/or cilantro) and cook for another 5 to 7 minutes or so or until the mushrooms and peppers are tender and the chicken is cooked through, but still tender.
Finely chop some fresh basil and/or cilantro leaves and stir them in at the last moment, just before serving. I used quite a bit of cilantro and several basil leaves ... add the amount of herbs that suits your eaters.
Serve over hot basmati or jasmine rice, garnished with a few fresh basil and/or cilantro leaves on top.
Notes
When I make curry at home, I can never quite achieve that soupiness of the curry I order in Thai restaurants because I always try to cram too many "extras" into the recipe. If you want a soupier curry, cut down on the amount of vegies and potato you use in the dish.
http://www.sumptuousspoonfuls.com/red-thai-curry-pepper-mushroom-chicken/
Copyright 2012 by Sumptuous Spoonfuls. Recipes are meant to be shared! Nothing makes me happier than to hear about someone who has tried one of my recipes. All I ask is that if you are going to share my recipe online, give me credit and a link. And if you want to use one of my photos, please ask first. You can contact me at http://www.SumptuousSpoonfuls.com/contact/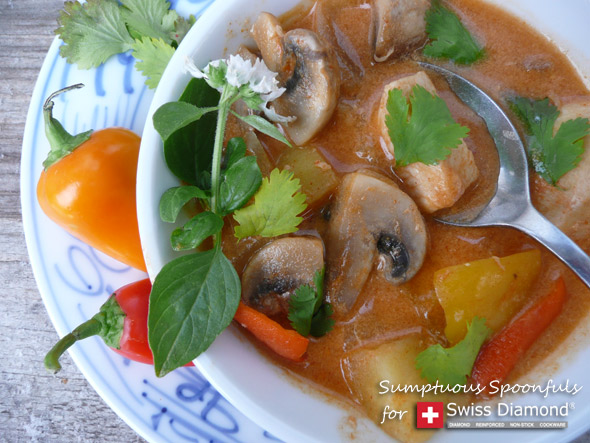 This recipe was shared at Tuesday Talent Show, Cast Party Wednesday, Wednesday Extravaganza, Show & Share Wednesday, Tasty Thursdays, Foodie Friends Friday, Weekend Potluck and Show & Tell Saturday.