Rosemary Cucumber Barley Lentil Salad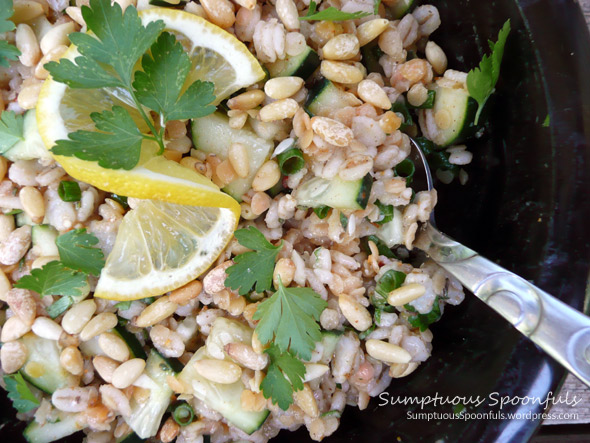 The idea of a chopped cucumber salad with rosemary popped into my head the other day. I had some cucumber I bought for my daughter, but she hasn't shown much interest in eating them lately, so I decided to go ahead and use them up. I cooked up some barley and red lentils to go with it and they took over and outnumbered the cucumbers, but all in all, I was very pleased with the results. Barley is something I usually think of putting in soups, but I thought it would be fun to try it in a salad. It's a very healthy grain, full of fiber.
Dressed with lemon juice and olive oil and seasoned with a little Moroccan seasoning and some cumin, it turned out to be quite a nice salad. Great for lunch or as a nice side dish to serve with fish or meat.
Rosemary Cucumber Barley Lentil Salad
1/2 cup dry barley
1/2 cup dry lentils (you can use any color: I chose red ones)
1 1/2 cups sliced and chopped cucumber
1/2 cup chopped sweet onion (like a Vidalia)
1/4 cup parsley
1/4 cup chopped green onion
Zest and juice of 1 lemon
2 cloves of garlic
1 1/2 teaspoons finely chopped fresh rosemary
1/2 teaspoon cumin
1 teaspoon Moroccan seasoning (I used some I purchased from Mystic Blue Spice Company, but if you are in a pinch, there is a recipe for making your own here)
1 Tablespoon extra virgin olive oil
Salt & freshly ground pepper, to taste
For garnish: About 2 Tablespoons toasted pinons (pine nuts), lemon slice(s) & fresh parsley leaves
Directions:
Cook the barley and lentils (in separate pots) according to package directions.
While they are cooking, chop the cucumber and onion and gather the herbs.
Zest and juice the lemon into a small bowl. Add the garlic, rosemary, cumin and Moroccan seasoning, then whisk in the olive oil.
In a larger bowl, mix the cooked barley and lentils, the cucumber, onion, parsley and green onion, then drizzle on the dressing and stir to mix. Add salt and pepper to taste. Garnish with fresh lemon slice(s), toasted pine nuts and some fresh parsley leaves. Serve hot or cold. It's good both ways.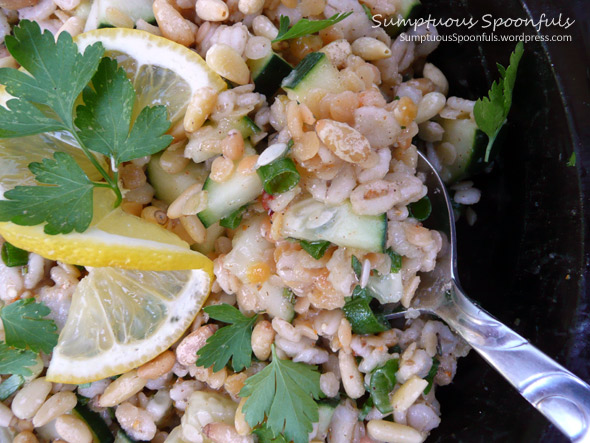 This recipe was shared at Newlyweds Recipe Linky, Full Plate Thursday, Fit & Fabulous Fridays, and Summer Salad Sundays.