Thai-Style Barbecued Chicken Salad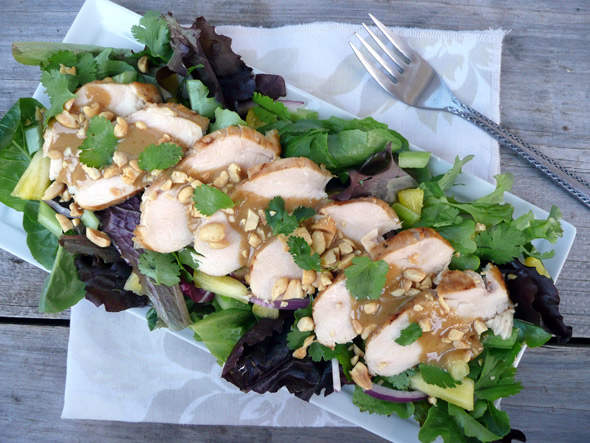 Even as I was eating my Thai Chicken Pizza the other night, I began dreaming of this salad. The flavors on that pizza were just screaming to be thrown over some pretty greens and doused in that amazing Spicy Thai Peanut Sauce. Add some pineapple, a bit of celery, and some chopped peanuts and ooh what a beautiful summer salad. I forgot I was actually going to throw in some carrots, but didn't miss them until after I inhaled the salad, but if I did this again I would …
Thai-Style Barbecued Chicken Salad
For the chicken:
Boneless, skinless chicken breasts (1 per person)
Plain nonfat yogurt and/or buttermilk for marinading the chicken
Red Robin Seasoning (or your favorite seasoned salt)
Granulated garlic (or chopped garlic cloves)
For the salad:
Mixed organic greens
Chopped fresh pineapple
Chopped fresh celery
Red onion, thinly sliced
Carrot, thinly sliced (if desired) or carrot "ribbons" would be lovely too
Peanuts, toasted and roughly chopped
Fresh cilantro leaves
Thai Peanut Sauce (super simple recipe here!)
Marinade the chicken in yogurt or buttermilk. I used about half yogurt, half buttermilk. (No, I didn't measure it, just poured it into a bowl till it looked like about the right amount to cover my chicken.) Then I added some granulated garlic and Red Robin seasoning until it tasted good. Then I added the chicken and let it marinade for an hour. Or two. I don't know exactly how long …
Heat up your grill and put the chicken on there and cook it up till the juices run clear when you pierce the chicken with a knife.
Slice up that lovely hot chicken.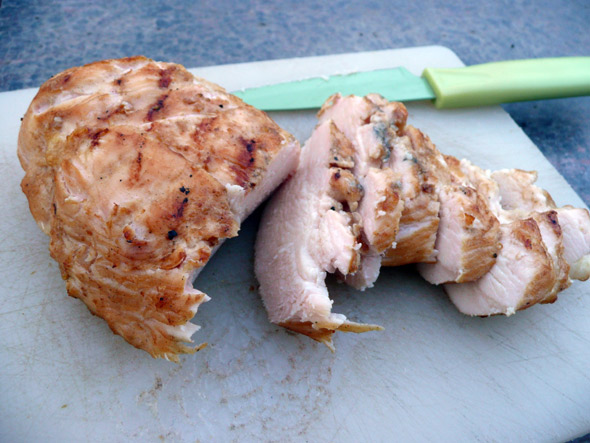 Pile the greens on your salad plate(s), then top with pineapple, celery, onion, carrots and cilantro leaves. Arrange the chicken on the greens and drizzle with the Thai Peanut Sauce, then sprinkle with nuts and a few more cilantro leaves.
Enjoy!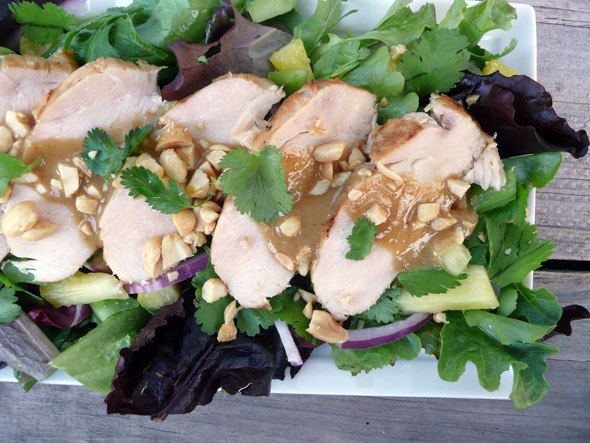 This recipe was shared at Fit & Fabulous Fridays, Weekend Potluck, Strut your Stuff Saturday, Recipe Lion Spring Blog Hop, and Real Housewives Recipe Roundup.