Versatile Blogger Award & Prosciutto-Wrapped Turkey
on a bed of greens with Kiwi, Pomegranate, and a Sweet Balsamic Habanero Mustard Drizzle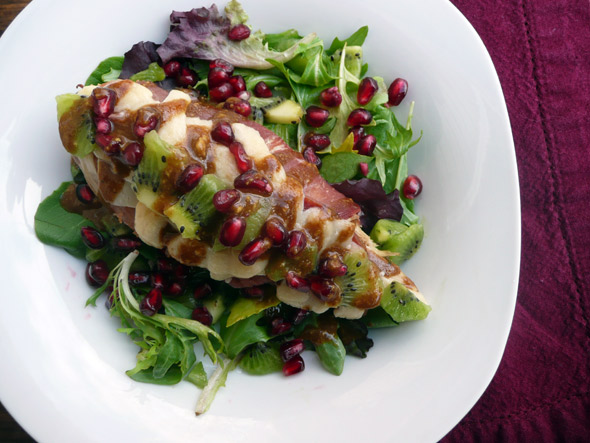 This was simultaneously a long, hard week for me and a wonderfully blessed week. I am blessed with so many talented foodie friends who are such beautiful people. Four times this week I was awarded the Versatile Blogger Award.
Last Wednesday the blow to my heart that I had been fearing would come, came. As much as I told myself I was prepared for it, I wasn't. This man I had been seeing, I let myself fall too hard. From the start I knew this wasn't the time for this relationship. But I had made a wish and he was the one that answered. We both needed each other right then and there. And so I let it happen. And it was wonderful. Every moment I spent with him was like a taste of heaven … I know I will be okay without him, but right now my heart is torn in two. And my body tells me to eat, but I don't even want to. I force myself to nibble at things just to make the hunger go away. If you know me at all, you know that's not like me. I still visited my foodie friends on facebook, but my heart wasn't in it. I couldn't cook. I couldn't blog.  All I could do was share past recipes, past memories.
My family and friends were there for me in so many ways. My circle of foodie friends was there to comfort me too. This circle is so much more than just a bunch of people who share recipes. They are just phenomenal giving people and I am so blessed to be included in this circle. All these beautiful people I've never met in person were there for me. They are my angels.
This award came to me from these four beautiful bloggers.
Now the rules of this award state that I have to pass it on to five other versatile bloggers. Since I was awarded it 4 times, I guess that means you get to meet 20 of my friends, and yet this is only a small fraction of all the beautiful people I have met through my blog.
So the awards go to these talented bloggers. Each and every one of them is so special to me.
Now, would you like to see the recipe? I didn't want to cook, but after hardly eating anything on Thursday, I really needed to eat. So I dressed up some of my leftovers. It turned out SO pretty … and it was simple to make.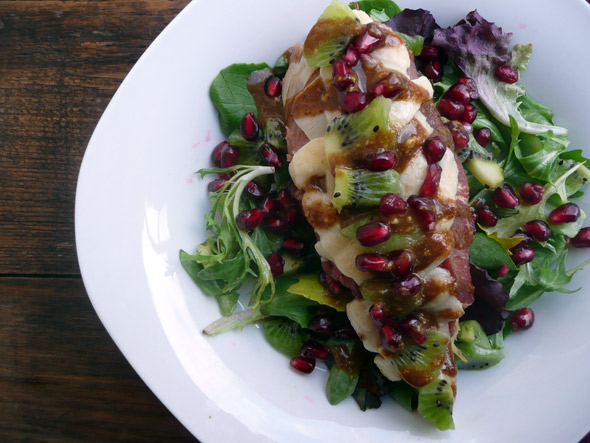 Prosciutto-Wrapped Turkey on a bed of greens with Kiwi, Pomegranate, and a Sweet Balsamic Habanero Mustard Drizzle
Take a hunk of cooked turkey (or a cooked chicken breast) and wrap it with thin slices of prosciutto.
Top with slices of cheese. I used Romano & Parmesan, but I think Gouda or Provolone would be better because they're meltier.
Broil the meat in a toaster oven (or regular oven) until the cheese is melted and bubbly.
Lay the meat on a bed of greens and sprinkle with chunks of kiwi and pomegranate seeds, then drizzle with the vinaigrette.
Sweet Balsamic Habanero Mustard Vinaigrette
1 Tablespoon habanero pepper jelly (or other hot pepper jelly)
1 Tablespoon spicy brown mustard
1 Tablespoon light mayonnaise
1 Tablespoon balsamic vinegar
1/2 teaspoon granulated garlic
1/4 teaspoon turmeric
Whisk all ingredients together.
This recipe was shared at Fit & Fabulous Fridays, Weekend Potluck, Totally Tasty Tuesdays, Cast Party Wednesdays and Newlyweds Recipe Linky.