Almond Berry Granola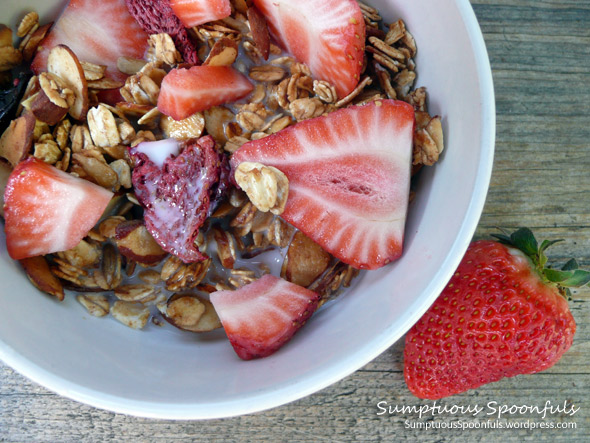 I don't know what it is with me and breakfasts lately … all my posts seem to be about breakfast. Oh well, breakfast is important. What you eat in the morning sets the tone for your day, so you should make it good.
Granola is the perfect breakfast on mornings when you're in a rush. Have it with fresh berries and milk, or sprinkle some on your yogurt or ice cream. Or just munch on it for a snack throughout the day. Besides, oats are especially good breakfast food. I was just reading about that yesterday.
If you've never made your own granola, just trust me that it's SO worth it. The house smells heavenly while it's baking and the result is truly fantastic. Oh so much better than the store-bought stuff. I'm really excited for the mulberries to come in because I think they would be just wonderful with this granola. I see the little baby berries starting on my beloved mulberry tree and I'm almost shivering with excitement. It's the little things in life …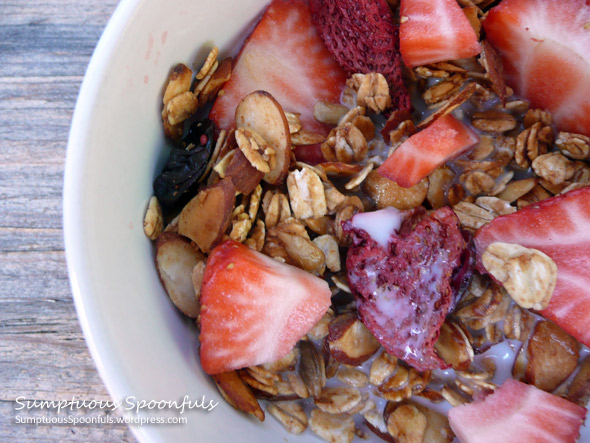 Almond Berry Granola
4 cups old fashioned oats
1 1/2 cups sliced almonds (or other nuts … I was thinking perhaps 1 cup almonds, 1/2 cup pecans might work even better)
1/2 cup sunflower seeds
3/8 cup basil strawberry sauce (recipe below) or strawberry applesauce
1/4 cup honey
2 – 4 Tablespoons maple syrup (or berry syrup), depending on how sweet you want your granola
1 1/2 Tablespoons olive oil
1 teaspoon vanilla extract
1/2 teaspoon almond extract
1 teaspoon cinnamon
1/2 teaspoon nutmeg
1/2 teaspoon ginger
1/8 teaspoon cardamom
1/2 teaspoon sea salt (optional … leave out the salt if you are watching your sodium)
6 oz. dried berries (I wanted to use strawberries, but couldn't find any dried strawberries at the store. I dried a few strawberries myself, but it wasn't enough fruit for my granola, so I added dried blueberries, cranberries, and cherries.)
Directions:
Preheat the oven to 275 degrees. In a large bowl, mix the oats and nuts. Set aside.
In a separate small bowl, mix the strawberry sauce, honey, syrup and spices. Microwave on high for a minute, stir, and then microwave 30 seconds more until the mixture is good and hot. (Or heat the mixture in a saucepan. Either way will work.)
Pour the hot sweet sticky mixture over the nutty oat mixture in the bowl. Stir it all up until it's well mixed.
Spread all this wonderful stuff out into a thin layer on a large jellyroll pan (or other big flat baking pan with an edge to it). Set it in the oven and bake for about an hour and 15 minutes, stirring every 15 minutes. It should be browned to a lovely brown color and smelling fantastic. You can taste a little sample to see if it's crunchy enough. If it's not, bake it a little longer.
Let the granola cool for a bit before stirring in the dried fruit. Store in an airtight container. It will keep for about a month or so. There's NO way mine is going to last that long …
Basil Strawberry Sauce
1/3 cup sugar
1/3 cup water
1/3 cup fresh basil leaves
1 lb strawberries
In a saucepan, mix the sugar and water and heat to boiling. Add the basil leaves and cook about 5 minutes. Strain out the basil (or remove with a slotted spoon). Add the strawberries with the simple syrup in the pan, bring to a boil, then reduce to a simmer and cook until the strawberries are soft. Remove all the strawberry chunks and put it in a blender or food processor, add some of the syrup and puree to make an applesauce-consistency of strawberry sauce. Reserve the rest of the pretty red syrup for using in mojitos or over pancakes.
This recipe was shared at Tastetastic Thursdays and Weekend Potluck.