BBQ Beef Avocado Sweet Pepper Salad
with a Cilantro Marmalade Vinaigrette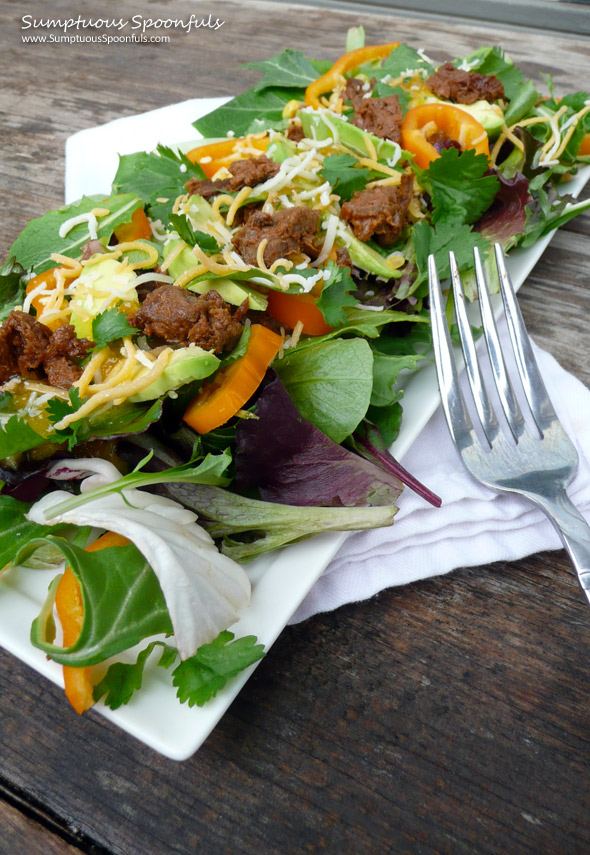 Whenever I make a good meat dish and I have some leftover, I always want to make it into a really really good salad. There is nothing better than a good hearty salad with lots of flavor  in my book. It has such a satisfying mix of textures and tastes and makes my body feel all happy inside because it's getting so many of the nutrients and fiber that it needs. A really good salad can be a feast for the eyes, body and soul.
I thank my mom for this gift of salads. She persevered when I kept refusing salad … she put a little on my plate every day for a year, trying to get me to eat healthier. Finally, she gave up, thinking I would never eat salads. And that was the day I said to her "where's the salad?" … that day I ate my salad, and now I love salads. I am proud to say a salad is one of the few things even my picky eaters will eat. If they will eat no other vegetables, at least they will eat salad. Perhaps not as elaborate of a salad as I would eat, but they will eat salad, in their own special ways.
This salad is made with the Outta the Park Crockpot Shredded BBQ Beef I made the other day. (I used wild venison and elk, not beef, but you can make it with beef or wild game, whatever is available to you.) If you are making some of that yummy shredded meat, you might want to double or triple it (depending on t he size of your crowd) so you can cook once, eat twice. For the stubborn ones who just WON'T eat salad, let them make a sandwich then. The rest of you can revel in the beautiful tastes, colors, textures and crunches of a beautiful salad.
BBQ Beef, Avocado & Sweet Pepper Salad
Ingredients
For each salad:

Mixed greens
About 1/2 cup Outta the Park Crockpot Shredded BBQ Beef (recipe here)
About 1/4 cup sweet corn
1 small sweet pepper, seeded and sliced
1/4 of an avocado, sliced
A bit of shredded cheese (I used a Mexican blend, but you can use cheddar or other cheese of your choice)
Fresh cilantro leaves

For the Cilantro Marmalade Vinaigrette:

1/2 cup Ginger Kumquat marmalade (recipe here or use orange marmalade + 1/2 teaspoon fresh grated ginger)
1/2 cup vinegar
1/2 cup cilantro
2 cloves garlic
2 Tablespoons olive oil
Instructions
Mix up the dressing by blending together all of the vinaigrette ingredients except the olive oil in a handi chopper or food processor. If your food processor allows, add the olive oil in a thin stream while blending. (If not, just add it and whir until well blended.)
Now, set the dressing aside to let the flavors meld as you prep your salads. Fill your plate(s) or bowl(s) most of the way with greens.
If the meat and corn are cold, put them in a bowl and warm them in the microwave, stirring halfway through to make sure all the meat and corn are heated. For one serving I microwaved it for 30 seconds on high, stirred, then did another 30 seconds, but you'll need to adjust the times if you're making several servings.
Arrange the meat and corn on the plate or bowl as you please. I made sort of a "stripe" down the middle of my rectangle plate. Add the avocado and tuck in the pepper slices. Sprinkle on just a bit (not too much) of shredded cheese and drizzle with the dressing. Top with fresh cilantro leaves to your liking.
http://www.sumptuousspoonfuls.com/bbq-beef-avocado-sweet-pepper-salad/
Copyright 2012 by Sumptuous Spoonfuls. Recipes are meant to be shared! Nothing makes me happier than to hear about someone who has tried one of my recipes. All I ask is that if you are going to share my recipe online, give me credit and a link. And if you want to use one of my photos, please ask first. You can contact me at http://www.SumptuousSpoonfuls.com/contact/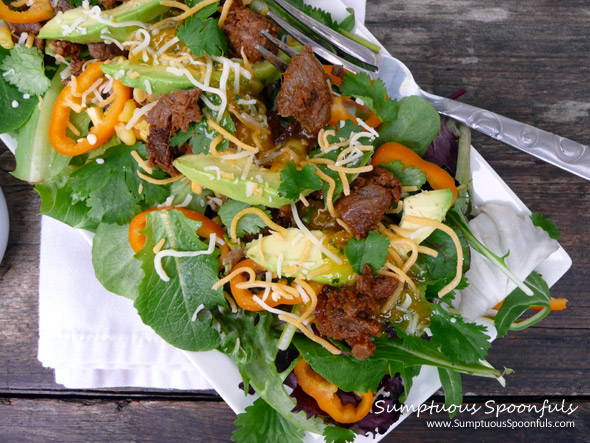 This recipe was shared at Tuesday's Table, Wednesday Extravaganza, Show & Share Wednesday, Tasty Thursdays, Show & Tell Saturdays, Ladies Night and In & Out of the Kitchen Bloghop.