Outta the Park Crockpot BBQ Beef Sandwiches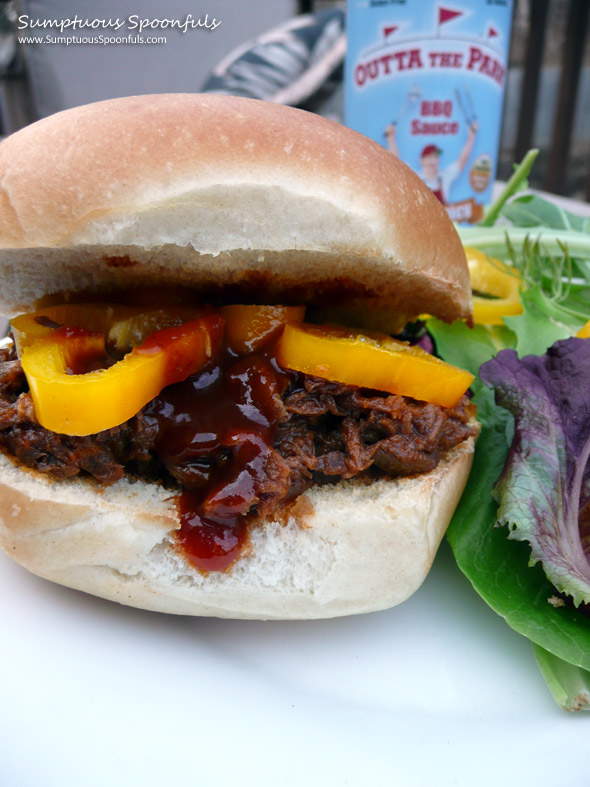 When Beth from Outta the Park Barbecue Sauce contacted me and asked if she could send me some samples of her barbecue sauce to try, I have to admit I was a little worried. You might think that is an odd reaction, but my kids are the main barbecue sauce consumers at my house and they are die hard Famous Dave's fans. I have tried making my own barbecue sauces, but they won't have any of that. They just want Famous Dave's.
At first taste of this sauce, I discovered it's even tastier than Famous Dave's. It's got all the right spices and just enough sweetness with a tiny kick. I haven't tried the Hot n Spicy version yet and I'm really looking forward to that because I personally love the hotter spicier barbecue sauces (that's one I KNOW my kids won't touch, but I don't care … more for me!)
So I was wracking my brain trying to decide what to make with this delicious sauce, and the first thing that came to mind was (duh!) meat. I have a lot of wild game in my house: venison, antelope, and even some elk. I decided to try a crockpot recipe since it's not really grilling weather yet. (We're expecting a blizzard today … I'm not convinced yet it's really going to happen, but they keep sending dire weather warnings.) You can make this recipe with wild game, or you can use beef. I am quite certain it would be delicious either way.
Anyway, I'm quite happy to be inside with some delicious barbecued meat to eat. Thank you Beth!
Outta the Park Crockpot Shredded Beef BBQ Sandwiches
Ingredients
1 - 1 1/2 lb lean roast or steak meat (I used a mix of venison and elk meat, but beef would be delicious too ... it's ok to use a tougher cut of meat for this recipe)
A tiny pat (maybe 1/2 teaspoon) of butter
1 bay leaf
2 cups beef broth
3 cloves of garlic, peeled and chopped
1/2 of a large onion, peeled and chopped
3/4 cup Outta the Park Barbecue sauce (or your favorite barbecue sauce)
Instructions
Cut the meat into 1-inch hunks. Heat a frypan or sautee pan over medium high heat, rub the pan lightly with a chunk of butter, then sear the meat in the pan, browning it on both sides, but not cooking it through.
Set the meat in the crockpot and add the bay leaf, garlic, and onion. Pour the broth over top; it should pretty well cover the meat. Cover and cook on high for 4 hours or on low for 8 hours until the meat is fall-apart tender.
Pull the meat out of the juices in the crockpot, set the chunks of meat in a bowl, cover with a plate or saucepan lid and let set for about 10 - 15 minutes to seal in the juices. Reserve the juices and a bit of the meat for soup.
Shred the meat with two forks or break it into small pieces with your hands. Mix in the barbecue sauce. Set the BBQ meat mixture back in the crockpot and cook on high for 30 minutes or so or on low for an hour or two -- or you could simply warm the meat on the stove.
Spoon the yummy BBQ meat onto toasted buns, top with some sliced sweet peppers and an extra drizzle of that delicious sauce (if you like) and enjoy!
Notes
I made a small batch because I'm not sure if my kids will eat it, but you could easily double or triple this recipe to make enough meat for a crowd.
http://www.sumptuousspoonfuls.com/outa-the-park-crockpot-bbq-beef-sandwiches/
Copyright 2012 by Sumptuous Spoonfuls. Recipes are meant to be shared! Nothing makes me happier than to hear about someone who has tried one of my recipes. All I ask is that if you are going to share my recipe online, give me credit and a link. And if you want to use one of my photos, please ask first. You can contact me at http://www.SumptuousSpoonfuls.com/contact/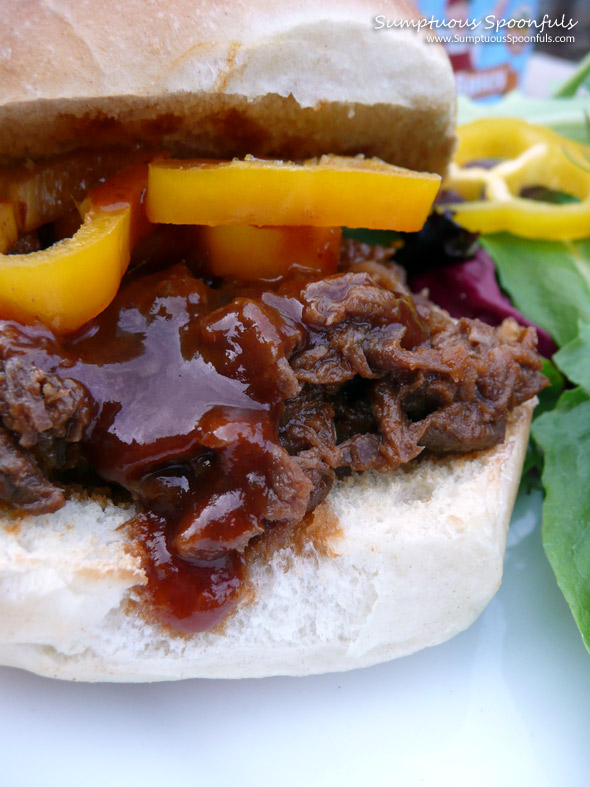 This recipe was shared at Show & Tell Saturday, Weekend Potluck, Mop it Up Monday, Show & Share Wednesday, In & Out of the Kitchen Bloghop, Foodie Friends Friday Crockpot Party, Keep Calm & Cook On Crockpot Recipes, Ladies Night and Clever Chicks Bloghop.